President's Cup Final – Scott vs Weinzetl
President's Cup Showdown: Joe Scott vs. Jim Weinzetl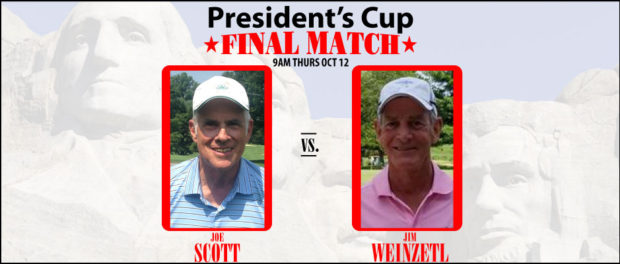 CBGC's Harry C. Barbin Jr. President's Cup
Final Match: Joe Scott vs. Jim Weinzetl
9AM Thursday, October 12, 2017  |  President's Cup Details
In what is sure to be an epic showdown, Joe Scott will take on Jim Weinzetl 9:00 am Thursday, October 12, 2017 to fight to be crowned the 2017 CBGC Harry C. Barbin Jr. President's Cup Champion.
CBGC's President's Cup Tournament is a six round, match play "major" event.  Major events earn maximum points toward the Player of Year Points List.
5 Rounds of Match Play – Journey to the Top
Joe defeated Earl Mitchell in the 1st round, Zach Barbin in Round 2, Steve Rogers in Round 3, Mark Sabla in Round 4, and Shelly Pinkerton in Round 5.
Jim defeated Vito Papagno in the 1st round, Bob Whiteoak in Round 2, Ricky Smith in Round 3, Andrew Barbin, Jr in Round 4, and Don Palmer in Round 5.
Tournament Details
The event was open to all CBGC Members, Season Ticket Holders, and members of the Ladies and Men's Golf Associations.
First matches were picked by a blind draw
Past Champion automatically #1 seed / First seed went to defending 2016 champion Jack Baldino
100% Handicap Championship
Everyone vs. Everyone
Recent Past Champions