Chesapeake Twilight Golf League
Popular! Due to larger field, now expanded to Tuesday and Thursday nights.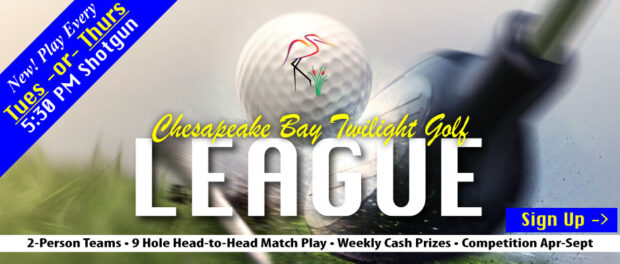 2023 Chesapeake Twilight Golf League
Tuesday/Thursday Nights
Weekly League Schedule | Formats | League Sign Up
Questions: Contact League Commissioner Andrew Barbin, Jr 410-658-4343 x3
Chesapeake Bay Golf Club's Twilight Golf League is Open to the Public with 9 holes of competitive match play 5:30pm every Tuesday & Thursday from April-September.
League Meeting / Mandatory Rules & Speed of Play – Thursday, March 23, 2023 at 5:30pm at Chesapeake Bay Golf Club.
Chesapeake Bay Golf Club's Twilight Golf League
Play golf every Tuesday OR Thursday (see below)
Shotgun start at 5:30pm
20-week regular season, 5-week playoffs – 25 total weeks!
Open to the Public and Members
Competition April-September
Sign up as a 2-person team or individually (we can find you a partner!)
Please Click Here For Full League Details, Registration Information, Prize Breakdown, Rules & Schedule
League Commissioner is our Head Golf Professional Andrew Barbin Jr.
All questions and concerns should be addressed to the League Commissioner.  You can call Andrew at 410-658-4343 x3.
General League Format for 2023
2-Person Teams
Weekly 9-Hole Head-to-Head Matchplay
Fully Handicapped (Maximum Handicap of 30 – all handicaps higher will be rounded down)
5 different formats throughout the season: Better Ball, Aggregate, A vs A / B vs B, A vs B / B vs A, and Stroke Play.
Weekly cash prizes for net skins, random drawings, and skills contest!  Optional gross skins side pot!  Big cash prizes every week!
Each week, points will be awarded based upon how you finish your head-to-head match.
Popular! Due to larger field, we will be running league nights on TUESDAYS and THURSDAYS (as opposed to just Thursdays).  We will try to balance out the days as much as possible, but note

if you sign up for Tuesdays you will always play on Tuesdays

, and

if you sign up for Thursdays you will always play on Thursdays

.  Each night will be split into two divisions, which will be balanced by combined handicap (as best as possible).
Top 8 teams from each division will make the playoffs at the end of the year to compete for the grand prize!  This number is based on 64 total teams playing (16 teams per division).  Top half of each division will make the playoffs.
Teams that do not make the playoffs will compete in a B Flight bracket!