Join the Team! It's like Little League – for Golf!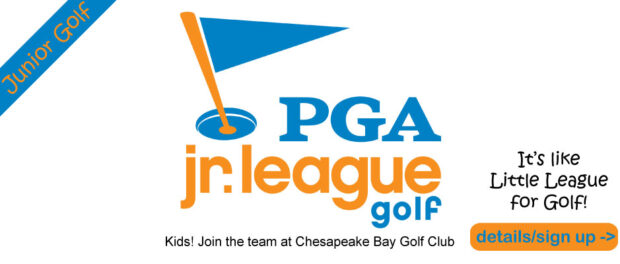 PGA Junior League at Chesapeake Bay Golf Club


Registration Opens February 1st
Our second championship PGA Junior League season features weekly practices run by our talented professional staff and a full travel season.  Open to all levels of play, and a great way to get your junior into the world of competitive golf!
We have an Age 13 & Under league that's great for developing the budding superstars of the next generation, and an Age 17 & Under League that's perfect for high school golfers looking to sharpen their competitive edge going into their fall season.
Details:
Practices: Every Tuesday from May 16–August 15.
Competitive Matches:  We plan on 10 competitive rounds for both 13U and 17U, which will mostly fall on Sundays and Mondays.  Exact schedule is TBD.
Price for the Season:

$499 for non-members of Chesapeake Bay Golf Club
$349 for members of Chesapeake Bay Golf Club.

A great way to get your child learning and playing golf throughout the season!
To sign up, go the following links:
Registration opens February 1, 2023 at these links:
If you have any questions, call Andrew at 410-658-4343 x3