Join the Team! It's like Little League – for Golf!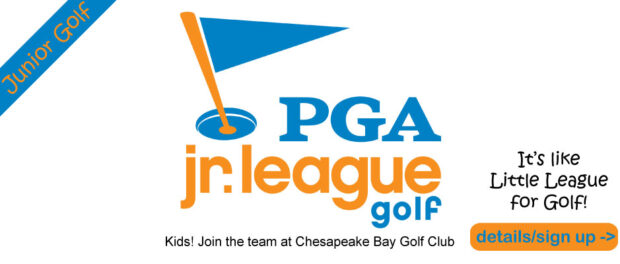 PGA Junior League at Chesapeake Bay Golf Club


Registration Opens February 1st
Our second championship PGA Junior League season features weekly practices run by our talented professional staff and a full travel season.  Open to all levels of play, and a great way to get your junior into the world of competitive golf!
We have an Age 13 & Under league that's great for developing the budding superstars of the next generation, and an Age 17 & Under League that's perfect for high school golfers looking to sharpen their competitive edge going into their fall season.
We will be starting up our PGA Junior League season on Friday, May 26th and will go through our final match (which will be in mid-August).  Here is what the junior league entails:
Weekly practices, run by our professional staff — lead instructor Andrew Barbin Jr, assistant professional Zachary Barbin, as well as North East High School Golf Coach Seth Grimes.
Practices will be predominantly on Fridays at 3:30pm – 5:30pm, but some weeks we will have practice on Tuesdays.  A complete practice schedule will be sent out closer to the date of the first practice.
A full travel schedule:

We are finalizing dates with the other courses, but both squads will have 8-10 competitive matches against other teams in our divisions (4 home and 4 travel matches).
These matches will fall mostly on Sundays, but we will have a few Mondays, Fridays, and Saturdays sprinkled in.  It's like Travel Baseball or Soccer, but for golf!

The league is excellent for both newer golfers and experienced golfers alike.  The level of instruction provided by myself, Zach, and Seth will be easily the highest out of any junior league in our division and will greatly benefit all junior golfers of all levels.
The format of junior league matches are two-player scramble match play against the other team, with every 3 holes being it's own individual match for 1 point (matches are 9 holes so 3 possible points per match).  There are 4 pairs in a regulation match, so we need at least 8 players per squad.  If we have more than 8, pairings can have 3 kids that rotate every three holes.  This format is great for introducing kids to competitive golf, while also showcasing the skills of our best golfers as they make a bid for the All-Star team.  We had one All-Star last year who made it very far!  This year we ought to have a few!
Looking forward to a great season!
Details:
Practices: Every Tuesday from May 16–August 15.
Competitive Matches:  We plan on 10 competitive rounds for both 13U and 17U, which will mostly fall on Sundays and Mondays.  Exact schedule is TBD.
Price for the Season:

$499 per golfer for non-members of Chesapeake Bay Golf Club

$400 coaching fee (paid to course at course) + $99 junior league sign up fee (paid on website – covers the team kit which is jerseys etc.)

$349 per golfer for members of Chesapeake Bay Golf Club

Price for junior members and direct relatives to golf members of the club (siblings, children, grandchildren) is $250 coaching fee (paid to course at course) + $99 junior league sign up

A great way to get your child learning and playing golf throughout the season!
To sign up, go the following links:
Registration opens February 1, 2023 at these links:
If you have any questions, call Andrew at 410-658-4343 x3