Premier New Wedding Venue of Cecil County Maryland
Call 410-658-4343 x9 • Outdoor Wedding Ceremonies • Wedding Receptions • Rehearsal Dinners • Showers • Brunch
Chesapeake Bay Golf Club is pleased to announce the opening of our all new Wedding & Event Venues offering a complete variety of indoor and outdoor spaces, breathtaking golf course views and natural scenery, delicious menus, state-of-the-art lighting features, and modern amenities beyond compare.
At Chesapeake Bay golf club, you will find your dream wedding. Whether it is an outdoor ceremony with a gorgeous backdrop, an elegant country club wedding, or a rustic farmhouse reception, create your unforgettable day at our newly renovated facility.
CHANTILLY BALLROOM
Brand New!  Our gorgeous all new Chantilly Ballroom features a vaulted ceiling, center wood beam, sparkling crystal chandeliers, elegant gold Chiavari chairs with off-white padded leather seats, wood floors, wainscoting, wall sconces, granite bar, 70" smart TV to showcase your slideshow, built-in audio system, bridal suite, and four large picture-frame windows with custom cornices in a rich damask fabric that offer picturesque views of our prestigious golf course.
Exclusive!  The vaulted ceiling and soffits are fitted with state-of-the-art LED color lighting that create a ceiling "wall wash" effect and can be programmed to exactly match your wedding party color scheme.
This is your special day. The spotlight – literally – is on you! Our top of the line "lighting scenes" create the perfect room ambiance and lighting effects for each of your reception's special events – such as first dance, wedding party announcement, toasts, dinner, dancing, and cake cutting. All scenes are pre-programmed at the touch of a button. Room lights, chandeliers and sconces will dim, spotlights will shine, LED lights will glow – modern features that take your wedding to the next level!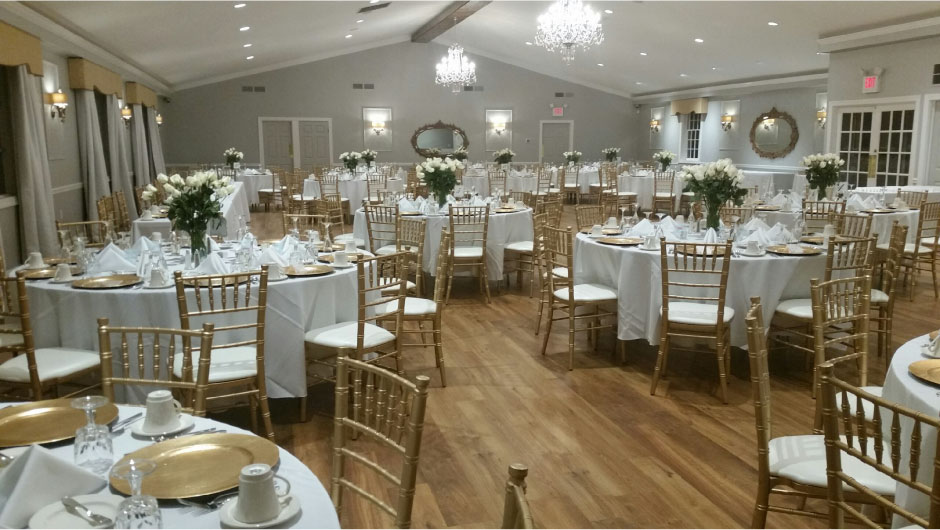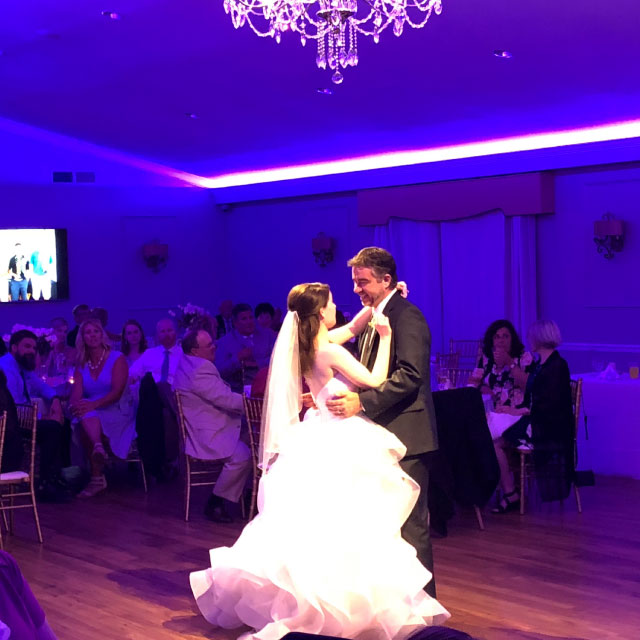 LAKEVIEW ARBOR ON THE LAWN
Brand New!  Our Lakeview Arbor on the Lawn Terrace Wedding Ceremony Venue is located next to our historic 1800s Manor House. Exchange or Renew your Vows with the glistening lake as your backdrop. Features include our custom 10' white arched arbor, pristine manicured lawn, and a magnificent slate and reclaimed stone staircase built into the hill. The serene natural beauty of the romantic setting offers spectacular views each season for memorable wedding or event photography.
Combine your Wedding Ceremony and Reception at Chesapeake Bay Golf Club and your guests will enjoy the convenience of free ample parking just a few steps away from the ceremony location and clubhouse.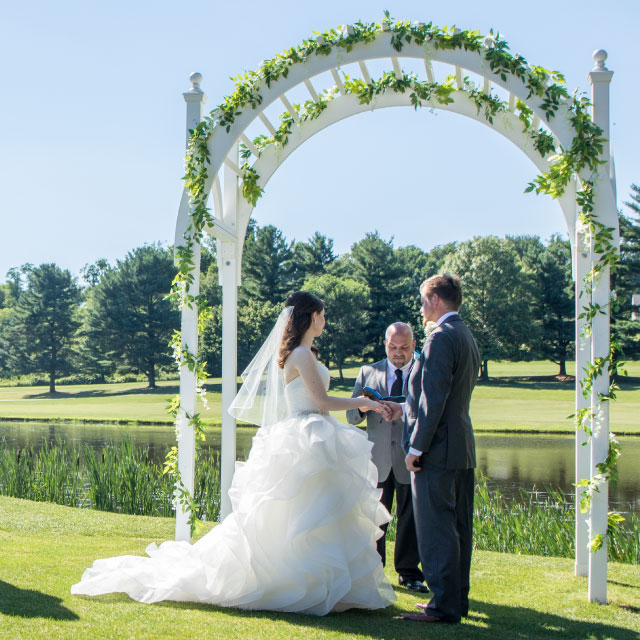 PARTY PAVILION
For a rustic setting, our Party Pavilion offers beautiful pond views overlooking the golf course and provides protection from the sun and elements for your guests and is available for your Cocktail / Social Hour, Wedding Ceremony, Rehearsal Dinner, Casual Reception and More.
Amenities Include: Stained arched pillars, Party Lights that illuminate the perimeter, built-in sound system, and the comfort of ceiling fans.
Stress-free Rainy Day Backup – For Wedding Ceremonies scheduled at the Lakeview Arbor on the Lawn, the Party Pavilion may be reserved for the comfort of a rainy day ceremony location backup.
BRIDAL SUITE
Brand New!  Our Bridal Suite offers a private area for the bride and her wedding party to relax, refresh and finalize hair and makeup before the ceremony, or touch up during the reception. Amenities Include: a Makeup Bar, Mirrors, comfortable lounge seating, full length mirror, console/refreshment area and storage.
PLAYERS GRILLE & BRICK PATIO
The Players Grille and Brick Patio is perfect for your Wedding Cocktail / Social Hour, Rehearsal Dinner, Day-After-Wedding Brunch, Bridal Shower, Engagement Dinner, Wedding Party Luncheon and more.
Amenities include: Leather lounge seating, full service bar, flat screen smart TVs, solid wood club chairs and bar stools, picturesque golf course views, new brick patio and Adirondack Chair conversational groupings.
SCENIC VIEWS – PERFECT PHOTOGRAPHY
Imagine centuries old trees, glistening water views, lush green lawns, historic 1800s manor house, custom slate and stone staircase on the hill, white arched arbor by the lake, native grasses, weeping willows, cattails, blue herons, flowers, formal landscapes, wildlife & more. Everything you need for your special day is all on property. Take a golf cart and capture the personality and uniqueness of your wedding party.
SEATING CAPACITIES
Chantilly Ballroom — 200
Lakeview Arbor on the Lawn — 200
Party Pavilion — 200
Players Grille — 80
Brick Patio — 80
Tent — up to 2,000
WEDDING CELEBRATIONS
Wedding Receptions
Wedding Ceremonies
Vow Renewals
Rehearsal Dinners
Engagement Parties
Showers
Day-After-Wedding Brunch
Wedding Party / Groom's Golf or FootGolf Outings
Anniversary Parties
Chesapeake Bay Golf Club's brand new Wedding Venue in Rising Sun Maryland offers gorgeous settings with panoramic golf course views and delicious, affordable gourmet cuisine that will captivate your guests and create the perfect stage in which to make your Wedding Reception, Wedding Ceremony, Rehearsal Dinner, and Bridal Shower dreams come true!
And for the groom, our professional staff can customize a "Groom's Golf Outing" – a special, memorable day out with family and friends to celebrate your upcoming special day. Our beautifully manicured and landscaped golf course property provides timeless, romantic, lush, natural settings that modern brides love. Our award winning, experienced staff professionals are committed to providing you and your guests with exceptional service and attention to detail that will make a lasting impression.
Wedding Packages
Wedding Package – Sit Down |  Wedding Package – Buffet
Contact Sales Staff 410-658-4343 x9  |  Request Wedding Date Availability

Chesapeake Bay Golf Club's all new Wedding & Event Venues offer a complete variety of indoor and outdoor spaces to perfectly suit any wedding, banquet or event theme – all with breathtaking golf course views and natural scenery, delicious menus, modern amenities beyond compare, and the dedication of our team of experienced event professionals.
We invite you to review our all inclusive Wedding Packages online. Whether you choose a Sit Down Plated Dinner – or a Buffet, both packages include your choice of Outdoor or Indoor Social/Cocktail Hour venue, Bridal Suite, the gorgeous new Chantilly Ballroom with state-of-the-art lighting features (see below) & More!
We invite you to Chesapeake Bay Golf Club looks forward to the opportunity to offer you a tour of our Wedding Venues in person. For Wedding Date Availability, or to arrange a tour of our Wedding Venues, please fill out our Wedding Inquiry Form or contact our Sales Staff at 410-658-4343 x9 today to begin making your Dream Wedding a reality.
Sit Down Wedding Package – Included Features & Amenities
Four Hour Reception
Bridal Suite
Makeup Bar • Lounge Seating • Full Length Mirror • Refreshment Bar • Dress Hangers, Hooks & Storage
Choice of Outdoor and Indoor Cocktail / Social Hour Venues
Party Pavilion • Players Grille & Brick Patio • Chantilly Ballroom
Pavilion Includes: Party Lights, High Top Tables, Outdoor Bar, Crudité Table, Round Tables, Ceiling Fans, Built-in Sound System, White Folding Chairs, and access to Corn Hole and Putting Green
Choice of Customized Bar & Beverage Service
Full Open Premium Bar • Open Beer, Wine & Soda Bar • Open Non-Alcoholic Beverage Bar
Additional Options: Champagne Toast, Signature Drink, Tab Bar, Cash Bar
Butlered Hors D' Oeuvres
Choice of Four selections included in your package
Chesapeake Signature Display
Fresh Vegetable Crudité, Domestic & Imported Cheeses, Fresh Fruit Garni, Assorted Crackers and Dips
Wedding Toast
Sparkling Cider for all guests included
Salad Course
Entrées
Choice of One or Two Gourmet Entrées, or One Premium Duo, with Vegetable and Starch
Complimentary Cake Cutting & Service
Deluxe Coffee Station
Freshly Brewed Coffee with Assorted Flavored Syrups, Creamers, Sugars
Brand New!  Chantilly Ballroom ~ Included Amenities
Gold Chiavari Chairs with Padded Leather Seats • State-of-the-Art Color LED uplighting • Vaulted Ceiling
Exclusive!  Lighting "Scenes" ~ spotlight first dance, bridal party intros, cake cutting & more
Wood Floors & Ceiling Beam • Audio/Visual 70" flatscreen smart TV for photo slideshow presentation
China, Glassware & Silverware • Round Tables • Head Table for Wedding Party • Cake Table
Floor Length White or Ivory Table Linens & choice of Napkin Color • Water Carafes on Tables • Dance Floor
Built-in Sound System • Crystal Chandeliers • Picture frame windows w/ golf course views • Onsite Parking
Professional Wedding Coordination
Complimentary Golf Carts for Bridal Party ~ Pictures on our beautifully landscaped grounds
Wedding Ceremony & Rehearsal Dinner Discounts ~ when you Book Your Reception with Us








"Like" Us On Facebook!
Chesapeake Bay Golf Club Weddings, Events & Catering Facebook Page