Senior Golf League Mondays at 9am. Open to Public Age 50+ Men and Women. Weekly Games & Skins.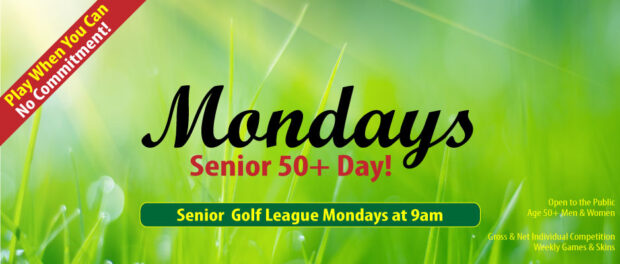 SENIOR GOLF LEAGUE


Every Monday at 9AM


Weekly Games & Skins!
Age 50+ Men & Women •  Open to the Public
Sign Up: Call Pro Shop 410-658-4343 x2
Start your Monday mornings out with a great game of golf! Our 2022 Monday Morning Senior Golf League is Open to the Public for both Men and Women. No Commitment – pick a Monday and play when you can!
Share the news and invite your friends! To sign up, please contact the Pro Shop 410-658-4343 x2.
Monday Morning League Details, Rules & Schedule
MONDAY MORNING GOLF LEAGUE DETAILS:
Competitive 18 Hole rounds
All Play Dates begin at 9:00 am (unless announced otherwise)
9:00am Shotgun Each Week – Please check in by 8:30am!
Open to Men & Women / Public and Members
Individual Gross & Net Winners
No Commitment! Pick the Mondays that you want to play. Not required to play every Monday.
Make your own foursome – or the Golf Staff will pair you with other players
Weekly Fees Include Greens Fee, Cart, Prize Pool, and Skins Game:

Public: $50
CBGC Members: $10
Chantilly Card: $45

NEW for 2022: Specials in the bar & grille each week following league!

Player's league scores will be entered by the professional staff into the handicapping system if requested (otherwise each golfer is responsible for posting their own scores). Players will be required to post all scores not played in the league. Any player not keeping a valid handicap will be penalized.
Weekly Prizes will be given out equally in each flight for both gross and net prizes.
Weekly Contest & Skins Game.  Skins are net skins, with natural birdies & better taking precedent.
ALL PLAYERS MUST KEEP A VALID USGA HANDICAP: Chesapeake Bay Golf Club is an authorized provider of USGA handicap services, which costs the golfer an annual fee of $45. Players that maintain a handicap at another course or through the Victory Golf Pass may use that handicap, but it must be verifiable by the Golf Staff. Players without handicaps will play scratch.
RULES OF PLAY:
**Players can make their own groups or we will pair you up.
Tee Boxes: Play from where your handicap is derived from!
Please reserve your spot by calling the Pro Shop

no later than the Saturday at 7:00 pm before the Monday date

.
USGA Rules in effect.  NO MULLIGANS anytime, anywhere.  All putts are holed out.  Daily rules and any local rules will be explained before tee off.
If we can assist you in any way, please don't hesitate to call on us. Any additional Monday Morning League questions can be addressed to the League Coordinator / Head Golf Professional Andrew Barbin, Jr. at 410-658-4343 x3
Note: Note: November 7th starts "Frozen Mondays" – Winter Golf League @ Chesapeake Bay Golf Club Open to the Public – All Ages.