Shop
Golf Equipment, Clubs, Shoes, Balls & Apparel
Contact Pro Shop 410-658-4343 x2  |  CBGC Gift Cards
Our Pro Shop features top quality, affordable branded golf equipment, merchandise and apparel available with Chesapeake Bay Golf Club's logo. If we don't have what you need in stock, we will be happy to order it for you!
Looking for a great Golf Gift? Chesapeake Bay Golf Club's Pro Shop offers a quality selection of Golf Clubs, Equipment & Merchandise. Plus, CBGC Gift Cards in any amount are available for purchase year round.
2019 CBGC Season Tickets – Fan Favorite!
Hurry! Click for Full Details or to Buy Today.
For a Limited Time… Available for purchase Online or in the Pro Shop!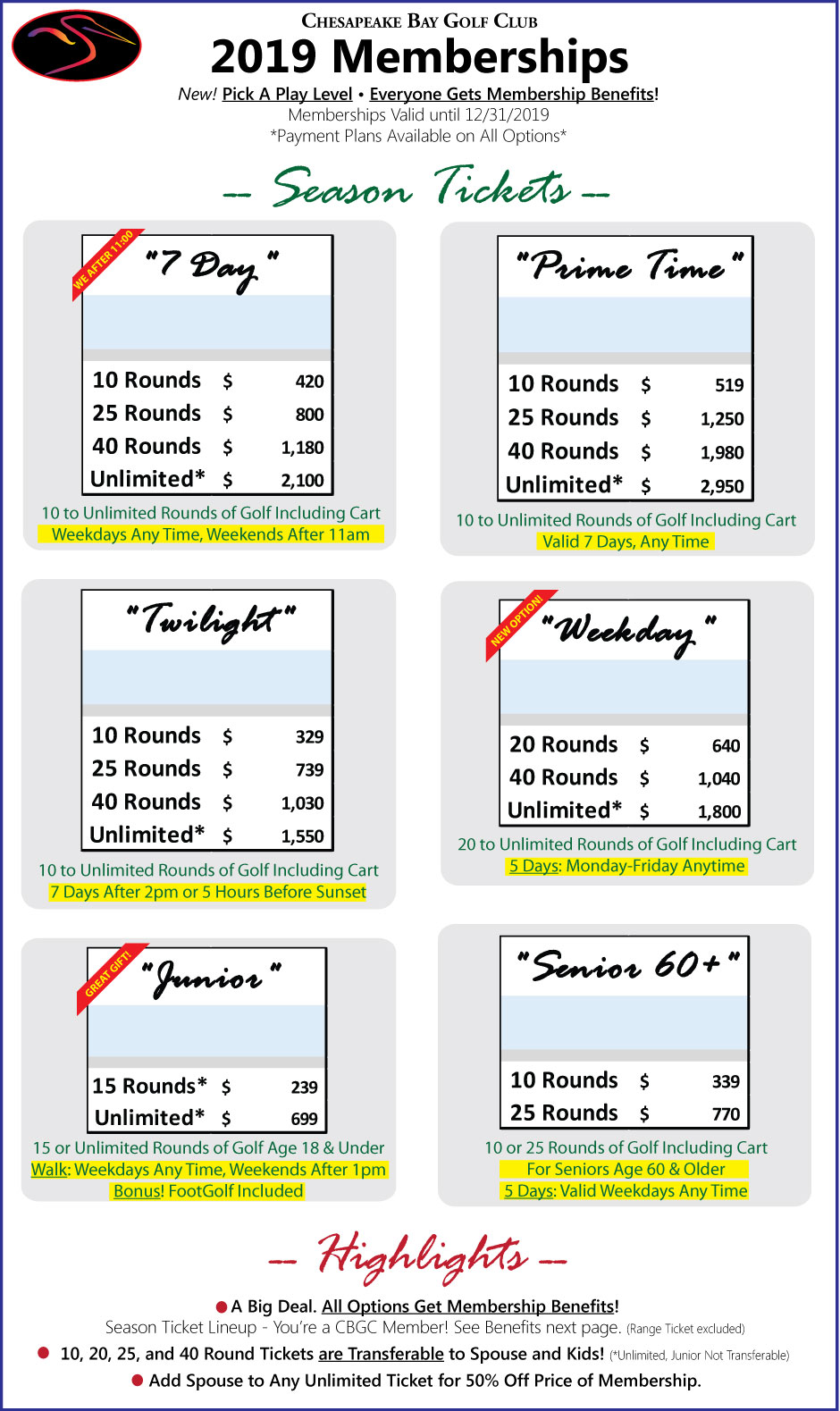 If you enjoy more than 10 rounds of golf in a year, Chesapeake Bay Golf Club has a variety of options to allow you to play more golf & save in 2019. The more you play, the more you'll save! Chesapeake Bay Golf Club's 2019 Season Tickets provide an unbeatable value at Chesapeake Bay Golf Club. Our 2019 Season Tickets also make a great gift! Available for purchase today.
Choose from "Prime Time", "Senior 60+", "Weekday", "7 Day", "Twilight", "Junior" and "Driving Range". Pick Your Play Level!
2019 Victory Golf Pass Book – On Sale Here!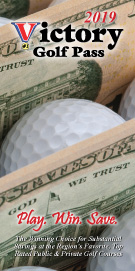 The 2019 Victory Golf Pass book is the #1 Premium Golf Savings Book in Pennsylvania, Maryland, Delaware & New Jersey! Purchase yours today in the Pro Shop – or buy online at victorygolfpass.com.
The Victory Golf Pass offers BIG Savings to 338 Favorite, Top Rated Delaware Valley courses – including Chesapeake Bay Golf Club!
Plus get cool deals for Driving Ranges, Executive, and Par 3 Courses, Chip & Putt, Mini Golf, FootGolf – and Bonus Savings like Super Saver Deals, Senior 60+, Hero (Military), Junior, Off-Season, Pro Shop, Restaurant & Lesson Discounts!
Includes special Victory Outing Days – including the 14th Annual Victory Members & Friends Golf Outing Monday, October 14, 2019 at Chesapeake Bay Golf Club (Event is Open to the Public. Contact Pro Shop 410-658-4343 x2 to Sign up or for details).
To view all Participating Public & Private Golf Courses and Deals, or to purchase online, visit victorygolfpass.com.
Do you have Victory in your bag?
Golf Merchandise
EQUIPMENT
TaylorMade
Titleist
Cleveland
SAND WEDGES
TaylorMade
Cleveland
Titleist
PUTTERS
TaylorMade
Odyssey
Ping
Callaway Golf
Yes
Cleveland
GOLF BAGS
Taylor Made
Nike
Team Sports
Cleveland
GOLF APPAREL
Ashworth
Cutter & Buck
Adidas
Ahead
Nike
GOLF SHOES
GOLF BALLS
Titleist
TaylorMade
Srixon
Nike
Links Choice
GOLF GLOVES
HEADWEAR
TaylorMade
Titleist
Nike
Cleveland
Imperial
Ahead
Town Talk
RAIN GEAR
Nike
Cutter & Buck
Adidas
Club Fitting & Club Repair
Our Professional staff is trained and certified to personally fit you for a new set of clubs. See our Club Fitting Guarantee.
In need of Club Repair? Check out our Club Repair Center.
*In Stock Merchandise & Equipment is subject to change and may vary.