2 Trackman Simulators – Open Now!
Open Now – Our new Indoor Golf Simulator room! Play, Practice, Learn.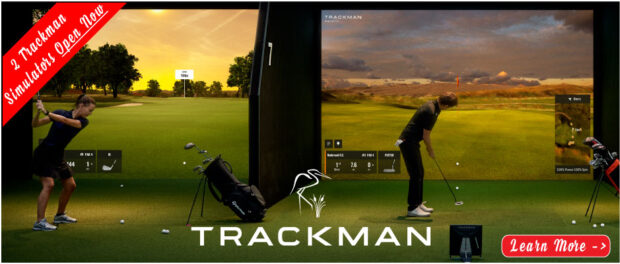 2 TrackMan Golf Simulators
Open Now at Chesapeake Bay Golf Club!
Call to Reserve Your Time Slot: 410-658-4343 x2
Chesapeake Bay Golf Club is pleased to announce the addition of two TrackMan Golf Simulators to our brand new Indoor Golf Simulator room.
Hitting bays are able to be reserved by the hour – all year round. This game-changing technology delivers world-famous golf courses in stunning detail with unbelievably smooth gameplay and pinpoint accuracy. Perfect for Gameplay, Training, or Lessons!
Extend your season! No matter the weather – game on at Chesapeake Bay Golf Club!
Golf Simulator Rates
Open Daily.
| | | | |
| --- | --- | --- | --- |
| Monday-Sunday | | | |
| | | | |
| Simulator Hourly Rate | Public | Members | Sim Pass |
| Every Day | $48 | $40 | $20 |
| | | | |
| Simulator Specials | | | |
| Half Hour Practice (Pending Availability) | $25 | $20 | $10 |
Please bring clean spikeless shoes and clean clubs.
Simulator "Off Season" Rates as of April 17, 2023.
All Rates subject to change.
Play Legendary Courses
TrackMan's Virtual Golf simulator is known as the apex in simulator golf. TrackMan says it best – "Every training session, every hole you play, every fun tournament you have with your friends… it's all faithful to the true feeling of the game. World famous courses appear in simply stunning detail."
GAMEPLAY
The gameplay is offers instant, smooth, and true ballflight – with your club and ball data shown with pinpoint accuracy. Add Dynamic wind effects for a true golf experience to see how the wind affects course play.
The game experience is presented with revolutionary graphics and features designed to make the game more fun and informative. Perfect for individuals, groups, leagues, for practice or just having fun tournaments or get togethers with your friends.
EXTEND YOUR SEASON
Practice and keep your game in shape year round – with tour-proven technology.
OPTIMIZED PLAYING TIME
Play an 18 hole round in less than an hour!
PLAY LEGENDARY COURSES
Play world-famous courses like PGA National, Muirfield Village, Innisbrook, four legendary St. Andrews Links courses and more.
Practice
TARGET PRACTICE RANGE
TrackMan's Target Practice Range allows you to practice any shot you want. Whether you want to improve your short game – or driving accuracy – the Practice Range offers an endless variety of shot situations from any distance.
Select your distance, choose a club – and go for the flag. Practice approach shots, shot "shapes" and chipping – all with obstacles for the ultimate practice session experience.
Improve your accuracy and shot making with every club in your bag – wedge, iron or driver. Practice, play and track your shots to see how your game is getting better.
Learn
Chesapeake Bay Golf Club's PGA Professional Staff looks forward to helping you take your game to the next level! Our new TrackMan simulators will allow students of the game to visualize key aspects of club positions, speed, and angles – to better understand what is happening during your swing – to better apply improvement techniques.
We are excited to show you how the Club and Ball definitions below can improve your game:
SMASH FACTOR
SPIN RATE
LAUNCH ANGLE
CARRY
BALL SPEED
CLUB SPEED
DYNAMIC LOFT
ATTACK ANGLE
CLUB PATH
FACE ANGLE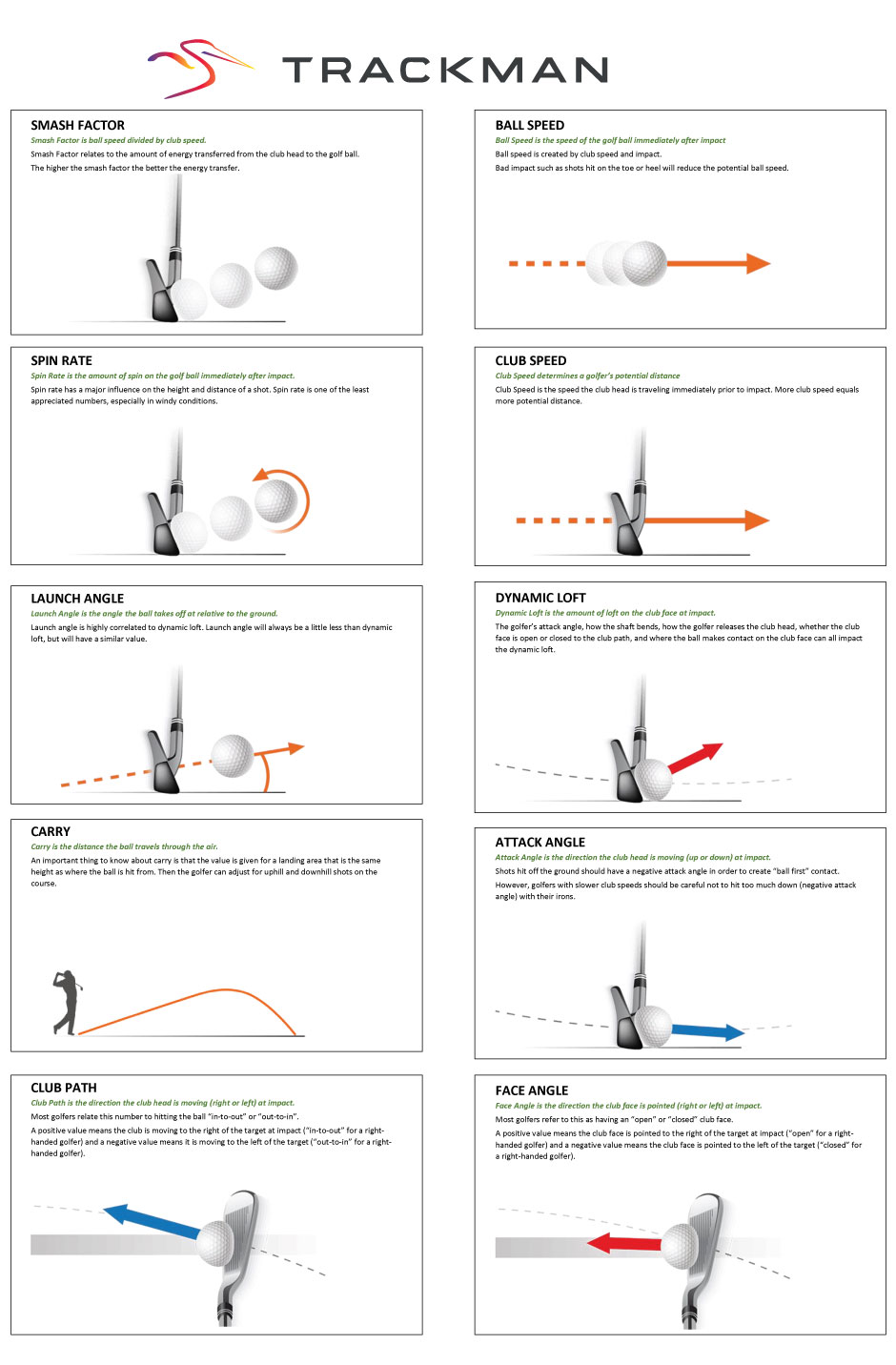 TrackMan is trusted by the leaders in the industry – for precision and reliability. What does TrackMan track? "We track the full trajectory of any shot, from 6 foot pitches to 400 yard drives, pinpointing the landing position with an accuracy of less than 1 foot at 100 yards. We also display the shot's 3D trajectory together with 26 impact and ball flight parameters in real time (data is delivered within 1 second)."
Source: TrackMan Golf
---
Chesapeake Bay Golf Club – your place to Play, Train, and Learn year round.
Contact our Pro Shop 410-658-4343 x2 for more information.