Get Fit For Your Clubs Like A Tour Pro! By appointment only. Space is limited!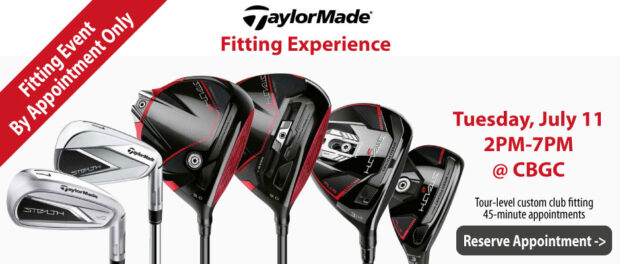 TaylorMade Fitting Experience

Tuesday, July 11, 2023




2PM-7PM by Appointment Only


Chesapeake Bay Golf Club

Reserve Your Club Fitting Appointment Online Here

Please Call Pro Shop 410-658-4343 x2 for further details

Chesapeake Bay Golf Club is excited to announce that we have booked an exclusive TaylorMade fitting experience on TUESDAY, JULY 11, 2023, where players will have the opportunity to go through a Tour-level custom club fitting.

You will have the opportunity to experience the latest TaylorMade technologies under the watchful eye of an expert club fitter, who will help you optimize your equipment and ultimately perform better on the golf course.

Please click here to register and book your specific appointment time for this event. Appointments are for 45 minutes and space is limited.

You may also contact the golf shop 410-658-4343 x2 to learn about available appointments, book your custom fitting or ask any questions you have about this special event.

We hope you enjoy this exclusive fitting experience!