Golf Simulator League 2023-2024
Sign Up Today for our popular Winter Simulator League! Limited Spots Available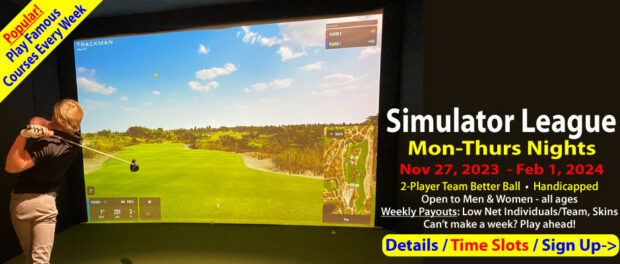 Chesapeake Bay Golf Club's
Winter Golf Simulator League
PLAY FAMOUS COURSES EVERY WEEK ON OUR STATE-OF-THE-ART TRACKMAN SIMULATORS
November 27, 2023 — February 1, 2024 (Playoffs end March 7, 2024)
Sign Up: Online on our Golf Genius Page | Call Pro Shop: 410-658-4343 x3
FORMAT & HANDICAPPING:
The league format will two-person teams, 9 holes once a week.
The format every week is team better ball.
This league is open to both men and women of all ages and will be handicapped.
The two-player teams will not be head-to-head until the playoffs – all teams will compete for the lowest total better ball score each week for points.
Handicaps will be 70% of your official USGA GHIN.  If you do not have a USGA GHIN index but played in the simulator league in the past, your starting handicap will be 70% of your previous league handicap.  If you are brand new to the simulator league and do not carry a GHIN index, you will be required to submit 5 scorecards for me to create a conservative starting index.  All handicaps will be assessed every 2 weeks based on net average, where your index will decrease 3% for every stroke you are averaging under par, and increase 1.5% for every stroke you are averaging over par.  The maximum playing handicap each week will be 28, or 14 strokes for 9 holes.
COSTS:
Team Entry Fee: $250 per team – covers administrative costs and end of year prizes.
Daily Fee: $30 per player for 9H match.  $15 for Simulator Pass Holders.
Prizes & Skins: $10 per player (mandatory).  $7 goes towards skins (house rules – Canadian Skins at 70% handicap), $2 goes to low net teams, and $1 goes to low net individuals.
SCHEDULING & TIME SLOTS:
When you sign up, you will inform the staff of the days and times you can typically play your weekly round.
The league will have times reserved every Monday, Tuesday, Wednesday, and Thursday for league play.
Time Slots available for league play on Mondays through Thursdays will be:

2pm – 4pm
4pm – 6pm
6pm – 8pm
8pm – 10pm
If necessary, we will have odd time intervals as well like 3pm – 5pm etc.
With 2 simulators, 4 teams (8 players) can occupy a time slot at once.
Based on the times you selected, you will be scheduled to play during that time frame as close as possible.
If you need to change your time slot for the week, or if you need to play on a day that is not Monday – Thursday you must notify Andrew Barbin Jr. or the pro shop and make your arrangements

during normal hours of operation

(9am – 7pm).
League play can only be played Monday through Thursday – league play

will not be permitted

on Fridays-Sundays unless a VERY special exception is made by Andrew Barbin Jr.
We will try to keep your time slot as consistent as possible!  Please keep pace of play to avoid matches from going overtime!  There is an option to pick up if needed!
SCORING:
This year we will be doing all scoring and standings on Golf Genius.  All golfers will be required to enter their hole-by-hole scores on the Golf Genius mobile scoring app each week.  Each week will be preloaded and accessible from the get-go so that you can play ahead if needed.  All golfers who have participated in CBGC leagues and events will be able to use their existing Golf Genius accounts!  All new golfers will have accounts created (unless they have an existing account, in which we will tie in with email).  The utilization of Golf Genius will allow for instantaneous scoring results and season standings!
POINTS SYSTEM & PLAYOFFS:
Each week, teams will compete for low net better ball of partners.
Based on your placing and the number of teams playing, you will receive points.
Points will be accumulated through the 10-week regular season.
The top 24 teams in points will make the playoffs, in which they will have their matches scheduled in five consecutive weeks.  Teams that do not make the playoffs may continue to play on designated league nights for prizes and skins!  We have a consolation game where each team buys in for $40 ($20 per player) and is based on the total of points amassed through the four playoff weeks.  The top three teams will split the cash pot.  Teams eliminated from the playoff bracket will be allowed to join in and will get 50 points for each week they remained in the playoff bracket.  PLEASE NOTE THAT THE POINTS SYSTEM AND NUMBER OF PLAYOFF TEAMS IS SUBJECT TO CHANGE BASED ON HOW MANY TEAMS ARE IN LEAGUE (this is based on 40ish teams).
Tiebreaks for seeding in the playoffs will be combined net average, as the best overall team statistically will get priority in the event of a tie in seeding.
We will also have a virtual Calcutta auction for the playoff bracket!
HOLIDAYS & VACATIONS:
We will be starting the week after Thanksgiving.  Christmas and New Year's fall on Mondays this year – we will give a grace period for Monday groups to play their match on different days.
Because this is a simulator league, and because conditions will always be the same, there are no restrictions to pre-playing weeks in advance.  For example, if you are going on a family vacation on weeks 3 through 5, you can pre-play those rounds on non-league times.  When pre-playing, you can also be in contests and skins, and there will be no point reduction for pre-played rounds.  You are permitted to make up a week if you missed it prior, but you are not eligible for skins or prizes as cash payouts as those are paid out on the week.  As opposed to previous years, I will not be allowing make up rounds – all rounds must be played on time or in advance.  Please be proactive!
SUBSTITUTES:
If necessary, you are permitted to have a substitute play on non-playoff weeks.  There will be no instances of double substitutions permitted – one player from your team must play!  In the instance of a golfer being unable to finish the season due to a legitimate injury, a permanent replacement will be permitted at any time (including playoffs).  The permanent replacement must have an official USGA handicap (or TrackMan / previous year simulator handicap) and will play to 70% of that handicap on their first week.  The injured golfer forfeits all potential end of year earnings to the substitute.
PLAYERS GRILLE:
The bar will be open the entire duration of the night.  We will have Monday and Thursday Night Football on the big screen TVs!  Stay and hang out!
TWITCH STREAM:
We will be live streaming matches from time to time, including all playoff bracket matches!  My twitch profiles @abj_golf and @abj_golf_ALT – so make sure to subscribe to get notifications on when we go live!  Commentary and video will be available as well – hang out with us on the stream!
FINAL PAYOUT DETAILS:
League Champion: 30% of prize pool derived from entry fee (in gift cards)
League Runner Up: 25% of prize pool derived from entry fee (in gift cards)
League Third Place: 15% of prize pool derived from entry fee (in gift cards)
League Fourth Place: 10% of prize pool derived from entry fee (in gift cards)
Top Eight: 5% of prize pool each derived from entry fee (in gift cards)
CHAMPIONSHIP BRACKET CALCUTTA PAYOUTS:
League Champion: 30% of Calcutta pool (cash)
League Runner Up: 25% of Calcutta pool (cash)
League Third Place: 15% of Calcutta pool (cash)
League Fourth Place: 10% of Calcutta pool (cash)
Top Eight: 5% of Calcutta pool each (cash)
WEEKLY PAYOUTS:
1st, 2nd, 3rd Low Net Individuals.
1st, 2nd, 3rd Low Net Team.
Handicapped Canadian Skins (Net skins, but gross wins tiebreaker – for example if there is a 4 for 3 and a 3 for 3, the 3 for 3 wins the skin).
If there are ties for low individuals or ties, all ties will split accordingly.
OTHER PRIZES:
Most Valuable Player
Low Gross Average
Low Net Average
Most Valuable Team
Money List Leader
Playoff MVP
BEFORE YOU ARRIVE:
Make sure one player on your team has the Golf Genius live scoring app and is

signed in

.  As opposed to previous years, we will not be using the TrackMan scan in app or the TrackMan Tournament software this year although you are welcome to sign in anyway since the TrackMan app stores a lot of data!  The course and settings will be on a sheet of paper – make sure you select the correct settings and tees each time!
Make sure you are wearing CLEAN SPIKELESS SHOES and that your clubs are CLEAN! 

We provide all golfers with special RCT Pro V1s and Pro V1xs

, you cannot use any other ball – we can't afford dirt and markers to get on our screens.  If you need to clean your clubs, we now have a nice washing station outside the pro shop – it has a bucket, towel, and scrub brush.
Make sure you come 15 minutes early.  You need to pay your league fee and prizes in advance and make sure you meet all of our cleanliness requirements.
GETTING STARTED:
Make sure you or your partner is signed into Golf Genius.  Select the round you will be playing.  Your handicap and default tees will be pre-loaded.
Optional – sign in with your TrackMan account.  TrackMan app has a lot of data to improve your experience!  Do not worry about your TrackMan Handicap not reflecting your Sim League handicap –

all scoring is done on Golf Genius

and we want all golfers to use our basic gross stroke play settings anyway.
Go to courses and select the course you are playing for the round.  Go to settings and select the correct 9 you will be playing.  Make sure the default settings are correct (16 foot gimmies, auto-aim manual putting, medium firm fairways and greens).  All golfers will fall into 4 sets of teeing ranges – Front, Short, Mid, and Tips.  We will have an info sheet in the simulator room with each course's tees for each subset of golfers to select –

make sure you select the correct tees for your teeing preference

!
PLAYING:
Enjoy the best simulator experience on the market!
Remember that the format is better ball of partners.  If you are out of the hole, you don't need to finish.  The maximum score you can take on any hole is net double bogey.  Please keep pace of play as there are likely groups behind you!
Make sure you are properly oriented with the interface.  Feel free to ask a staff member to help you in case you have any questions.
If for whatever reason the TrackMan picks up a wrong reading (such as a practice swing), mulligans are turned on.  In the very rare event that a game breaking glitch occurs such as the ball clipping through the course – pick up on the hole and replay the hole after the round.
FINISHING:
Make sure you entered all your gross scores into the Golf Genius app.  Double check afterwards to make sure it was correct.  A staff member or other team is required to verify all scores to make sure they are correct.  If needed, cross reference the scorecard on TrackMan to make sure all scores are accurate.
Make sure you take all your stuff, throw out your trash, and pay your bar tabs!!!
OTHER STUFF:
Please note that your simulator league fee covers your scheduled round.  It's not "two hours on the simulator", it covers the 30 minutes per player it takes to finish a round of virtual golf.  Two golfers on one simulator are not entitled to two hours of play, as they are expected to complete their 9-hole round in one hour just as it should take four golfers two hours to play 9 holes.  If you play more golf before or after your round, you do need to pay for any additional hours you play.
Any golfer found "sandbagging" or posting the wrong scores will be subject to handicap adjusting, suspension, or expulsion from the league.
SCHEDULE:
(subject to change – pending course releases by TrackMan)
Week 1: Hualalai Back 9: Host of the Mitsubishi Electric
Week 2: Royal Melbourne West Course Back 9: Ranked 7th in the World
Week 3: Quail Hollow Front 9: Host of Wells Fargo Championship & 2025 PGA Championship
Week 4: Royal Troon Front 9: Host of the 2024 British Open
Week 5: Firestone CC South Back 9: Host of several PGA Championships and the World Golf Championships
Week 6: Lahinch Front 9: Ranked 36th in the world – European Tour Stop
Week 7: Medinah Front 9: Several-time major championship venue
Week 8: Royal County Down Front 9: #6 Ranked Course in the World
Week 9: Olympic Club Lake Front 9: Host of 6 U.S. Opens
Week 10: St. Andrews Back 9: 2022 British Open venue, oldest course in the world
Playoffs Week 1: Marco Simone Front 9: Host of the 2023 Ryder Cup
Playoffs Week 2: Casa De Campo Front 9: #1 course in the Caribbean, Top 100 in World
Playoffs Week 3: PGA West Stadium Course Back 9: "Hardest Course in the World"
Playoffs Week 4: Real Club Valderrama Front 9: Iconic Ryder Cup venue
Playoffs Week 5: Pebble Beach 18 Holes: One of the most iconic courses in the world & US Open regular venue
COURSE SETUP:
Courses will be set up with easy pins, calm wind, medium firm fairways, medium firm greens, and green speed stimped at an 10 (same as putting turf).  Putting will be on the "Aimed" setting, with automatic gimmies inside 16 feet.  Aiming markers always on.
Note: Gimmie Circle will be reduced to 12 feet for the playoffs, and pins will go to "medium" difficulty.