Victory Golf Pass Spring Scramble
Popular annual outing open to the public. Sign up today!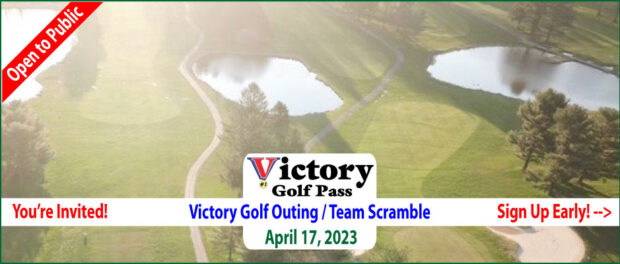 You Are Invited!

9th Annual Victory Golf Pass "Spring" Outing


Monday, April 17, 2023 • 9AM Shotgun
*Open to the Public*

Sign Up Online: Click Here to Sign Up Online
Call: Pro Shop 410-658-4343 x2
Print: Victory Spring Outing Sign Up Form

We invite you to play in the 9th Annual Victory Golf Pass "Spring" Golf Outing / Scramble on Monday, April 17 at Chesapeake Bay Golf Club. Format is a 4 Person Team Scramble that is Open to the Pubic. Invite your friends! This is a popular event that has maxed out in recent years – so if interested please sign up early! If field fills up – you will be placed on a wait list.

Bring a team, or we'll pair you up! A great annual event and the perfect way to kick off the 2023 golf season with your fellow Victory Members and friends.
FORMAT:
4-Player Scramble
Net and Gross Prizes
Your Team Handicap will be based on the USGA recommendation of 25% of the lowest index golfer + 20% of the second lowest golfer + 15% of the third lowest golfer + 10% of the highest handicap golfer.
If you have a valid and active USGA GHIN you will be receiving 100% of your GHIN (unless you are over a 32 index, in which you will be reduced to 32 for this tournament).
If you do

not

have a USGA GHIN through Chesapeake Bay Golf Club or Victory Golf Pass, please put under the "index" field your average over par (For example if you average 92 put "20" as your index (92-72=20)) and leave your "GHIN" field blank on signup.  We will take 70% of your estimated index as your playing index.
Register Early! Sign Up Online today
RULES:
All 2023 USGA Rules apply.
All putts must be holed – no gimmies!
Ball can be moved a club length on each shot in scramble format
Maximum score is bogey per hole!  Pick up and put down bogey if you miss your par putt.
Red stakes & lines indicated penalty areas.  If no markings, consider the hazard indication line to be a club length from the edge.
White stakes & roads indicate areas that are out of bounds.
All tree stumps and unmarked areas of ground under repair (due to tree work or damaged turf from machinery) is granted free relief.
All mulched areas are also granted free relief.
We will be adopting the USGA recommended local rule for Out of Bounds / Lost Balls.  If a ball goes out of play, you may take a 2-stroke penalty drop on the edge of the fairway equidistant to the point where the ball went out of play.  This is an alternative option to going back and replaying your shot with a penalty stroke (stroke & distance).
PAYOUT INFORMATION:
30% of the field (or roughly) will be paid out in gift cards.  50% of the prize pool will go to net, 50% will go to gross.  In the event that an odd number of teams must be paid out, net will take precedent.
MORE INFO:
We will be offering raffle tickets at check in – all tickets grant you the 50/50 as well as our world famous prize table full of all sorts of great stuff!
Continental breakfast & range (weather permitting) will be available at 7:30am to tee off.
Soda & Water stations out on the course.  Beverage cart will be out there too (pay as you go for snacks / alcoholic beverages)
Lunch and complimentary draft beer to follow round and accompany our raffle drawings!
Closest-To-The-Pins on all Par 3s, Longest Drive on 16 for Men & Ladies, and Straightest Drive on Hole #1.
Proceeds of this outing benefit our Victory Hope Foundation, which in turn benefits many organizations such as Crohn's & Colitis Foundation, Alzheimer's Association, Folds of Honor, Sundi's Gift, and Junior Golf Initiatives.
COST PER GOLFER:
Public / Non-Member of CBGC: $69 per individual, $276 per team
Member of CBGC: $25 per individual
Chantilly Card Holders: $55 per individual