3 Jacks And A Jill – 2021 Results
Congrats to winning Gross Team – Shelly Pinkerton, Bob Pinkerton, Eric Walters and Jesse Crockett!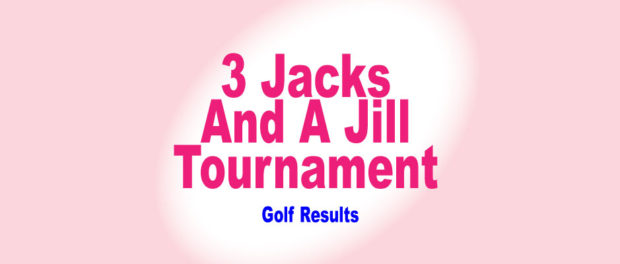 3 Jacks and a Jill Golf Tournament
2021 Golf Results
It was a great day and turnout for Chesapeake Bay Golf Club's 3 Jacks and a Jill Golf Tournament on Sunday, September 26, 2021.
This was a fun "Shamble" 80% Handicap event where a lady (Jill) invites 3 men (Jacks) to play along as a team.
Cash prizes and Gift Cards were awarded. A delicious pot luck meal was served following golf.
This event was Open to the Public. Congratulations to all winners and participants!
Gross Results
| | | |
| --- | --- | --- |
| 1st | Shelly Pinkerton | 134 |
| | Bob Pinkerton | |
| | Eric Walters | |
| | Jesse Crockett | |
| 2nd | Arlene Zamora | 138 |
| | Mike Fox Sr | |
| | Mike Fox Jr | |
| | Mike Nelles | |
| 3rd | Karen Whiteoak | 143* |
| | Bobby Whiteoak | |
| | Andy Barbin | |
| | Evan Barbin | |
| 4 | Denise Janney | 143 |
| | Jake Janney | |
| | Andrew Barbin Jr | |
| | Matt Lafoniatane | |
*Match of Cards
Net Results

| | | |
| --- | --- | --- |
| 1st | Keven Lawson | 116 |
| | Pete Petersen | |
| | Max King | |
| | Dennis Mertz | |
| 2nd | Stephanie Gilbert | 124* |
| | Riley Gilbert | |
| | Tommy Covert Jr | |
| | Tom Covert Sr | |
| 3rd | Denise Medlar | 124* |
| | Jeff Medlar | |
| | Kent Morgan | |
| | Dan Hodcak | |
*Match of Cards