Lessons
CBGC Golf Academy


New! Champions' Golf Lab & Performance Center
Golf Lessons • Club Fitting • Swing Analysis

Chesapeake Bay Golf Club is dedicated to bringing you the finest quality golf lessons and award winning PGA Golf Professional instructors in the region!

Golf Lesson Rates  |  Junior Golf Camps  |  Request a Lesson
KNOWLEDGE IS POWER
The best teachers are also excellent students themselves. The PGA Professional Staff at Chesapeake Bay Golf Club has studied extensively with some of the top teachers in the world. This firsthand knowledge is passed on to golfers at all skill levels to improve their games. It is our mission to provide tour-level golf instruction to every golfer we instruct.  Whether you are a highly advanced golfer or a beginner, our world-class knowledge and technology is your first-class ticket to success.
STAR POWER
Chesapeake Bay Golf Club's professional staff is not only comprised of three PGA professionals, but PGA members with extensive success at the professional, collegiate, amateur, and junior levels.  We also host world-renowned teachers such as Dr. Robert Neal of Golf BioDynamics and Adam Bazalgette of Scratch Golf Academy for exclusive instructional opportunities.  There is no other course in this area that offers an instructional lineup of our caliber.
AMENITIES
Chesapeake Bay Golf Club features superb playing and practicing amenities including an 18 hole championship golf course kept in pristine condition, practice putting green, short game practice chipping green and sand bunkers, and a driving range with bent grass tees as well as high-end FiberBuilt mats.  Chesapeake Bay Golf Club also features two world-class simulator bays, utilizing industry-leading state-of-the-art TrackMan technology.  We pair the best and most accurate launch monitor money can buy with multiple high-speed cameras to thoroughly breakdown and quantify every facet of the golf swing.  Our tech takes the guesswork out of the equation and puts your swing under the microscope to achieve results fast.
CLUB FITTING
Chesapeake Bay Golf Club's Andrew Barbin Jr is widely regarded as one of the top fitters in the area.  For honest, professional, knowledgeable club fittings for all things Mizuno and TaylorMade look no further that our Champions Lab fitting studio.  Cross-referencing TrackMan technology with Mizuno's 3D Swing Optimizer is Andrew's key to finding the perfect set for your swing.
OUR LEGACY
The Barbin family is renowned in the golf world for having success at the highest levels of play, and our track record speaks for itself.  We don't just produce good golfers, we produce champions.  We have produced multiple winners at multiple levels of play – at the professional, state amateur, national amateur, high school state championship, state senior amateur, collegiate, and state junior levels of play.  We believe with golf instruction, it's not about quantity, it's about quality.  It's about educating every golfer on why they swing the way they do, why the ball flies the way it flies, and how to correct it while you are on the course.
ADVANCED GOLFERS
If you want to be the best, you need to work with the best.  If you are a college golfer, high-level junior, or scratch golfer looking to take it to the next level, our Champions Lab is the place to go.  You are guaranteed to work with golfers who have played high-level golf on the world stage who understand what it takes to get there.  You are guaranteed to get tailored instruction utilizing the same tech and teaching philosophies used by the best golfers in the world.  And finally, you are guaranteed results and a pathway to success.  No pool noodles, hula hoops, or strange drills that won't help you on the course – we go right into identifying the source of your inconsistencies and help you learn how to associate the correct feelings with a visual so that you have the ability to always work on your move and check on your progress.
JUNIOR GOLFERS
Andy Barbin Sr is the progenitor of Cecil County High School Golf, as well as junior golf in the county.  And since then, Cecil County junior golf has flourished.  Multiple D1, D2, and D3 collegiate golfers have made their way through our many junior programs, and at the junior level our student's success is almost impossible to list.  Multiple juniors have made appearances at the US Junior Amateur and National PGA Junior, one junior won three different state junior titles in the same summer, and three different students have won a combined five high school state championships in Maryland and Delaware.  In 2022, 9 out of the 12 All-County golfers were taught by our instructors.  Our junior programs include individualized instruction and tournament schedule management by the leading-experts in junior golf, our highly successful 13U and 17U PGA Junior League, and three week-long summer camps (two for 13U and one for 18U).  We have also hosted many junior championships, ranging from the AJGA, Hurricane Junior Tour, Buckeye Junior Tour, Philadelphia Junior Tour, US Kids Tour, high school conference championships, as well as the site of the most Delaware Junior Amateurs all-time.  We are firm believers in junior golf and growing the game, and we have countless success stories growing junior golfers into star athletes.
BEGINNERS & LOW SKILL GOLFERS (MEN & LADIES)
While we teach many high-level golfers, we treat our newer and struggling golfers with the same passion and attentiveness as our tour-hopeful golfer.  We understand that not everyone has aspirations of being a champion, but might just want to cure that nasty slice or be able to keep up with their friends on the links.  We understand that most amateur golfers don't have the time to practice as much as the more serious golfers, so we prioritize education and helping you understand what you are doing and attack the most important fundamental deficiencies so that you can enjoy golf more right away!  Due to our extensive background in golf biomechanics, we are also considered specialists in teaching women golfers.  We are a one-stop shop for EVERY golfer looking to improve!
Professional Staff
Andrew Barbin
General Manager / Director of Golf
PGA Member A-13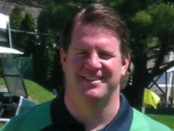 After finishing college as ODAC Collegiate Player of the Year, Andy started his Professional career winning the 1989 AT&T PGA Long Drive Championship with a 338.2 yard drive. He has been ranked in the Top 10 on the Philadelphia PGA Section Money List, and qualified locally for the U.S. Open. On 5/6/02 Andy fired an 8 under par 63 to win the Philadelphia PGA's Multiple Sclerosis Pro-Am.  In July, 2002 Andy played in  the PGA Nationwide Tour Hershey Open.  Andy was inducted into the Sports Hall of Fame of his alma mater, Lynchburg College, in the Fall of 2003.
Andy has competed in the PGA Tour Qualifying School three times. While playing the mini-tours in Florida, Andy gained knowledge from the top teachers in the world including David Leadbetter (#1 coach to the pros) and his associates, Bob Toski (founder of Golf Digest Schools), John Elliot (Head Instructor Golf Digest Schools), John Redman (client Paul Azinger), and Simon Holmes (clients include Ernie Els, Berhard Langer).
In 2010, Andy was named Golf Professional of the Year for the Philadelphia PGA Section, a US Kids Golf National Top 50 Kids Teacher, and most notably, Andy received the prestigious 2010 National PGA President's Plaque Award which recognized his efforts to promote and grow the game of golf both locally and regionally. [ Click Here to watch archive footage of Andy receive the National PGA President's Plaque Award January 27, 2011 in Orlando, Florida. To skip directly to Andy's Speech, slide the time bar to minute 68:30. ]  In 2011, Andy was a Finalist for the 2011 National PGA Golf Professional of the Year Award, and was named the Crohn's & Colitis Foundation's Philadelphia/Delaware Valley Chapter "CCFA Man of the Year". In 2013, Andy received the Bill Strausbaugh Award from the Philadelphia PGA Section for mentoring his fellow PGA Professionals, growing the game of golf, and outstanding community service, and he was a Finalist for the 2013 National PGA Bill Strausbaugh Award.
Andrew Barbin, Jr
PGA Head Golf Professional
Mizuno Top Fitter
Andrew Barbin Jr, oldest of the four Barbin brothers, has been a PGA Golf Professional since 2017 and the Head Golf Professional at Chesapeake Bay Golf Club since 2019.  Since turning pro, Andrew has enjoyed much success in the Philadelphia PGA Section – with multiple top 10 finishes in many prestigious events including a third-place finish at the Head Professional Championship in 2022, a 6th-place finish in the Doylestown Open in 2022, a 9th place finish in the 2021 Hyndman Memorial, and two runner-up finishes at the Kennett Square Pro-Am in 2018 and 2022.  Andrew's success at the professional level succeeds a collegiate career featuring three medalist honors and Team MVP honors at Eastern University, and a junior career featuring sixteen medalist honors and two All-State honors.  In his 9 years of collegiate and high school golf, Andrew served as team captain for 5 of those seasons.
Andrew Barbin Jr has cultivated an impressive following in the short span he has been an instructor at Chesapeake Bay Golf Club, ranging from state-champions to single-digit handicappers to a plethora of juniors, ladies, and seniors who started from scratch.  Andrew excels at utilizing and translating Trackman data and high-speed cameras from multiple angles to pinpoint swing flaws, than creates a hierarchy of needs and plan of attack to improvement.  While golfers all have individualistic characteristics of their golf swings, Andrew's teaching philosophies are centered around addressing the core critical mechanical principals that are consistent with all successful, efficient, and powerful golf swings to maximize and optimize your golf swing.
Andrew is also a top fitter for Mizuno and TaylorMade, utilizing Trackman technology, Mizuno's 3D Shaft Optimizer, and multiple high-speed cameras to help you build the set of your dreams.  With an extensive knowledge of shaft profiles and club building, as well as wisdom in building an optimized set to ensure all distance and utility gaps are filled, you can expect a professional and honest fitting experience.  Your experience with the fitting, happiness and success with the clubs you purchase, and knowledge that the set you are building is right for you (not what is most expensive!) is most important to us.  Getting fit with Andrew is getting fit right!