Lessons
Golf Lessons, Junior Golf Camps, Clinics
Chesapeake Bay Golf Club Golf Academy
Chesapeake Bay Golf Club is dedicated to bringing you the finest quality golf lessons and award winning PGA Golf Professional instructors in the region!
Golf Lesson Rates  |  Junior Golf Camps  |  Request a Lesson
Knowledge is Power
The best teachers are also excellent students themselves. The PGA Professional Staff at Chesapeake Bay Golf Club has studied extensively with some of the top teachers in the world. This firsthand knowledge can be passed on to golfers at all skill levels to improve their games. It is our mission to provide the highest quality, individually tailored, affordable golf instruction from experienced PGA Golf Professionals utilizing outstanding accommodations.
Amenities
Chesapeake Bay Golf Club features superb playing and practicing amenities including an 18 hole championship golf course, practice putting green, short game practice chipping green and sand bunkers, and a Driving Range.
Professional Staff
Andrew Barbin
General Manager / Director of Golf
PGA Member A-13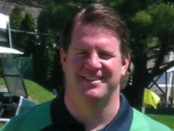 After finishing college as ODAC Collegiate Player of the Year, Andy started his Professional career winning the 1989 AT&T PGA Long Drive Championship with a 338.2 yard drive. He has been ranked in the Top 10 on the Philadelphia PGA Section Money List, and qualified locally for the U.S. Open. On 5/6/02 Andy fired an 8 under par 63 to win the Philadelphia PGA's Multiple Sclerosis Pro-Am.  In July, 2002 Andy played in  the PGA Nationwide Tour Hershey Open.  Andy was inducted into the Sports Hall of Fame of his alma mater, Lynchburg College, in the Fall of 2003.
Andy has competed in the PGA Tour Qualifying School three times. While playing the mini-tours in Florida, Andy gained knowledge from the top teachers in the world including David Leadbetter (#1 coach to the pros) and his associates, Bob Toski (founder of Golf Digest Schools), John Elliot (Head Instructor Golf Digest Schools), John Redman (client Paul Azinger), and Simon Holmes (clients include Ernie Els, Berhard Langer).
In 2010, Andy was named Golf Professional of the Year for the Philadelphia PGA Section, a US Kids Golf National Top 50 Kids Teacher, and most notably, Andy received the prestigious 2010 National PGA President's Plaque Award which recognized his efforts to promote and grow the game of golf both locally and regionally. [ Click Here to watch archive footage of Andy receive the National PGA President's Plaque Award January 27, 2011 in Orlando, Florida. To skip directly to Andy's Speech, slide the time bar to minute 68:30. ]  In 2011, Andy was a Finalist for the 2011 National PGA Golf Professional of the Year Award, and was named the Crohn's & Colitis Foundation's Philadelphia/Delaware Valley Chapter "CCFA Man of the Year". In 2013, Andy received the Bill Strausbaugh Award from the Philadelphia PGA Section for mentoring his fellow PGA Professionals, growing the game of golf, and outstanding community service, and he was a Finalist for the 2013 National PGA Bill Strausbaugh Award.
Andrew Barbin, Jr
Head Golf Professional
PGA Apprentice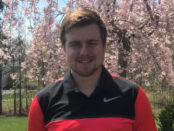 Andrew Barbin, Jr. is the latest addition to our professional team. To Andrew, golf is more than a game or a career, it is a lifestyle. Son of a PGA Golf Professional and the eldest of four brothers who play at the highest level, Andrew has spent most of his days on the links at Chesapeake Bay Golf Club.
Andrew enjoyed a successful junior golf career, earning Player of the Year honors at the Philadelphia US Kids Tour as well as winning the Chesapeake Bay Golf Club Junior Club Championship five times. As a high school golfer, Andrew was known primarily for one thing: hitting the ball far. His ball-striking helped establish him as one of the top golfers in the state of Delaware, earning All-State honors twice and sixteen medalist titles. Andrew was also captain of his golf team at Red Lion Christian Academy in Bear, Delaware.
At the collegiate level his freshman year, Andrew led Eastern University to their first ever conference championship title. He was named team captain as a sophomore, and by his senior year in 2017 he had one tournament win, a team MVP title, and the second lowest career average in school history.
A student of the game, Andrew's teaching style focuses on simplifying the golf swing through good fundamentals, while optimizing his students' personal swings.