FootGolf
FootGolf at Chesapeake Bay Golf Club
Maryland's 1st Accredited AFGL FootGolf Course!
FootGolf Rates  |  Reserve FootGolf Time Online  | Call Pro Shop 410-658-4343 x2
FootGolf Scorecard & Course Map  |  FootGolf Rules  |  Gallery
FootGolf Outings, Parties, Events  |  Request FootGolf Event Info
The Fusion of Soccer + Golf
Come Experience the Coolest Sport on Earth!
FootGolf integrates the world's number one elite sport – golf, with the world's most popular sport – soccer. Anyone can play! The object is to get a soccer ball with the lowest number of kicks from the tee area into the hole. People began playing the sport in Europe around 2009, and it quickly spread in popularity to South and North America.  Chesapeake Bay Golf Club is proud to be recognized as the first Accredited FootGolf Course in Maryland by the American FootGolf League, the governing body for the sport of FootGolf in the US, and the organization that introduced FootGolf in North America in 2011.
Follows the basic rules of golf – no clubs – just a soccer ball (Regulation FIFA soccer ball #5)
Play 18 Holes of FootGolf on Chesapeake Bay Golf Club's Front 9 Golf Holes
Kick off from tee boxes or rough
Try to sink the ball in the hole in the fewest kicks possible
Try to make Par if you can – 3 kicks, 4 kicks, 5 kicks!
A fun and inexpensive way to challenge your soccer skills
A Walking Experience – No running required
Sneakers or turf shoes only – no cleats please
New! We now Offer 4 Different Size FootGolf Balls:

Mini – for Age 5 & Under
Small – for Age 8 & Under
Medium – for Age 12 & Under
Regular – for Age 13+
FootGolf at Chesapeake Bay Golf Club is available for play daily (times subject to change / special promotions). Call Pro Shop 410-658-4343 x2 for further details or to reserve your time.
FootGolf Tournaments are a fun new alternative to traditional golf outings and can be suited to all age groups. FootGolf Tournaments can be utilized for Fundraisers, Birthday Parties, Corporate Events, Social Gatherings, Groom's Outings & more! Please Fill Out our Outing Inquiry Form or contact our Professional Staff at 410-658-4343 x2 if you are interested in learning more.
FootGolf Scorecard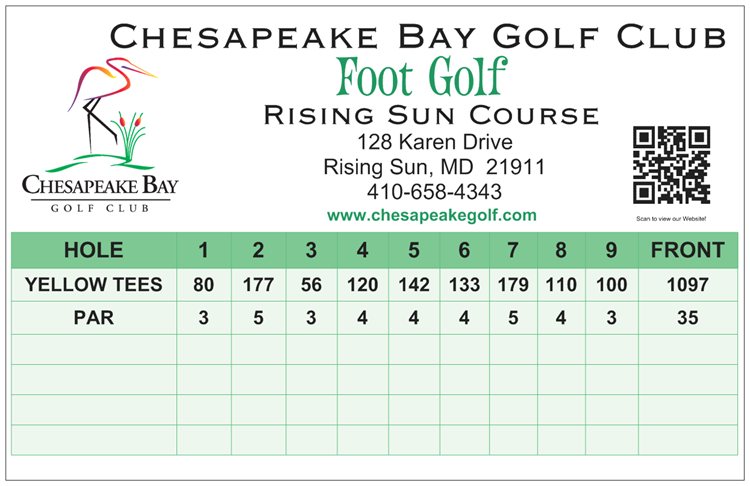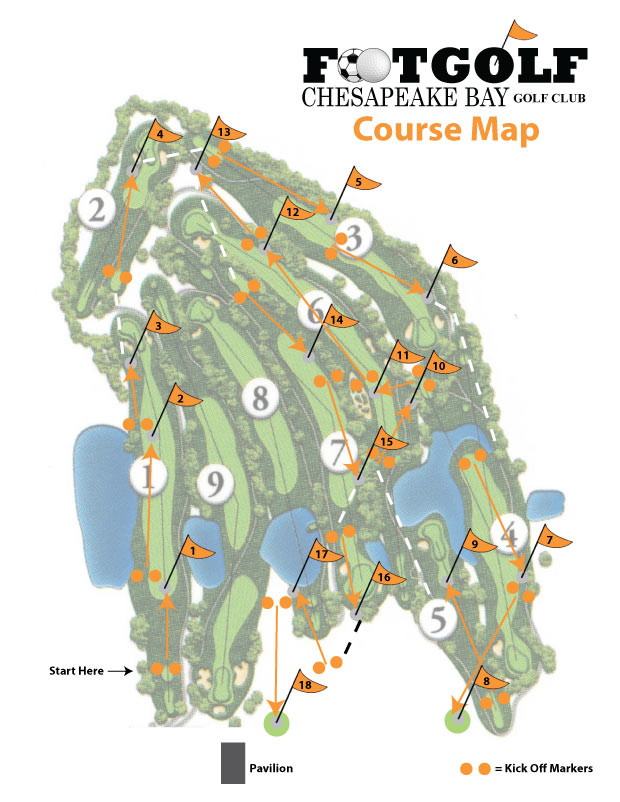 FootGolf Rules
Goal – to get a ball into the hole in as few hits as possible from the designated starting area (teeing ground).
Pace of Play – do not cut in front of regular play, and do not delay or interfere with play. Play in the allotted time as best as possible.
Teeing Ground – after finishing a hole, go straight to the next designated teeing ground. Tee off behind yellow tee markers.
Golf Putting Greens – if ball lands on a putting green surface, please pick up ball and move off green with free relief – no closer to FootGolf hole. You shall not play from the golf putting greens at any time.
Carts – do NOT drive carts over:

Teeing Areas
Greens
Sand Traps
Inside any Marked Off Area (yellow, red, white or orange lines)

General Rules

Abide by the rules of the FIFG
Check in with the Pro Shop and pay
Photo Gallery












Call Pro Shop for Tee Times or Details 410-658-4343 x26.
FootGolf Events – Try FootGolf for Kids Parties, Fundraisers, Outings, Reunions & More!