Frank Orbin wins the 2015 President's Cup.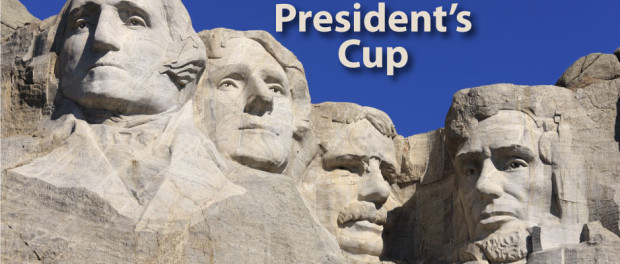 2015 CBGC President's Cup
2015 Presidents Cup Bracket – Final Match to be held Friday, October 9
Bracket as of October 4, 2015
UPDATE – OCTOBER 12, 2015:
Congratulations to Frank Orbin who beat Jim French 7 and 6 in the 2015 President's Cup Final on Friday, October 9th at the North East Course.
---
OCTOBER 6, 2015:
Two talented and evenly skilled and experienced players will face off this Friday Oct 9th at the North East course for an epic battle – Jim French with a 10 hdcp and Frank Orbin with a 14 hdcp.
Each player receives 80% of their handicap and play Match play for 18 holes to determine the 2015 Harry C Barbin III Presidents Cup Championship. The winner will receive a Beautiful Prize and 150 additional points to be added to their season long total for Player of the Year! These points are critical for the Player of the Year, because on Oct 18th the Tournament of Champions tournament will occur and the top 30 players of the season will playoff for the title of "Best Player at Chesapeake Bay Golf Club".
For Full President's Cup Rules and Tournament Information, please click here. The current Bracket is available above to view or print.
Eligibility:
Open to

All Members

– Men & Women
Open to All Season Ticket Holders
Open to All Men's & Ladies Association Members
For All Levels of Play
100% Handicap
Everyone vs Everyone
Play your Match when you want!
Location & Time

:
North East Course

First Round to be completed by May 25
Second Round to be completed by June 15
Third Round to be completed by July 6
Fourth Round to be completed by August 3
Fifth Round to be completed by August 24
Sixth Round completed by September 14, 2015