Masters Jacket Tournament 2023
Pick a PGA Tour Player playing in the Masters to be your partner.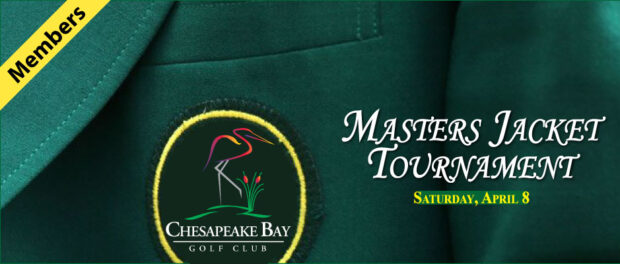 MASTER'S JACKET 2023


Saturday, April 8 • 11:00 A.M. Tee Times

Sign Up: Click Here to Sign Up Online
Call: Pro Shop 410-658-4343 x2

Nothing signals the start of the golf season like the Masters.
PICK-A-PRO FORMAT:
Our annual Master's Jacket Tournament is a two-player team combined score with a twist, where you pair your Saturday Net Score here at Chesapeake Bay Golf Club with a Pro's Sunday Score at the Master's Tournament at Augusta National.  For example, you chose Rory McIlroy as your Pro – you shoot a net 70 here on Saturday and Rory shoots a 68 on Sunday.  Your team score would then be 138.  The lowest team wins!
ELIGIBILITY:
This is a Club Association Tournament and is only open to golfers who have their USGA Handicap associated through us.
This is a Net Tournament, taking 90% of your course handicap.  The maximum course handicap for this event will be 32 – any higher handicaps will be reduced to 32.
RULES:
All 2023 USGA Rules apply.  All putts must be holed – no gimmies!
Ball will be played down through green.
Red stakes & lines indicated penalty areas.  If no markings, consider the hazard indication line to be a club length from the edge.
White stakes & roads indicate areas that are out of bounds.
Due to our bunker renovation project being midway, we will play bunkers as ground under repair w/ free relief.
All tree stumps and unmarked areas of ground under repair (due to tree work or damaged turf from machinery) is granted free relief.
All mulched areas are also granted free relief.
We will be adopting the USGA recommended local rule for Out of Bounds / Lost Balls.  If a ball goes out of play, you may take a 2-stroke penalty drop on the edge of the fairway equidistant to the point where the ball went out of play.  This is an alternative option to going back and replaying your shot with a penalty stroke (stroke & distance).
PAYOUT INFORMATION:
30% of the field (or roughly) will be paid out in gift cards.  This is a net only tournament.
An option skins game of $5 per golfer will also be played – this will be in the form of individual skins.  We will be utilizing our 2023 House Rules for this tournament's skins game.
HOUSE SKINS RULES:
Canadian Skins

– Net Skins, but the lowest gross score wins in the event of ties.  For example, if two golfers are tied with a net 3 on a hole, but Player A had a gross 3 and Player B had a gross 4.  Player A would win the skin.
Net birdies or better to win a skin.
70% Handicap Allowance
Max Handicap is 32 – any higher handicaps will default to 32.
REGISTRATION:
Chesapeake & Bay Tier Members — $20.00 for the entire registration
Chantilly Card, Pines, Heron, Collegiate, & Junior Members — $65.00 for the entire registration
Player's Club (Non-Golf Member) — $80.00 for the entire registration