Player of the Year Points – 2023
New! "Player of the Year" Points Totals as of October 23rd.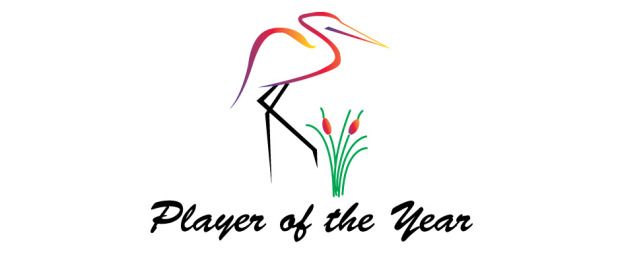 Chesapeake Bay Golf Club's 2023 "Player of the Year" Points are the total points gained by each member in the tournaments they participated in. Points are broken out based on type of tournament – Majors, Championships & Events. Scroll down for Points Breakdown. Top 32 Players will be invited to play in the Tournament of Champions on November 12, 2023 – our "FedEx Cup" style season finale where we will crown the club's Player of the Year!
2023 Player of the Year Points Totals
Points as of October 23, 2023 | Updated on our Golf Genius Page Here
| | | | | |
| --- | --- | --- | --- | --- |
| Current Rank | Player | Number of Tournaments | Number of Wins | Total Points |
| 1 | Burton, Randy | 12 | 0 | 4120 |
| 2 | Riel, Robert | 14 | 2 | 3565 |
| 3 | Psenicska, David | 13 | 1 | 3080 |
| 4 | Kilgore, Lucas | 9 | 1 | 2560 |
| 5 | Petersen, Pete | 7 | 1 | 2300 |
| 6 | Cohee, Brandon | 10 | 1 | 2235 |
| 7 | Kennedy, Michael | 2 | 1 | 2175 |
| 8 | Armstrong, George | 9 | 3 | 2155 |
| 9 | Ferdinando, Joe | 3 | 1 | 2050 |
| 10 | Kilgore, Brian | 6 | 3 | 1910 |
| 11 | Phillips, Dougy | 9 | 2 | 1855 |
| 12 | Psenicska, Jason | 6 | 1 | 1760 |
| 13 | Wallace, Noah | 5 | 1 | 1725 |
| 14 | PIERCE, Patrick | 6 | 0 | 1625 |
| 15 | Gilbert, Riley | 6 | 0 | 1570 |
| 16 | Swalm, Connor | 2 | 1 | 1530 |
| 17 | Dzedzy, Don | 0 | 0 | 1470 |
| 18 | Bailey, Mike | 4 | 0 | 1450 |
| 19 | Walters, Eric | 7 | 1 | 1435 |
| 20 | Kane, Jason | 3 | 2 | 1425 |
| 21 | Waldridge, Johnny | 6 | 1 | 1415 |
| 22 | Barbin, Evan | 5 | 1 | 1400 |
| 23 | Shoemaker, David | 5 | 1 | 1390 |
| 24 | Grimes, Seth | 6 | 0 | 1375 |
| T25 | Brooks, Vince | 6 | 1 | 1350 |
| T25 | Fox Sr, Michael | 3 | 2 | 1350 |
| T25 | Zamora, ARLENE | 3 | 0 | 1350 |
| 28 | Najera, Lou | 7 | 2 | 1320 |
| 29 | Graybeal, Dave | 1 | 1 | 1250 |
| T30 | Rice, Sonny | 0 | 0 | 1230 |
| T30 | Steele, Willard | 0 | 0 | 1230 |
| 32 | Barbin Jr., Andrew | 11 | 1 | 1225 |
| 33 | Barbin, Austin | 1 | 1 | 1200 |
| 34 | Gaskill, Dave | 6 | 2 | 1185 |
| 35 | Kingshill, Ryan | 0 | 0 | 1155 |
| 36 | Benner, Matt | 7 | 0 | 1125 |
| T37 | Piner, Earl | 0 | 0 | 1100 |
| T37 | Pinkerton, Shelly | 2 | 0 | 1100 |
| T37 | Walton, Steve | 0 | 0 | 1100 |
| 40 | Nelles, Mike | 4 | 0 | 1090 |
| 41 | Showalter, Bill | 2 | 0 | 1060 |
| T42 | Moon, Audrey | 1 | 1 | 1050 |
| T42 | Phillips, Douglas | 4 | 2 | 1050 |
| 44 | Capolongo, Ken | 3 | 1 | 1045 |
| T45 | Barbin, Zachary | 3 | 1 | 1025 |
| T45 | Medlar, Denise | 3 | 2 | 1025 |
| T47 | Eldreth, Justin | 4 | 1 | 1000 |
| T47 | LaFontaine, Matt | 2 | 1 | 1000 |
| 49 | Jordan, Caiden | 3 | 0 | 960 |
| T50 | Benner, Jen | 5 | 0 | 950 |
| T50 | Miller, Ernie | 0 | 0 | 950 |
| T50 | Speakman, Sam | 0 | 0 | 950 |
| 53 | Stasiunas, Thomas | 1 | 0 | 925 |
| 54 | Snyder, Al | 2 | 1 | 900 |
| 55 | Schneider, Josh | 5 | 1 | 885 |
| T56 | Eckman, Jake | 3 | 0 | 850 |
| T56 | Janney, John | 0 | 0 | 850 |
| T56 | Ragan, Justin | 4 | 0 | 850 |
| 59 | Wakeman, Dona | 2 | 1 | 825 |
| T60 | Kerr, Gordy | 5 | 2 | 800 |
| T60 | Zippel, Paul | 2 | 0 | 800 |
| 62 | Pack, Ryan | 0 | 0 | 790 |
| T63 | O'Neill, Matt | 0 | 0 | 700 |
| T63 | Whiteoak, Bobby | 0 | 0 | 700 |
| T65 | Black, Kevin | 0 | 0 | 690 |
| T65 | Gaston, Hunter | 0 | 0 | 690 |
| T65 | Shaffer, Bryan | 0 | 0 | 690 |
| T68 | Bolton, Doug | 0 | 0 | 650 |
| T68 | Brown, Shannon | 0 | 0 | 650 |
| T68 | Hill, Frank | 0 | 0 | 650 |
| T68 | LAWSON, KEVEN | 1 | 1 | 650 |
| T68 | MacManus, Paudie | 0 | 0 | 650 |
| T68 | Moore, Steve1 | 0 | 0 | 650 |
| T74 | Lee, Tom | 2 | 0 | 625 |
| T74 | Lynch, David | 3 | 0 | 625 |
| T76 | Cooper, Joseph | 0 | 0 | 600 |
| T76 | Jones, Patrick | 0 | 0 | 600 |
| T76 | Keane, Roger | 0 | 0 | 600 |
| T76 | Krummel, Joe | 0 | 0 | 600 |
| T76 | Krummel, Kirk | 0 | 0 | 600 |
| T76 | Morgan, Kent | 0 | 0 | 600 |
| T76 | NYE, Cheryl | 1 | 0 | 600 |
| 83 | Cornell, Sandy | 1 | 0 | 525 |
| 84 | Cudmore, Wyatt | 2 | 0 | 520 |
| T85 | Brown, Adam | 0 | 0 | 500 |
| T85 | Graney, Joe | 0 | 0 | 500 |
| T85 | Hanks, Brad | 0 | 0 | 500 |
| T85 | Paris, Bub | 2 | 0 | 500 |
| T85 | Smith, Evan | 1 | 1 | 500 |
| 90 | Fieger, Jordan | 0 | 0 | 490 |
| T91 | Beauregard, Jeff | 0 | 0 | 450 |
| T91 | Castro, Phillip | 0 | 0 | 450 |
| T91 | Riddle, William | 0 | 0 | 450 |
| 94 | Fox, Michael | 2 | 0 | 440 |
| 95 | Cornell, Shane | 1 | 0 | 425 |
| T96 | Haney, Nate | 2 | 0 | 410 |
| T96 | Miller, Brian | 2 | 0 | 410 |
| T98 | castle, tom | 0 | 0 | 400 |
| T98 | Madden, Joe | 1 | 0 | 400 |
| T98 | Mirah, Alan | 0 | 0 | 400 |
| T98 | Wakeman, Drew | 2 | 0 | 400 |
| T98 | Whiteoak, Karen | 0 | 0 | 400 |
| T98 | WILSON, Brandon | 1 | 0 | 400 |
| 104 | Swalm, Chandler | 3 | 1 | 375 |
| T105 | Crockett SR, jessie | 1 | 0 | 350 |
| T105 | MARTIN, CHUCK | 0 | 0 | 350 |
| T105 | Smith, Ryan | 1 | 0 | 350 |
| T108 | Benner, Travis | 0 | 0 | 300 |
| T108 | Glancy, Kevin | 0 | 0 | 300 |
| T108 | Gracie, Drew | 0 | 0 | 300 |
| T108 | Hamilton, Eric | 0 | 0 | 300 |
| T108 | Hanks, Jesse | 1 | 1 | 300 |
| T108 | Klotz, Eric | 0 | 0 | 300 |
| T108 | Mahan, Don | 0 | 0 | 300 |
| T108 | Mertz, Dennis | 2 | 0 | 300 |
| T108 | Nickler, Eric | 0 | 0 | 300 |
| T108 | Palmer, Dan | 0 | 0 | 300 |
| T108 | Rogers, Will | 0 | 0 | 300 |
| T108 | Romanov, Nikita | 1 | 0 | 300 |
| T108 | Smith, Rickey | 1 | 0 | 300 |
| T108 | Webb, Wendy | 0 | 0 | 300 |
| T122 | Gibson, Wyatt | 1 | 0 | 250 |
| T122 | Hall, Richard | 0 | 0 | 250 |
| T122 | Hawke, Chick | 0 | 0 | 250 |
| T122 | Sample, Jimmy | 2 | 0 | 250 |
| T122 | Wallace, Matt | 1 | 0 | 250 |
| T127 | Michaels, Steve | 1 | 0 | 225 |
| T127 | Whitehead, Hunter | 1 | 0 | 225 |
| 129 | Jordan, Steve | 1 | 0 | 210 |
| T130 | Burns, Bill | 0 | 0 | 200 |
| T130 | Darden, Bill | 1 | 0 | 200 |
| T130 | Haggerty, Susan | 0 | 0 | 200 |
| T130 | Patchell, Tracey | 0 | 0 | 200 |
| T130 | Sample, Jimmy | 2 | 0 | 200 |
| T130 | Smith, Dwayne | 0 | 0 | 200 |
| T130 | Valz, Phillip | 0 | 0 | 200 |
| 137 | Jackson, Ryan | 0 | 0 | 190 |
| 138 | Kristovich, Brandon | 2 | 0 | 180 |
| T139 | Shaffer, Bryan | 1 | 0 | 175 |
| T139 | Strong, Zachary | 1 | 0 | 175 |
| T141 | Boyd, Aaron | 0 | 0 | 150 |
| T141 | Hitchens, Randy | 1 | 0 | 150 |
| T141 | Manuel, Kurtis | 0 | 0 | 150 |
| T144 | Barry, Douglas | 0 | 0 | 100 |
| T144 | Caudill, Drew | 0 | 0 | 100 |
| T144 | Cooper, Billy | 0 | 0 | 100 |
| T144 | Cooper, kyle | 0 | 0 | 100 |
| T144 | Eldreth, Jared | 0 | 0 | 100 |
| T144 | Ellis, Paul | 0 | 0 | 100 |
| T144 | Gawin, Gary | 0 | 0 | 100 |
| T144 | Goodie, Sean | 0 | 0 | 100 |
| T144 | Hale, Gail | 0 | 0 | 100 |
| T144 | Harris, Dave | 0 | 0 | 100 |
| T144 | Janney, Denise | 0 | 0 | 100 |
| T144 | Jenkins, Julian | 0 | 0 | 100 |
| T144 | Langshaw, Ray | 0 | 0 | 100 |
| T144 | Lowe, Brian | 0 | 0 | 100 |
| T144 | Maddy, Paul | 0 | 0 | 100 |
| T144 | Moore, Steve | 0 | 0 | 100 |
| T144 | Najera, Conor | 1 | 0 | 100 |
| T144 | Ritchie, Chris | 0 | 0 | 100 |
| T144 | Ritchie, Mike | 0 | 0 | 100 |
| T144 | Rongstad, Kraig | 0 | 0 | 100 |
| T144 | Ryan, Kevin | 0 | 0 | 100 |
| T144 | Sbraccia, Jason | 0 | 0 | 100 |
| T144 | Simpson, Jim | 0 | 0 | 100 |
| T144 | Taylor, Timothy | 0 | 0 | 100 |
| T144 | Van Fossen, John | 0 | 0 | 100 |
| T144 | Wagner, Steve | 0 | 0 | 100 |
| T144 | Wiggins, Hunter | 0 | 0 | 100 |
| 171 | Hanks, Brad | 1 | 0 | 60 |
| 172 | Rogers, Steve | 1 | 0 | 50 |
| 173 | Thompson, Mark | 1 | 0 | 20 |