Labor Day Scramble – 2017 Results
Team Billy Cooper, Rickey Smith, Dick Civita, and Gordy Kerr win Low Net for the 2017 Labor Day Scramble.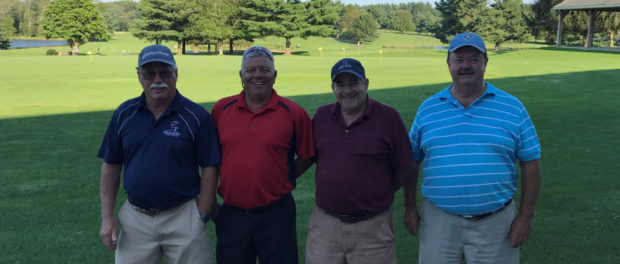 Congratulations to our 2017 Labor Day Scramble winning teams!
The team of Andy Barbin Sr., Austin Barbin, Evan Barbin, and David Shoemaker won low gross with a solid score of 62, besting the second place team of Andrew Barbin Jr., Pat Fieger, Jordan Fieger, and Daniel Kaczowka's score of 64.
On the net side, the team of Billy Cooper, Dick Civita, Rickey Smith, and Gordy Kerr's net 53 edged out the second place team of Bernie Weed, Jim Weinzetl, Mike Hedrick, and Steve Melfa's 55.
As always, it was a fun event with great food afterwards!