2017 Club Champions – Full Results.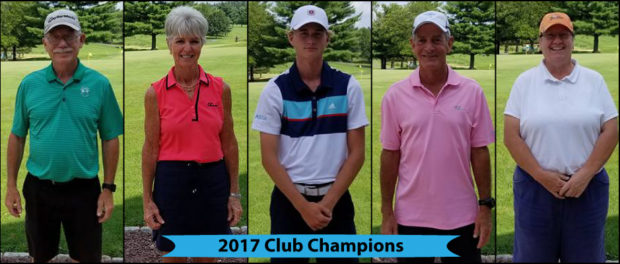 Results
Chesapeake Bay Golf Club
CLUB CHAMPIONSHIP
August 12 & 13, 2017
Congratulations to this year's Chesapeake Bay Golf Club 2017 Club Champions – Arlene Zamora and Austin Barbin.
Highlights of the tournament include an incredible 4-under par first round 67 from Zachary Barbin, two back to back 2-under par 69's from Austin Barbin, and 1-under par 70 rounds for Arlene Zamora and Andrew Barbin, Jr.
Tournament Recap
On the Men's side, 16 year old Austin Barbin defended his title in an epic battle with his brother Zachary Barbin, shooting a steady 69–69 for a 138 (-4). This year's one shot victory was Austin's third club championship title, as he won in 2014 and in 2016. Stay tuned for a more in-depth video recap!
Austin Barbin's score of -4 was a Chesapeake Bay Golf Club championship record. He now has a tie for most club championship titles at 3 with Chuckie Martin and David Lynch in the Chesapeake Bay Golf Club era (est. 1994).
Dating back to when the Rising Sun course was Chantilly Manor, Austin moves to a tie for third all time since 1968, trailing Jim Debusk's 8 championship titles and Phil Groff's 4 titles. He is tied with Brian Lockhart, Wayne Calvert, Chuckie Martin, and David Lynch at three titles.
On the Ladies' side, we welcomed back former Delaware Women's Open champ Arlene Zamora to the winner's circle. Arlene, who took a 3 year break from golf, came back and shot 75-70 for a 145 (+3). Arlene notched 8 birdies in her return en route to a 27 stroke victory over defending champ Shelly Pinkerton. This was Arlene's eighth Ladies Club Championship title.
Jim Weinzetl won the Men's B Flight, besting defending B Flight champ Frank Orbin. Jack Falkenstein won the Men's C Flight in a close match with Gary Rohrbaugh. Both Jim and Jack are first time winners of the championship.
Bernie Weed won the Ladies A Flight, her first ladies club title, over six time champ Susan Eichler.
Ladies
Championship Flight
1st Place:
Arlene Zamora
75 +

70

= 145
2nd Place:
Shelly Pinkerton
84 + 88 = 172
First Flight
| | | |
| --- | --- | --- |
| 1st Place: | Bernie Weed | 92 + 84 = 176 |
| 2nd Place: | Susan Eichler | 97 + 89 = 186 |
Men's
Championship Flight
1st Place:
Austin Barbin

69

+

69

=

138

2nd Place:
Zach Barbin

67

+ 72 =

139

3rd Place:
Andrew Barbin
78 +

70

= 148
4th Place:
Earl Mitchell
78 + 85 = 163
5th Place:
Evan Barbin
82 + 86 = 168
First Flight
| | | |
| --- | --- | --- |
| 1st Place: | Jim Weinzetl | 86 + 84 = 170 |
| 2nd Place: | Frank Orbin | 93 + 89 = 182 |
Second Flight
| | | |
| --- | --- | --- |
| 1st Place: | Jack Falkenstein | 92 + 94 = 186 |
| 2nd Place: | Gary Rohrbaugh | 96 + 95 = 191 |
| 3rd Place: | Ken Hart | 94 + 109 = 203 |
| 4th Place: | Mike Nelles | 100 + 106 = 206 |