CBGC's Ryder Cup – Golf Results
Congratulations to the winning Low Gross Team Austin Barbin and Evan Barbin, and Low Net Team Ricky Davis and Jason Gunning.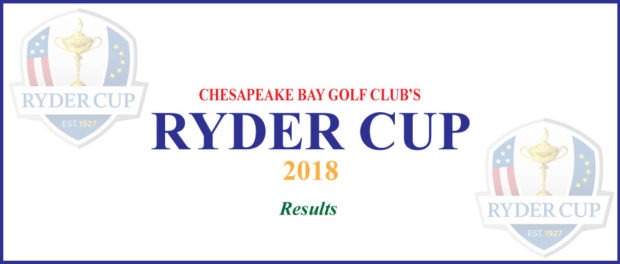 CBGC's 2018 "Ryder Cup"
Golf Results
Golf Results for Chesapeake Bay Golf Club's "Ryder Cup" Tournament on Sunday, September 30, 2018.
This was a 2 Person Team Event that was Open to the Public with a fun split format: 1st 6 Holes Select Drive, Alternate Shot, 2nd 6 Holes Scramble, and 3rd 6 Holes Best Ball (Four Ball).
| | | |
| --- | --- | --- |
| Low Gross: | Austin Barbin & Evan Barbin | 68 |
| | | |
| Low Net: | Ricky Davis & Jason Gunning | 64 |
| | | |
| 2nd Net: | Beth Rush & Glenn Morrison | 72 |
| | | |
| 3rd Net: tie | Bernie Weed & Donna Weirback | 73 |
| | Arlene Zamora & Tammie Vincenti | 73 |
| | Mike Nelles & Andrew Barbin, Jr. | 73 |