Pevarnik and Matneja co-leaders in Boys Division at Preseason Junior at Chesapeake Bay presented by Golf Performance Center. Muhlbauer leads Girls Division after first round.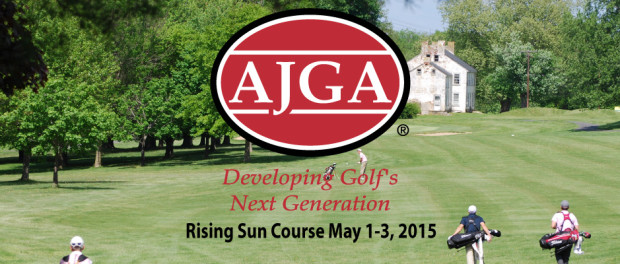 First Round Results
AJGA Preseason Junior at Chesapeake Bay Golf Club May 2-3
RISING SUN, Md. — Brady Pevarnik of Latrobe, Pennsylvania, and Milan Matneja of Fairfax, Virginia, are tied for the lead in the Boys Division after shooting a 1-over-par 72 at the Preseason Junior at Chesapeake Bay presented by Golf Performance Center. In the Girls Division, Lauren Muhlbauer of Newtown, Pennsylvania, leads after shooting a 7-over-par 78 at Chesapeake Bay Golf Club at Rising Sun.
Pevarnik and Matneja went neck-and-neck throughout most of the day, both carding three birdies on the back nine. Pevarnik's putting was crucial to his co-leader position after the first round.
"The back nine I was able to make a couple of birdies. Once I started making putts on the back, my game turned around," Pevarnik said.  "I bogeyed No. 18 after hitting it in the water. Tomorrow I plan on aiming left off that tee, and just going out there to play my game."
Ryan Lee of Norwood, New Jersey, and Leo Oyo of (Japan) Lake Mary, Florida, are tied for second at 2-over-par 73. Zachary Barbin of Elkton, Maryland, and Bruce Shober of Appomattox, Virginia, are tied for 5th at 3-over-par 74.
In the Girls Division, Muhlbauer's consistent play helped her card eleven pars to finish the first-round with a one-stroke lead.
"My drives were key today. I made quite a few putts that really helped me keep some pars," Muhlbauer said of her first-round at an AJGA event. "Tomorrow, I'm just going to do what I did today. I need to keep my swing at a steady pace and maintain a positive mindset."
Lauren Freyvogel of Gibsonia, Pennsylvania, holds second place at 8-over-par 79. Carolyn Wang of Basking Ridge, New Jersey, is in third at 9-over-par 80.
Final-round tee times will run from 7:00 AM – 11:30 AM off the No. 1 tee at Chesapeake Bay Golf Club at Rising Sun. For more information, please contact Tournament Headquarters (828)-399-0341.
The American Junior Golf Association is a 501(c)(3) nonprofit organization dedicated to the overall growth and development of young men and women who aspire to earn college golf scholarships through competitive junior golf. The AJGA provides valuable exposure for college golf scholarships, and has an annual junior membership (boys and girls, ages 12-18) of more than 6,300 members from 48 states and more than 50 foreign countries. Through initiatives like the Achieving Competitive Excellence (ACE) Grant, a financial assistance program, and Leadership Links, a service-oriented platform that teaches juniors charitable-giving skills, the AJGA fosters the growth of golf's next generation.
Titleist, the AJGA's National Sponsor, has been the catalyst and driving force behind the Association's success since 1989. Rolex, which is in its fourth decade of AJGA support, became the inaugural AJGA Premier Partner in 2004. In 2007, after 12 years of support, Polo Ralph Lauren became the AJGA's second Premier Partner.
AJGA alumni have risen to the top of amateur, collegiate and professional golf. Former AJGA juniors have compiled more than 600 victories on the PGA and LPGA Tours. AJGA alumni include Jordan Spieth, Brandt Snedeker, Bubba Watson, Webb Simpson, Hunter Mahan, Phil Mickelson, Tiger Woods, Stacy Lewis, Vicky Hurst, Inbee Park, Paula Creamer, Cristie Kerr, Brittany Lincicome and Morgan Pressel.
Source: AJGA