Zach Barbin Wins 120th BMW Philadelphia Amateur
CBGC's Zach Barbin wins Philly Am.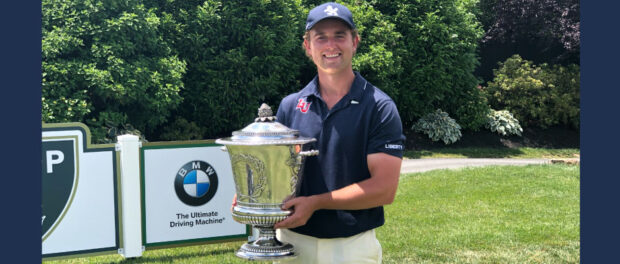 Zach Barbin Wins 120th BMW Philadelphia Amateur
LANCASTER, PENNSYLVANIA. June 15-17, 20, 2020 — History is made. Zach Barbin is the first player representing a public facility to win in the Philadelphia Amateur's storied 120 year history. Zachary Barbin's name will be forever etched in history alongside golf legends like 1897's first Amateur Champion, Albert Haseltine Smith, most famous for coining the phrase "birdie" in 1899 at Atlantic City Country Club.
Zach Barbin, a Chesapeake Bay Golf Club and Loch Nairn Member and senior at Liberty University, won the 120th BMW Philadelphia Amateur Championship Saturday at Lancaster Country Club (par 70, 6,694 yards). He defeated Michael O'Brien, a fellow collegiate golfer, 5&3 in the 36 hole final match.
Zach started Monday's stroke play qualifying tournament off with an even par 70 to become the number 3 seed in Match Play. In the Round of 32, Zach was paired with Calen Sanderson of Jericho National Golf Club (#30 seed) and defeated him 2 up.
In the Round of 16, Zach won 6 up against #19 seed P.J. Acierno of LuLu Country Club.
The Quarterfinals match was a friendly collegiate showdown between Liberty University's Zach Barbin and Penn State's Lukas Clark (#6 seed). Solid match for both players, with Zach ultimately prevailing 3&2.
In the Semifinals, Zach faced Brian Gillespie of St. Davids Golf Club who edged out local powerhouse Jeff Osberg of Pine Valley Golf Club 1up in the Quarterfinals. Zach defeated Brian 4&3 to make it to the final match on Saturday against Michael O'Brien of Makefield Highlands GC.
Michael O'Brien (#9 seed) went 20 Holes to defeat Dawson Anders (#8 seed), a Temple University senior in the Round of 16. O'Brien defeated fellow St. Joseph's University teammate Richard Riva 7&6 in the Quarterfinals, and Matthew Mattare of Saucon Valley Country Club 1 up in the Semis.
Barbin vs O'Brien Final Match Recap
The opening 18 holes seesawed with only three holes halved. Barbin led 1-up after the first round. O'Brien, however, appeared to grab the momentum when he capped the morning session with a 22-foot birdie on No. 18 (par 4, 466 yards). He ripped a 7-iron from 175 yards.

The first lap at Lancaster took the players only two hours and 50 minutes. Players, once again, were allowed to use motorized carts per the Association's COVID-19 policy. With inclement weather in the forecast, the finalists returned to the course just 10 minutes later.

Barbin returned red hot.

He and O'Brien halved No. 19 (No. 1, par 4, 413 yards) with short birdies, before Barbin, 21, of Elkton, Md., blitzed his opponent.

Barbin won Nos. 20-22 and Nos. 25-26 to balloon his advantage to 6-up after 27 holes. Barbin's wedges were blistering. On No. 20 (No. 2, par 4, 378 yards), he knocked a pitching wedge from 131 yards to 50 feet and two putted for par; on No. 21 (No. 3, par 4, 399 yards), he lofted a 58-degree wedge 84 yards to five feet and on No. 22 (No. 4, par 4, 343 yards) had the identical yardage and yes, identical result, as the previous hole. The next two holes were halved with pars before Barbin gained full command of the contest. On No 25 (No. 7, par 5, 530 yards), Barbin found the fairway twice, his tee ball courtesy of a crisp 2-iron. O'Brien found the water twice, once off the tee and another with his fourth shot, and eventually conceded the hole.

"That's when I knew my swing wasn't there off the tee. I kind of dug myself into a hole that was too deep to come out of," said a bespectacled O'Brien.

On the difficult No. 8 (par 3, 197 yards), the 26th hole, O'Brien flailed a 5-iron left. Barbin's 5-iron caught the right greenside bunker. O'Brien's chip ran through the green and he eventually made bogey. Barbin splashed out to six feet and sank what he called "one of his better putts of the match."

"It was straight downhill. I barely started it," said Barbin.

Barbin stood dormie with six holes to go. O'Brien stood true to his alma mater's motto: "The Hawk Will Never Die." He won Nos. 31-32. Not with a bird of prey, but a pair of birdies. On No. 31 (No. 13, par 5, 548 yards), he dazzled with a spectacular pitch after a wayward 5-wood approach that landed near the 11th tee. He dropped a wedge from 77 yards to an inch. O'Brien's "best drive of the week" came next (No. 14, par 4, 404 yards). Another sparkling approach, a 58-degree wedge from 96 yards, stopped 15 feet above the hole. O'Brien's back-to-back birdies sliced the deficit to 4-down.

Barbin maintained his calm demeanor — a characteristic displayed all week at Lancaster. He found the fairway on No. 33 (No. 15, par 4, 441 yards). He rocketed a 166-yard 6-iron up the hill to 15 feet left of the flag. O'Brien's tee shot landed in the right rough. He skied a pitching wedge over a tree, but Lancaster's demanding putting surfaces tend to escort golf shots to unintended destinations. O'Brien was 50 feet away above the hole. His birdie try never threatened and stopped in the fairway, yes, fairway, after sliding the whole way down the slope. He chipped back up to five feet staring at bogey.

Barbin made certain O'Brien's wings were clipped. Needing two putts for the win, Barbin did one better. He buried the treacherous left-to-right curling 15-footer. A Champion was crowned.

"I figured the higher I played it, the better chance I had at stopping it by the hole. I was not trying to make that putt. I was just trying to make par. When you are in the moment, things go the right way," said Barbin.

In relation to par, Barbin, with usual match play concessions, played the last 15 holes in 4 under. He never trailed in a match all week.
Source: gapgolf.org