Arlene and Shelly win 1st Gross, Jeff and Pete take 1st Net. Congrats!!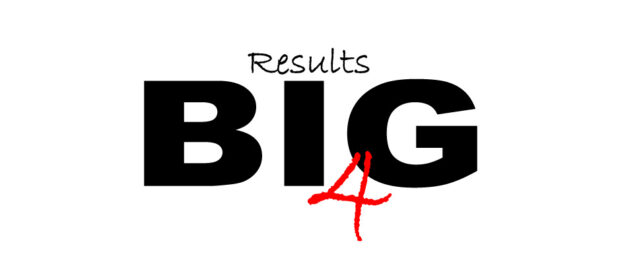 The Big 4 – June 26 & 27 Golf Results
Chesapeake Bay Golf Club's "Big 4" Tournament is a two person Team Event with Gross & Net Prizes. The first round held on June 26th was a Best Ball of Partners and Scramble. The second round on June 27th was an Alternate Shot and Combined Aggregate format.
Congrats to Arlene Zamora and Shelly Pinkerton for winning the Gross Team Prize with a 180 Total score. Jeff Medlar and Pete Petersen won First Net with a 167 Total score.
Gross Results
TEAMS
BETTER BALL
SCRAMBLE
ALTERNATE
COMBINED
TOTAL
GROSS
GROSS
GROSS
GROSS
1
Arlene
32
32
37
79
180
Shelly
2
Rashad
35
31
37
78
181
Nate
3
Jeff
36
33
37
82
188
Pete
4
Paul
39
38
39
84
200
Homer
5
Randy
38
37
41
86
202
Doug
6
ABJ
36
34
42
94
206
David
7
Larry
40
41
49
200
207
Ryan
8
Jerry
36
38
43
93
210
John
9
Mike Bailey
42
36
40
95
213
Gordy
10
Mike Fox Sr
39
38
40
98
215
Denise
11
John
40
37
46
93
216
Steve
12
Jim
42
40
47
90
219
Mike Nelles
13
Bernie
36
40
46
98
220
Keven
Net Results
TEAMS
BETTER BALL
SCRAMBLE
ALTERNATE
COMBINED
TOTAL
NET
NET
NET
NET
0
Arlene
26
32
32
69
159*
Shelly
1
Jeff
29
33
32
73
167
Pete
2
Mike Fox Sr
28
36
30
80
174
Denise
3
Randy
31
37
35
74
177
Doug
4
Bernie
26
38
36
79
179
Keven
5
Rashad
33
33
37
76
179
Nate
6
Paul
34
37
35
75
181
Homer
7
Mike Bailey
33
34
33
81
181
Gordy
8
John
31
35
37
79
182
Steve
9
ABJ
33
35
36
82
186
David
10
Jerry
30
38
37
82
187
John
11
Larry
27
38
38
87
190
Ryan
12
Jim
35
38
40
77
190
Mike Nelles
*Won Gross