Destination Weddings
Things to Consider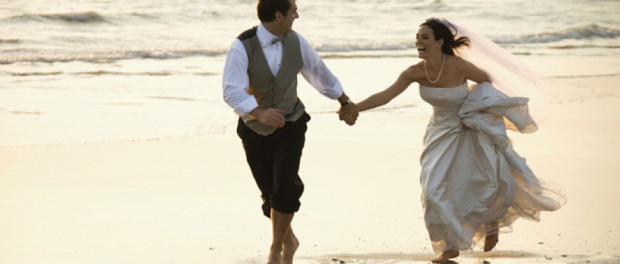 Destination Weddings are a great option for a lot of couples.  A destination wedding can be a small intimate affair on a beautiful tropical island or a grand occasion at a mansion in Georgia.  There are many reasons why couples choose a destination wedding over a local one.  The bride and groom may be from different locations and want to have it at a half-way point for their families.  It may be because it's the place they met or where he proposed.  No matter the reason for having a destination wedding, you can many times do a destination wedding for the same amount and sometimes less than a local wedding.  If you are considering a destination wedding for your special day there are many things to consider.  I have put together a list below of things you will want to think about before making your decision.
Save the Dates:
The normal time to send out a save the date card is 10-12 months prior to your wedding.  With a local wedding your save the date card will require virtually no information other than the date of your wedding.  When you are having a destination wedding you will need to have a bit more information for your guests, including location, travel information and the cost that your guests will have to pay to attend your special day.
Costs to Your Guests:
Unless you have unlimited funds and you can afford to pay all the travel expenses for your family and friends to be there depending on your destination for your wedding it can be costly for you guests.  Though prime season weather wise is usually the best time for your destination wedding it is also the most expensive time and the busiest.  Consider doing it right after prime season when the weather is still good but the costs have come down a bit.  This goes back to the Save the Date cards.  You will want to give your guests plenty of time to not only to plan for the trip but to save for it.
Know the Marriage License Requirements:
You will want to make sure you know the marriage license requirements for the location of your wedding.  Each state is different and if you are planning on going outside of the United States you will want to make sure you have all the information.  Mexico requires you to be there for 7 days prior to your marriage whereas Las Vegas you can get married the same day of arrival.  In France you have to be there for 40 days before your nuptials and on some islands like Turks and Caicos you only need to be there 24 hours before.  Some couples will get officially married at a court house before going away to their destination wedding if their location requires them to be there several days prior.  This way they don't have to worry about the legality of the marriage.
Enlist a Coordinator:
Most resorts and or venues have an onsite coordinator to help you with everything from keeping guests entertained with fun activities, making welcome baskets for your guests, and vetting special requests like babysitters, dry cleaners, and other requests.  You will want to make sure you use them for these things so you don't get overwhelmed keeping your guests happy.  As much as I suggest having a wedding coordinator for a local wedding it is imperative to have one for a destination wedding.  You are not there and you need someone who is, who can handle everything before you get there, send you information, pictures and anything else you may need.
These are only a few of the things that I suggest you consider before doing a destination wedding but I feel they are the most important.  A destination wedding may not be right for every couple but it is a great choice for a lot of couples.  Be sure to plan in advance and get your information early to help eliminate any last minute problems and you can have a destination wedding of your dreams.
---
Part of our "Wedding Wednesdays" Series