You would think choosing a wedding cake would be one of the easiest decisions that you would have to make for your wedding. That is not the case these days.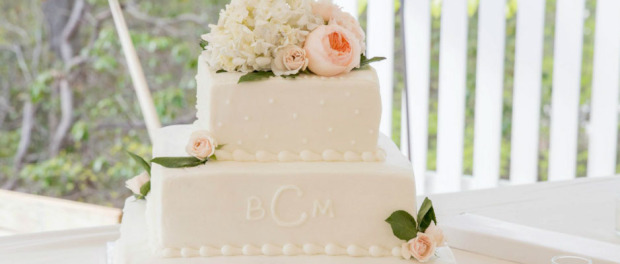 Sweet Treat
What used to be a simple choice of vanilla or chocolate cake is now a dozen choices of flavors, fillings, and combinations of them both along with the choice of fondant or buttercream icing.  Then there are the other decisions like do you have an actual wedding cake or go with cupcakes or another dessert like pastries or pie?  Do you have a groom's cake, when should you cut the cake, how much cake is too much cake?  The choices go on and on and the decisions can be endless.  Below are some tips that will help you along the way to make some of these decisions a little easier for you.
Cutting The Cake
Guests usually don't leave a reception until the cake is cut.  Therefore the timing of cutting your wedding cake is more important than you may think.  You don't want to cut the cake too late in the night once the party has begun and the dancing is underway.  This can disturb the flow of the evening and can be inconsiderate to your older guests who may want to leave a little earlier.  You also don't want to cut the cake too early and lose some of your guests before you get to have your first dance or throw your bouquet.  I suggest cutting the cake about an hour after dinner once the toasts have been given, you have had your first dance, tossed the bouquet, etc…
Fondant Or Buttercream?
If you want a smooth finished look for your cake then fondant may be the choice for you, however most people prefer the taste of buttercream.  Depending on the time of year you are having your wedding will also help you make this decision.  If you are getting married in the summer or having an outside reception when it will be warm, you will want to have fondant for your cake.  Buttercream melts easily and cannot withstand the heat.  If you do not like the flavor of fondant, ask your baker if they can do buttercream frosting and a thin layer of fondant over it that you can peel off.
Cake Or Other Option
Traditionally a wedding cake is served at a wedding, however times and traditions are changing.  People are doing cupcake tiers or a dessert table for their weddings in place of a traditional wedding cake.  I say it is completely a matter of preference.  My only suggestion is if you are going for the cupcakes or a dessert table in place of a wedding cake, make sure you have something for you and your groom to cut into and to serve to one another – whether it be a pastry that you both like or a larger cupcake for the two of you.
Groom's Cake
Having a groom's cake is a more southern tradition but is becoming more popular everywhere.  It is not necessary to have a groom's cake for your wedding, but if you want to have a cake for your groom go for it.  Typically a groom's cake is in theme with a hobby or something else of interest to the groom.  Consider serving it at your rehearsal dinner as an alternative to having it at the reception if you are worried about having too much cake.
Flavors And Fillings
There are so many flavors of cake and even more flavors of fillings and when you start with the combinations of the two it can quickly become very overwhelming.  When you are deciding on the flavors and fillings for your wedding cake think about your guests.  Usually more simple flavors are better and will appeal to more people.  If there is a combination that you really like but don't think it will appeal to most of your guests, see if your baker can do that particular combination on a smaller tier and keep your larger tiers more guest friendly.
No matter if you go with a traditional wedding cake or some other option or if you have buttercream or fondant make sure you have some of your sweet treat at your reception and enjoy the process of tasting all the different options and choosing what is right for you and your groom.
---
Part of our "Wedding Wednesdays" series   Photo Credit: Nicole Schantz Photography