Nailing the Perfect Bridal Manicure
There's much to consider when planning for the perfect wedding day bridal nails including color, nail shape and length, bridesmaids colors, trends & more.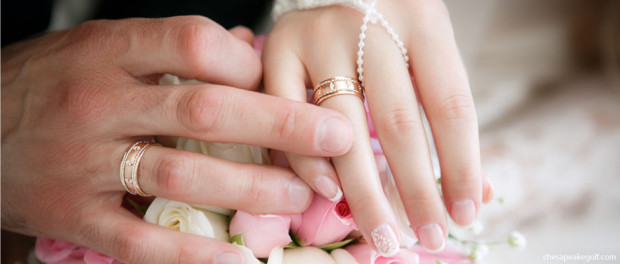 When you look back on your wedding day, you'll be reminded of many special moments such as dressing in your wedding gown. Walking down the aisle with your beautiful bridal bouquet in hand. Holding hands with your groom and exchanging vows and rings. Cutting the wedding cake. Your first kiss and dance together.
As a bride, the spotlight is on you so you'll want to look your best from head to toe. No matter your theme or budget, having perfectly manicured nails will pull together and finish your look beautifully. After all, your hands get a lot of attention on your wedding day, and whether you paint your nails yourself, or get a professional manicure, planning ahead for the perfect nail polish and look is an important part of your wedding planning process.
Below are some manicure tips to ensure your hands are ready for their close-up on the big day.
Choosing the Perfect Nail Color
Test and try out a variety of nail polish colors ahead of time to determine which shade looks best with your skin tone and bridal style. Remember that your nails should complement your bouquet and gown. Although you may consider your style bold, bright colors can distract from you, your ring, dress and flowers so nail experts suggest you choose lighters colors – pale pinks, neutrals, and sheers – delicate shades for a gorgeous effect.
Nail Art and Embellishments
The ever classic French Manicure never goes out of style, however there are many techniques and products available to brides today to embellish your nail look. An ombre shimmer in a glittery gold or silver over a blush or nude nail offers an elegant look. Or you can add a lacy design, embossing, gold or silver stripes, or highlight your ring fingers by painting them in a different, complimentary shade or shimming metallic hue. You can even add a touch of whimsy by adding the groom's initials on your ring fingers. The sky's the limit – just remember that nail art works best with a simple gown. If you have an ornate gown, you may want to go with a more traditional and delicate look so as to not distract from the beauty of your gown.
Bold and Beautiful
Not liking a French Manicure or soft look? Rest assured that bold, bright colors also have a place. The main goal is for your nails to enhance your look, style and setting. Think red nails for a winter white wedding, or coral nails for a tropical wedding on the beach. An afternoon tea or garden wedding with a less formal gown and a bright bridal bouquet opens up many options to experiment with unique nail colors and looks.
Nail Prep
Plan ahead for pretty nails! If you are a nail biter, or have short nails, you should begin prepping your hands and nails a couple months ahead of your wedding. Moisturize and exfoliate your hands to keep them soft and hydrated. Use cuticle oil if you suffer from hangnails or dry cuticles. There are products on the market to help strengthen your natural nails if you are growing them longer for the wedding.
Scheduling your Pre-Wedding Manicure
Schedule your manicure/pedicure, or plan to do your nails one to two days before your wedding. Gel nail polish is a great option for longevity and resists cracking and chipping. Be sure to bring or have the name of the nail polish you previously chose. It's a nice idea to purchase a bottle of the nail polish you're using for touch ups before the wedding, or during your honeymoon. Owning your wedding nail polish shade is also a fun keepsake of your special day to enjoy over and over.
Decide ahead of time whether you want your nails shaped round, square or pointy and how long you want them. Prior planning and experimentation will determine what looks best for you. Or, break from what you normally have and try a new look for your special day.
Something Blue
Still need that "something blue"? A pearly blue polish on your toes could fulfill that requirement! Although it is traditional to match your manicure and pedicure for your wedding, there's no need to toe that line, especially if you will be wearing close-toed shoes.
Bridesmaids Nails
To avoid any surprises on your wedding day, it is a good idea to decide ahead of time whether you want your bridesmaids' nails to match in color, shape and length. Try to communicate this information to your bridesmaids a month or so before the wedding so they can plan accordingly. If you wish for the bridesmaids nails to match, purchase individual bottles for each of the attendants if they will be painting their own nails, or going to their own local salon.
Many brides opt for a salon manicure and pedicure before the wedding to pamper their bridal party or close family members as a special pre-wedding bonding experience. As this may be a larger group, be sure to call and schedule this group appointment well in advance.
---
Request Wedding Info | Contact Sales 410-287-0200 x11