Cecil County Wedding Expo
September 7, 2014 from 11am-3pm at Chesapeake Bay Golf Club, North East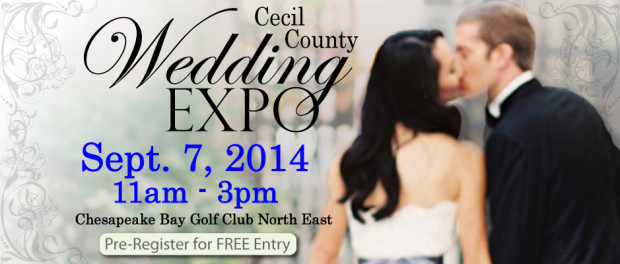 Planning a Wedding? We invite you to attend the first ever Cecil County Wedding Expo Sunday, September 7th from 11am – 3pm at Chesapeake Bay Golf Club's North East Course.
Map & Directions  |  Vendor Interest Contact Sales 410-658-4343 x30

Pre-Register Online by filling out the form below by September 1st and get FREE ENTRY! There will be a nominal fee charged at the door if you are not Pre-Registered.
Pre-Registration Form
There will be lots of vendors to help you plan and create your special day:
Photographers, DJ's, Florists, Venues, Wedding Planners, Bridal Boutiques, Bakeries, Spas/Salons, Bachelor(ette) Activities & More!