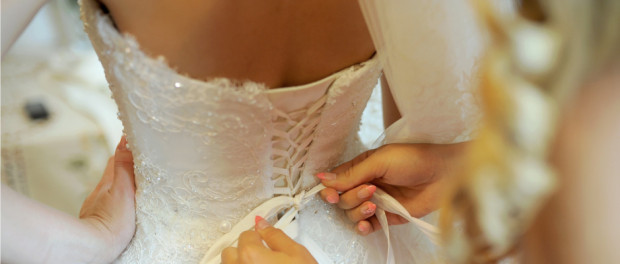 As little girls we all dreamed of our wedding day and what it would be like. The most vivid memory that we carry with us is what our wedding dress looks like. You remember how you looked in it and how it made you feel. When the time finally comes to go pick out that special dress there is nothing more special.
Of all the decisions that you will have to make planning for a wedding for a bride there is none more important than the dress. You want to make sure the dress represents you; your style, and taste. There are so many types of dresses and endless details that you can choose from, sleeves or no sleeves, train length or no train at all and all sorts of necklines. Before you get caught up in all the details, think about the type of silhouette you would like.
There are 5 basic categories:
Ball Gown – The most romantic silhouette off all the gowns.  This dress has a fitted bodice and a small waistline that leads to a very full skirt.  It is most flattering on women who are average height with hour glass or full figures.  This dress is not recommended for a petite bride due to the skirt being so overwhelming.
Empire – This dress has a high waistline usually under the bust which falls to a slimmer skirt.  The raised waist creates a long line, ideal for petite brides.
Princess A Line – The name of this style comes from a triangle or "A" shape.  It has vertical seams from the shoulder to the hem.  This gown is suitable for most body shapes including petite and full figures.
Sheath – The slim skirt is a key attribute of this gown.  This dress is made to show off your curves.  It is a great look for tall, slim-hipped or petite, slender brides.
Mermaid – A twist on the traditional sheath is the Mermaid style gown.  This gown is a body-hugging silhouette like the sheath.  However the skirt flares out at the knee or just below it.  This dress flatters the tall and hourglass figures, not recommended for the pear shape brides.
Each one of these dresses has a distinct shape and depending on your figure will have advantages and disadvantages.  Find the one that is most flattering to you and start with dresses that are that particular style.  Once you have found the style you like then go on to the details.
Whatever your style of dress or wherever you decide to get it, engage yourself in the process.  This will be the most exciting dress purchase of your life.  When you put on "The Dress" you will know and your perfect wedding dress will be chosen.
---
Part of our "Wedding Wednesdays" series