Catering on a Budget
Tips to keep Wedding Catering Costs Low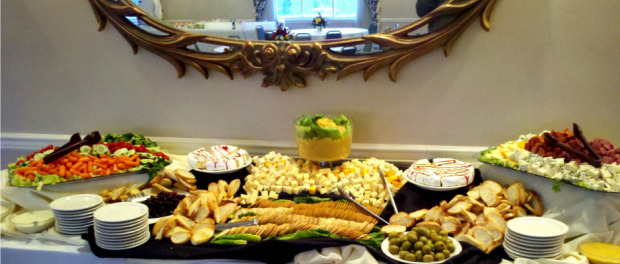 While no one will really remember what food you served at your wedding years from now, you still want to have great food for your guests.  After all this will more than likely be the most expensive part of your wedding.  However, that doesn't mean you have to spend a fortune on food.  Today there are so many options to choose from.  Below are some tips and ideas on how to keep your wedding catering menu from breaking the bank.
Brunch or Lunch
You don't always have to do a dinner reception.  Having a brunch or lunch reception is a great way to cut wedding catering costs.
Go Tapas
Offer a variety of appetizers and snacks instead of a full dinner.  This is a great alternative to a dinner reception and will save you money.
Use Venue Catering
If your venue offers catering, that is usually the cheapest way to go.  They normally don't charge room fees and other add-ons that you would have to pay for with outside catering.
Stay Away From Seafood
Try and stay away from seafood if possible.  However, if you really want to include some type of seafood, do it in a soup or bisque verses the entrée.  This will cut costs dramatically and still give you a high-end feel.
Chicken is the New Steak
Try to have cheaper cuts of meat.  A great chicken dish plated beautifully is just as nice and filling as a more expensive steak option.  This is another way to save on the entrée if you are doing a dinner reception.
All of these tips will help you with cutting the cost of your wedding catering and not make it feel like you are doing a budget meal.  Whoever you decide to do your catering, be sure to do a tasting before your event.  Not only to try the food but to see the plating and how they present it.  Presentation is just as important as taste.  You can have great, satisfying and elegant food at your reception without busting your budget.
---
Part of our "Wedding Wednesdays" series