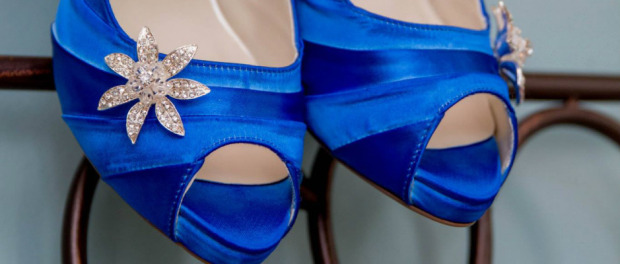 This time of year we often start thinking about traditions.  Traditions are a wonderful thing that helps us keep memories alive from our childhoods and from our ancestors.  Whether it's holiday traditions, family traditions or in this case wedding traditions, they play a big part in what makes us who we are today.  Wedding traditions can be a wonderful part of your special day.  Wearing a wedding gown that has been passed down in your family, or the special heirloom your mother gives you on your wedding day that her mother gave her on her wedding day.  All of these things are special and are things that you look forward to passing on to your children.
What about other traditions?  Have you ever thought about how a bride tossing her bouquet at her wedding started or why?  What about saving the top tier of your wedding cake, or how did that whole thing something old, something new, something borrowed, and something blue start?  I thought it would be interesting to look back at history to see how, why, and where some of these traditions started.
Saving the top tier of your wedding cake
This tradition started in England in the 19th century when couples usually had a child within the first year of marriage.  The cake would be consumed at the child's christening or if the couple didn't have a child then on their first anniversary.   It was said that eating the top tier at your child's christening or on your first anniversary would bring good fortune to your marriage.  Of course in those days a wedding cake was usually a brandy soaked fruit cake that was easily preserved unlike our sweet confections of today.  I always suggest to brides instead of saving the top tier of the wedding cake, to have their baker recreate the same cake for their anniversary.  However, if you are one for tradition, I would check out the following link for instructions on how to preserve your cake properly. http://www.wilton.com/cakes/displaying-cakes/storing-top-tier-wedding-cake.cfm
Something Old, Something New, Something Borrowed, Something Blue
What most people don't know about this tradition is there is more to this saying.  The original saying is something old, something new; something borrowed something blue, and a silver sixpence in her shoe.  This was a Victorian rhyme that came from a tradition that was supposed to bring the bride good luck.  The something old represented the couple keeping ties with their families and traditions; something new was to represent the couple starting a new life together.  The something borrowed was for family and friends to show their support of the marriage.  The something blue actually came from Israel where brides wore a blue ribbon in their hair to symbolize their promise to their new husband and the silver sixpence in the brides shoe was to bring her a life full of good fortune.  Most brides still do this tradition today and they usually tie it in with a family tradition of the something old being passed down in the family and the parents of the bride purchasing the wedding dress for the something new.
Tossing the bouquet
A bride tossing her bouquet is a tradition that is still going strong at weddings today.  This is another tradition that started in England.  It is said that the unmarried women at a wedding would tear pieces of the bride's dress and flowers so that they would get some of her good luck and they too would marry.  With the brides' dresses getting ripped and torn, brides started throwing the bouquet to distract the women so they could make a getaway with their dress still intact.  So then it became the tradition if you were the one to catch the bouquet you were the next to marry.
I hope you have enjoyed this trip through history and have learned something new about the wedding traditions that have been around for centuries and that are still practiced today.  While it is nice to include these traditions and others into your wedding day don't forget to start some of your own that will make your day special to the two of you.
---
Part of our "Wedding Wednesdays" series   Photo Credit: Nicole Schantz Photography