Golf Season is Here! Golf, FootGolf, Leagues for Men, Women & Seniors, Tournaments, Junior Camps, + Opening Spring 2018 our brand new Wedding & Event Venue.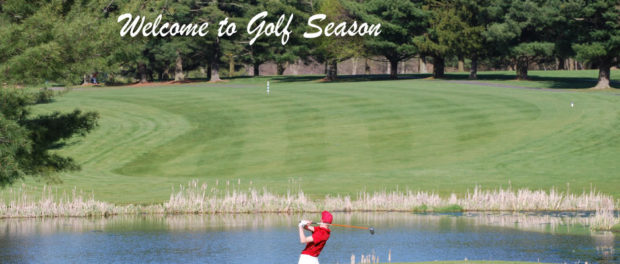 Golf Season Has Arrived
Chesapeake Bay Golf Club Welcomes You
Tournaments & Events  |  Leagues  |  Golf Associations  |  Junior Camps
New! Wedding & Event Venue (Opening Spring 2018)
Reserve Tee Time Online  |  Call Pro Shop 410-658-4343 x26
Contact Wedding/Event Coordinator 410-658-4343 x22
Spring has finally arrived! The weather is warming up – time to head outside for a great round of Golf or FootGolf at Chesapeake Bay Golf Club!
Chesapeake Bay Golf Club has been Rated 4 Stars by Golf Digest and Cecil County's 'Favorite Public Golf Course' by readers of the Cecil Whig since 2009 and offers Golf, FootGolf, Driving Range Use and the Players Grille Restaurant.
And Opening in Spring 2018 we will unveil our brand new Wedding & Event Venue options – The Chantilly Ballroom, The Party Pavilion, and Wedding/Garden Arbor on the Lawn Terrace – our new Outdoor Wedding Ceremony location by our 1800's Manor House.
Get in the Game!
·Join a Golf League
·Join the Men's or Ladies' Association
·Check Out CBGC's Tournament Schedule
It's time to plan ahead and mark up your calendar to maximize your golf playtime this year! All of our Leagues, as well as our Men's and Ladies' Golf Associations are Open to the Public to join. Check out our full lineup of Public Tournaments, Association/Gaggle play, and League information online.
Leagues
League and Association interest meetings are coming up in April:
Senior Golf League Meeting/Opening Day – April 2 @ 9AM
CBGC Men's Golf League  – April 12 @ 5:30PM
Ladies Golf League & Association Opening Day – April 14 @ 9AM



Men's & Ladies Golf Association
The objective of Chesapeake Bay Golf Club's Men's & Women's Golf Associations is to promote interest and activity in men's and women's golf and its social functions – to hold tournaments, promote fellowship and sportsmanship; to learn and practice the rules and etiquette of the game of golf.
The Men's Association has weekend gaggles Saturdays & Sundays – starting time is 9:30AM as well as several tournaments throughout the golf season.
The Chesapeake Bay Golf Club Ladies Association also puts together several events throughout the season. Joining the Ladies Association gives you the added privilege of playing at a discounted rate in the events along with a discounted joiner fee for the Tuesday and/or Saturday Ladies League. There is 9 and 18 Hole League play every Tuesday morning, and 9 and 18 Hole League play every Saturday morning. You may join the Tuesday or Saturday League – or both. Ladies Association Membership is Open to the Public.
CBGC's Tournament Schedule
Chesapeake Bay Golf Club has a diverse and active Golf Tournament Schedule for Public Play, Association Play, and Member Participation.
Masters Jacket Event
We kick off our 2018 Golf Tournament & Event Schedule next weekend with our Masters Jacket Event Saturday & Sunday, April 7-8 that is Open to the Public. Participation is optional, FREE and easy! Just pick a PGA Tour Player playing in the Masters to be your "partner" for the day. Scoring: Your One Day Net Score (Callaway) added to your Masters player's score. No handicap required. Prizes awarded daily.
Join Chesapeake Bay Golf Club as a Member or Season Ticket holder to unlock even more competitive and fun Tournaments throughout the season. Each tournament has a ranking system culminating in "Player of the Year Points" (similar to the Fedex Cup) with a season ending "Tournament of Champions" for those on the Top 30 Points List.

---
Wedding & Event Venue – Opening Spring 2018
Chesapeake Bay Golf Club is pleased to announce the opening in Spring 2018 of our all new Wedding & Event Venue offering a complete variety of indoor and outdoor venue options to perfectly suit any banquet or event theme – all with breathtaking golf course views and natural scenery, delicious menus, and the dedication of our team of experienced event professionals.
Chantilly Ballroom


Brand New (Spring 2018)

Our gorgeous all new Chantilly Ballroom features a vaulted ceiling, crystal chandeliers, gold chiavari chairs with off-white padded leather seats, wood floors, wainscoting, wall sconces, and four large picture-frame windows with custom cornices in a rich damask fabric that offer picturesque views of our prestigious golf course.

The vaulted ceiling is fitted with state-of-the-art LED color lights that can be programmed to exactly match your color scheme or party vibe. This will take your event to the next level!

Our brand new Bridal Suite room offers chic and comfortable seating, a Makeup Bar, Refreshment Station, wood floors, crystal chandelier and a changing area and full length mirror for the bride to view her gown and outfits prior to the ceremony or reception.

The Chantilly Ballroom is perfect for Wedding Receptions, Rehearsal Dinners, Banquets, Anniversaries, Outings, Prom, Charity Functions, Business Meetings, Showers, Reunions, Holiday Parties, Office Events & More!
The Party Pavilion
Our Party Pavilion is perfect for outdoor events such as Wedding Ceremonies, Wedding Receptions, Cocktail Parties, Adult and Kids Birthday Parties, Graduation Parties, Family Reunions & More.
The Party Pavilion offers beautiful views overlooking the golf course and provides protection from the sun and elements for your guests and is available April 1-November 30.
Players Grille
The Players Grille may be utilized for small, indoor events. Perfect for Birthday Parties, Cocktail Parties, Rehearsal Dinners, Football Draft Parties, Group Golf or FootGolf Events, Showers, Holiday Parties, Brunch or Luncheons.
Wedding/Garden Arbor on the Lawn Terrace
Brand New! Our Wedding/Garden Arbor on the Lawn Terrace overlooking the lake is located next to our picturesque 1800s Manor House. Exchange vows with the glistening lake as your backdrop. The gorgeous natural beauty of the landscape will be captured beautifully in your wedding or event photography.
The Wedding/Garden Arbor on the Lawn may be utilized April 1 – November 30 for Wedding Ceremonies and special outdoor gatherings.
Combine your Wedding Ceremony and Reception at Chesapeake Bay Golf Club and your guests will enjoy the convenience of free ample parking just a few steps away from both the Lawn Terrace and Clubhouse. Our Party Pavilion offers the comfort of a rainy day alternative. A win-win for both the wedding party and your guests!
Everything you need for your special day is all on property. Grab a golf cart and choose different backdrops and scenes on the golf course property for your photographer and videographer to capture the personality and uniqueness of your wedding party.
Chesapeake Bay Golf Club is the premier new Wedding and Event Venue of Cecil County! Choose your setting from our unparalleled variety of venue options – both indoor and outdoor.
Getting Married?
Have an Event Coming Up?
Call 410-658-4343 x22 to Check Date Availability or to Book Your Event
---
Chesapeake Bay Golf Club – Golf & FootGolf
"Legendary Greens. Affordable Family Fun." That is what Chesapeake Bay Golf Club is all about!
Chesapeake Bay Golf Club offers 18 Holes of Championship Golf and FootGolf plus a variety of competitive and fun golf tournaments, junior golf clinics, and events throughout the year!
Chesapeake Bay Golf Club's 18 Hole FootGolf Course is the 1st Accredited AFGL FootGolf Course in Maryland! We are proud to host two upcoming American FootGolf League Events:
Click links to learn more about FootGolf – the fusion of soccer and golf as well as the American FootGolf League that offers FootGolf competition for Juniors Age 12-17, Men Age 18-45, Seniors Age 46 & Over, and Women Age 18 & Over.
FootGolf is Great for Groups: Soccer Team End of Year Parties, Outings, Charitable Events, Family Functions, Wedding Party Fun (Groom's / Bride's Outings), Reunions, Kids Parties, Youth Groups, Teambuilding & More! No experience or equipment necessary.
Family Fun
Whether you tee it up together for 9 or 18 Holes of golf, or kick it for a fun round of FootGolf, Chesapeake Bay Golf Club is your place for family fun. Short on time? Come out and hit a few balls on our Driving Range, or Putts on the Putting Green. Enjoy a tasty hot dog or burger and watch the game or golf on our flat screen TVs in the Players Grille.
Junior Golf Camps
Chesapeake Bay Golf Club is committed to teaching the next generation to learn and enjoy the great game of golf. Junior Golf Camps and personal, individual lesson programs are available.
2018 Junior Golf Camp dates this summer – each run for 5 Days:
Junior Golf Camp – June 25-29
Junior Golf Camp – July 16-20
High School Performance Camp – July 23-27
Our Junior Golf Camps fill up quickly! Click Here to Sign Up for our Junior Golf Camp.
Our Junior Golf Camp Program is for Kindergarten-8th Grade Boys & Girls and Includes: On-course play, Chesapeake Bay Golf Club T-shirt and USGA Rules Booklet. Kids will learn the fundamentals of golf – putting, chipping, and full swing while having fun and making new friends! Plus kids get to try a little FootGolf as part of the fun.
Our High School Performance Golf Camp is designed for young men and women entering or in high school that are interested in playing on the golf team, improving their game, or learning the basics. Full day schedule includes PGA Instruction from 9am-12 Noon, Lunch, and 18 Holes of Golf every afternoon!
Interested in our Junior Golf Camps?
Want to Make a Golf or FootGolf Tee Time?
Contact our Professional Staff: 410-658-4343 x26