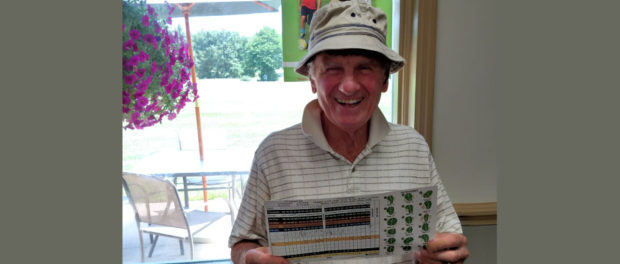 Vito Shoots His Age.
Vito Papagno, a longtime member of Chesapeake Bay Golf Club, shot an 85 on Monday, July 11th at the Rising Sun Course. Congratulations Vito!
Last year Vito broke his age shooting an 83 on Monday, June 1, 2015 at the Rising Sun Course – which was one shot below his age of 84 at the time. What makes Vito's scores in the 80's even more special is the fact that only 21% of adult golfers ever break 90 – no matter what their age!
---
Interesting Records for Shooting Your Age
The overall record for youngest golfer to shoot his age belongs to Bob Hamilton, the 1944 PGA Championship winner, who shot his age of 59 at Hamilton Golf Club in Evansville, Ind., in 1975.
(Note: In 2015, a 59-year-old reportedly shot a 57 that included three holes-in-one. We'll hold off declaring that the new record until more details or stronger verification emerges, although the golf course's director of golf did confirm the details to Golf Channel.)
The golfer who holds the youngest-age-shooter record on golf's major professional tours is Walter Morgan, playing the Champions Tour. In 2002, at age 61, Morgan shot a 60 in the AT&T Canada Senior Open Championship.
On the PGA Tour, that record belongs to Sam Snead. Slammin' Sam fired a 67 at the Quad Cities Open in 1979, when he was 67 years old. Then he set a new record a day later, shooting 66.
The oldest golfer to shoot his age was 103-year-old Arthur Thompson of Victoria, British Columbia. Thompson was playing the Uplands Golf Club in Victoria when he accomplished the feat in 1972.
Quoted from golf.about.com