Jeff Medlar is our 2021 Masters Jacket Tournament Winner!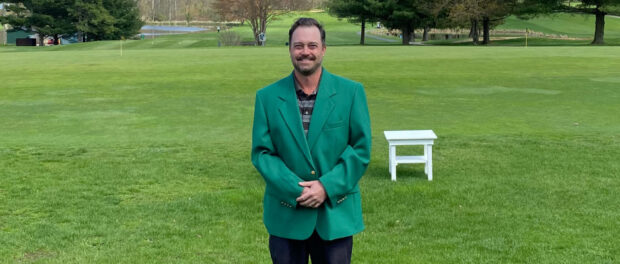 2021 Masters Jacket Tournament
Golf Results
Congratulations to Jeff Medlar on winning our annual Masters Jacket Tournament – this year held on Sunday, April 11, 2021.
Jeff played a phenomenal round of 71 from the black tees, which was good for a 66 net. His dominant performance in a loaded field carried his Tour Player Justin Thomas' 73 to victory! This was the first Jacket Winner in recent memory who picked a golfer who did not win the Masters, and the first CBGC golfer to outperform their Tour Player – both gross and net en route to victory!
| | | | |
| --- | --- | --- | --- |
| Position | Last Name | Total | Strokes |
| 1 | Thomas / Jeff Medlar (0.0) | -3 | 139 |
| 2 | Barbin / Schauffele (0.0) | -2 | 140 |
| 3 | Zalatoris / Speed (0.0) | -1 | 141 |
| 4 | Speith / Smith (0.0) | 0 | 142 |
| T5 | Kennedy / Zalatoris (0.0) | +1 | 143 |
| T5 | Whiteoak / Zalatoris (0.0) | +1 | 143 |
| 7 | Lawson / Thomas (0.0) | +2 | 144 |
| T8 | Barbin / Matsuyama (0.0) | +3 | 145 |
| T8 | Zamora / Rose (0.0) | +3 | 145 |
| T10 | Petersen / Matsuyama (0.0) | +4 | 146 |
| T10 | Weed / Schauffele (0.0) | +4 | 146 |
| T12 | Speith / Kerr (0.0) | +7 | 149 |
| T12 | Kilgore / Speith (0.0) | +7 | 149 |
| T12 | Finau / Phillips (0.0) | +7 | 149 |
| 15 | Weinzetl / Leishman (0.0) | +8 | 150 |
| 16 | Nelles / Thomas (0.0) | +11 | 153 |
| T17 | Crockett / Matsuyama (0.0) | +13 | 155 |
| T17 | Anderson / Leishman (0.0) | +13 | 155 |
| T17 | Thompson / Rose (0.0) | +13 | 155 |
| 20 | Finau / Medlar (0.0) | +15 | 157 |