2021 Club Championship Results
Congratulations to Arlene Zamora and Zach Barbin – our 2021 Club Champions!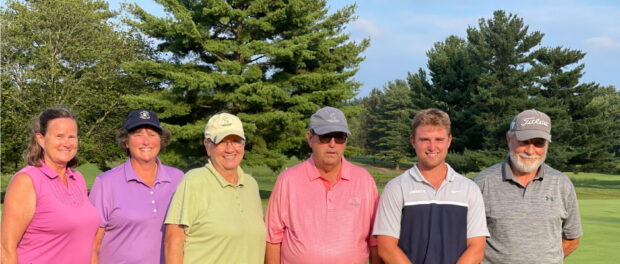 Chesapeake Bay Golf Club's
52nd Club Championship Results
Zach Barbin and Arlene Zamora are Chesapeake Bay Golf Club's 2021 Club Champions! Zach tied the record for the second lowest score in our Men's Club Championship history – with 8-under par. Arlene pulls in a historic 11th Ladies' Club Championship win – finishing out a masterful winning year of golf in a commanding victory.
Congratulations to all of our Flight winners and participants for a great tournament.
Club Championship Preview
The stage is set. Our 52nd Men's and Ladies' Club Championship is upon us. With the largest field in recent club championship history, and arguably our most talented field, who will emerge victorious?
Will Austin Barbin's reign of terror continue, who broke the course record in back to back years en route to four straight titles, and five in the last six? Or will he be dethroned by another familiar champion, such as Philadelphia's best amateur golfer Zach Barbin, who dominated his way en route to a 2020 Philadelphia Amateur and Patterson Cup title – the first public golfer to win either. Or will it be Evan Barbin, the Delaware High School State Champion, and winner of several events this year – including against professionals. Or will it be somebody else? The rest of the field features 4 former or current golf professionals, three college golfers, and a few standout mid-ams such as Jeff Medlar and Jason Vanover.
And speaking of reigns of terror, how can we leave out our most decorated champion Arlene Zamora, who has won 10 titles herself, on top of earning several accolades outside of the club. In fact, she's won every DWGA event she's teed up in – such as the Delaware Women's Amateur and the Senior Amateur.
But she's not without competition – last years runner up by a single stroke Audrey Moon is back to give Arlene a run for her money. And other ladies are pretty decorated themselves – such as two time champion Shelly Pinkerton.
And that's not even touching the drama in the non-championship flights! Stay tuned!
Round 1 Recap – July 31, 2021
Day 1 of the Club Championship is in the books!
Zach Barbin takes an early lead with a 5-under 66, with Austin Barbin not far behind with a 3-under 68. Evan Barbin and Brandon Wilson round out the Championship flight with 71 and 72 respectively.
On the ladies side, Arlene Zamora has taken a commanding 9-stroke lead over Audrey Moon and Shelly Pinkerton with her score of 78.
Roger Teel shot an impressive score of 73 to take a 6 shot lead over defending A flight champ Tom Vincenti.  Shelly Pinkerton holds a 3 stroke advantage over Tammie Vincenti on the ladies A flight.
In the B Flight, Steve Westerfer holds a one stroke lead over defending champ Pete Petersen with his stellar score of 79. Defending champ Bernie Weed holds a 7-stroke lead over Keven Lawson on the ladies B flight.
In the C Flight, Tom Covert holds a 4 shot lead over Mike Nelles with his score of 84, and Denise Medlar holds a 9 shot lead over Linda French on the ladies side.
In the D Flight, Jesse Crockett holds a narrow lead with his 96, only 2 shots better than Gordy Kerr, and 3 shots better than Mike Kennedy.
Stay tuned for more action and drama tomorrow!
Final Round Recap – August 1, 2021
And the results are in! Zach Barbin follows up his first round 66 with a 68 to shoot a 8-under total of 134. Zach's steady play through the tournament allowed him to win his second title, edging out defending champion Austin Barbin – who matched his first round 68 with a 1-under 70 in the final round. Despite some struggles from the former champ, he made it interesting notching 3 eagles during the contest. Evan Barbin rounded out the podium with a solid score of 72 following his first round of 71 to be +1 for the tournament. Evan had 6 birdies on the round, with 5 of them on the back nine. Brandon Wilson, Andrew Barbin Jr, and Nate Haney & Jeff Medlar finished 4th, 5th, and T-6th respectively.
On the Ladies side, Arlene Zamora shot a phenomenal score of 74 to match her first round 78 to handily win her ELEVENTH club championship title. Arlene finished her round birdie – eagle – par – birdie to put the finishing touch on yet another masterful win in a year where she has been unbeatable. Her score of 152 was sixteen shots clear of second place, which was A-flight champ Shelly Pinkerton who shot a great score of 80 to win her flight over Tammie Vincenti. Audrey Moon couldn't quite capture the magical run that almost took own Arlene last year, but she still placed a very respectable third place finish.
On the Men's A side, Roger Teel took down a stacked flight with 10 talented golfers. Roger did the hard work on round 1 with his stellar score of 73, and cruised to a 3 shot victory with a second round 83 for a 156 total. Defending champion Tom Vincenti matches his first round 79 with an 80 to come in second with a 159, and Mike Fox Sr shot the low round of the flight on the day with a 79 to slip into third place at 164.
On the Men's B side, Pete Petersen emerged victorious to defend his title. There was plenty of drama in this flight, and while the field struggled on day 2, Pete's 165 was good enough to beat Jim Weinzetl's 166. Steve Smith emerged as third place when the dust settled with his score of 171.
On the Ladies B side, Bernie Weed notched her third straight B flight victory with a win over her good friend Keven Lawson. Bernie broke 90 both days en route to her threepeat.
On the Men's C side, Tom Covert and Mike Nelles had a battle to the very end. Tom had a 7-shot lead going into the final 9 holes, but Mike Nelles dig deep and went 4-over the next 8 holes to put them tied for the lead going into the final hole. However, steady play from Tom on 18 and a lost ball from Mike put Tom as the C Flight Champ, with a score of 176 to 178. Bob Whiteoak finished third with a score of 185.
On the Ladies C Flight, Linda French and Denise Medlar had a great battle to the very end, with Linda slightly edging out the three-time defending champ. Both ladies played great golf down the stretch and it will be great to see them compete next year!
On the Men's D Flight, Jesse Crockett Sr beat out Gordy Kerr by a single stroke, winning 203 to 204. This flight was extremely entertaining to watch, with tons of side bets and tons of laughs. And when it came down to it, it ended up being a pretty tight match. David Shoemaker finished with a 215 to come in third.
Thank you to our 50 participating golfers for making this our biggest club championship to date! We look forward to continuing to grow it more and more for years to come!
---
By: Andrew Barbin, Jr, Head Golf Professional