Friday & Saturday August 5-6!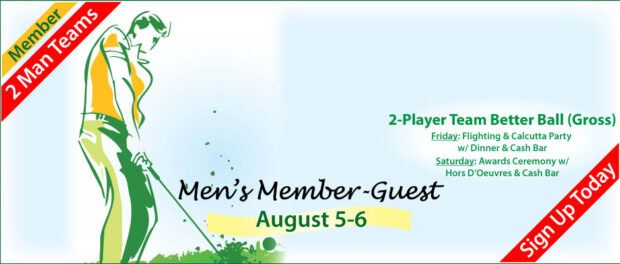 Chesapeake Bay Golf Club's

Men's Member-Guest


August 5-6

Sign Up: Call Pro Shop 410-658-4343 x2 | Sign Up Online

Chesapeake Bay Golf Club's Men's Member-Guest is coming up on August 5th through 6th (Friday & Saturday).  Here are the details: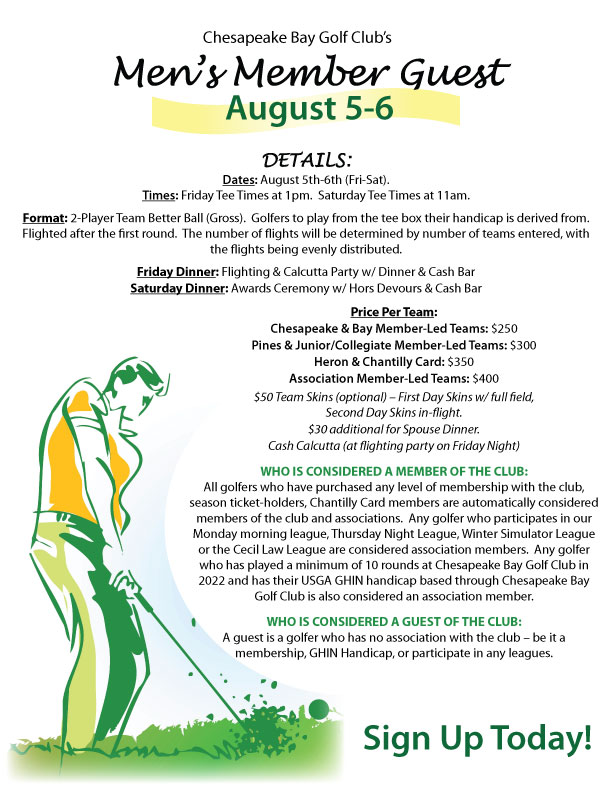 Men's Member-Guest Details:
Dates: August 5th-6th (Fri-Sat).
Time: Friday Tee Times at 1pm.  Saturday Tee Times at 11am.
Format: 2-Player Team Better Ball (Gross).  Golfers to play from the tee box their handicap is derived from.  Flighted after the first round.  The number of flights will be determined by number of teams entered, with the flights being evenly distributed.
Friday Dinner: Flighting & Calcutta Party w/ Dinner & Cash Bar
Saturday Dinner: Awards Ceremony w/ Hors Devours & Cash Bar
Price Per Team:
Chesapeake & Bay Member-Led Teams: $250
Pines & Junior/Collegiate Member-Led Teams: $300
Heron & Chantilly Card: $350
Association Member-Led Teams: $400
$50 Team Skins (optional) – First Day Skins w/ full field, Second Day Skins in-flight.
$30 additional for Spouse Dinner
Cash Calcutta (at flighting party on Friday Night)
 WHO IS CONSIDERED A MEMBER OF THE CLUB:
All golfers who have purchased any level of membership with the club, season ticket-holders, Chantilly Card members are automatically considered members of the club and associations.  Any golfer who participates in our Monday morning league, Thursday Night League, Winter Simulator League or the Cecil Law League are considered association members.  Any golfer who has played a minimum of 10 rounds at Chesapeake Bay Golf Club in 2022 and has their USGA GHIN handicap based through Chesapeake Bay Golf Club is also considered an association member.
WHO IS CONSIDERED A GUEST OF THE CLUB:
A guest is a golfer who has no association with the club – be it a membership, GHIN Handicap, or participate in any leagues.