17th Annual Paul Gehring Memorial Cup
Annual Member 4 Person Team Event.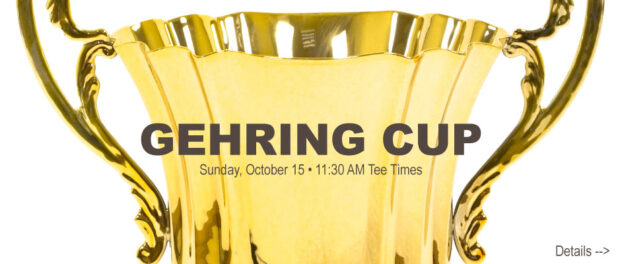 17th Annual Paul Gehring Memorial Cup
October 15, 2023 – 11:30 A.M. Tee Times
Sign Up: Online Golf Genius Page | Pro Shop: 410-658-4343 x2
Our annual Gehring Cup is a 4 player team tournament in memory of Chesapeake Bay Golf Club / Chantilly Manor's first head professional, Paul Gehring. Sign up individually – the teams are randomly drawn and paired ABCD style (based on handicap). Each hole you take the best gross and best net score (can't be same score), and the lowest team wins.
FORMAT:
The Gehring Cup format is 4-player team better ball where your team score is the combination of the team's best gross score per hole and the team's best net score per hole.
The same ball cannot be used for both gross and net.
Teams are randomly drawn up ABCD style, with players ranked by their course handicap.
A valid and active USGA Handicap is required to be eligible for handicapped events, without a USGA handicap you will play as scratch.  The maximum course handicap for this event will be 30 – any higher handicaps will be reduced to 30.
RULES:
All 2023 USGA Rules apply.  If your score will be counting for the team score, your putt must be holed – no gimmies!
Ball will be played down through green.
Red stakes & lines indicated penalty areas.  If no markings, consider the hazard indication line to be a club length from the edge.
White stakes & roads indicate areas that are out of bounds.
Due to our bunker renovation project being midway, certain bunkers and fresh sod will be considered ground under repair w/ free relief.
All tree stumps and unmarked areas of ground under repair (due to tree work or damaged turf from machinery) is granted free relief.
All mulched areas are also granted free relief.
We will be adopting the USGA recommended local rule for Out of Bounds / Lost Balls.  If a ball goes out of play, you may take a 2-stroke penalty drop on the edge of the fairway equidistant to the point where the ball went out of play.  This is an alternative option to going back and replaying your shot with a penalty stroke (stroke & distance).
PAYOUT INFORMATION:
30% of the field (or roughly) will be paid out in gift cards.
An option skins game of $5 per golfer will also be played – this will be in the form of individual skins.  We will be utilizing our 2023 House Rules for this tournament's skins game.
Entry:
Chesapeake & Bay Members — $25.00 for the entire registration
Chantilly Card, Pines, Heron, Collegiate, Junior Members — $70.00 for the entire registration
Association Members (Non-Golf Members) — $90.00 for the entire registration