Senior Club Championship 2023
Annual Senior Age 50+ Club Championship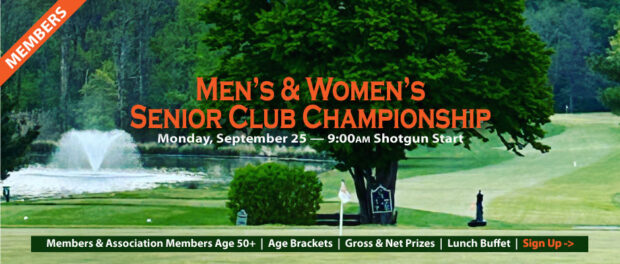 Senior Club Championship 2023
September 25th, 2023 – 9:00 A.M. Shotgun
Sign Up: Chesapeake Bay Golf Club Golf Genius Page | Pro Shop: 410-658-4343 x2
FORMAT:
Our Annual Senior Club Championship is open only to members of the club over the age of 50, as well as all golfers with handicap association through Chesapeake Bay GC who are over the age of 50.  This is an individual stroke play championship, flighted by age brackets.  Tentatively the flights will be Men's 50-59 (playing white tees), Men's 60-69 (playing green tees), Men's 70-79 (playing Heron Combo Tees), and Men's 80+ (playing Scarlett Tees).  The Ladies will be 50-69 (playing Scarlett Tees) and 70+ (playing PGA Gold Tees).  Each flight will have gross and net prizes.

RULES:
All 2023 USGA Rules apply.  All putts must be holed – no gimmies!
Maximum score on a hole is double par (6 on par 3s, 8 on par 4s, 10 on par 5s).
Ball will be played down through green.  Bunkers rake and replace.
Red stakes & lines indicated penalty areas.  If no markings, consider the hazard indication line to be a club length from the edge.
White stakes & roads indicate areas that are out of bounds.
All tree stumps and unmarked areas of ground under repair (due to tree work or damaged turf from machinery) is granted free relief.
All mulched areas are also granted free relief.
We will be adopting the USGA recommended local rule for Out of Bounds / Lost Balls.  If a ball goes out of play, you may take a 2-stroke penalty drop on the edge of the fairway equidistant to the point where the ball went out of play.  This is an alternative option to going back and replaying your shot with a penalty stroke (stroke & distance).
PAYOUT INFORMATION:
30% of the field (or roughly) will be paid out in gift cards.
50% of the prize pool will go to net, 50% will go to gross.
In the event that an odd number must be paid out, net will take precedent.
SKINS GAME:
An optional skins game of $5 per golfer will also be played – this will be in the form of individual skins.We will be utilizing our 2023 House Rules for this tournament's skins game.