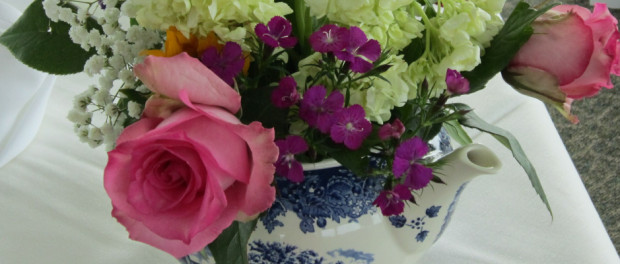 Bridal and Baby showers alike are a wonderful way to celebrate a new chapter in someone's life. Up until recent years showers had not changed much in their style and/or form. More recently, showers are ever changing to include themes, interesting venues, as well as including grooms and fathers-to-be. Showers are not just for the ladies anymore.
Planning a shower for someone can be a lot of fun and there are so many things you do to make your shower unique and special to the person that it is intended for. The first thing is to know the person's interest – whether it's a hobby or some other interest – it's helpful to know what the person you are throwing the shower for is into. Maybe they like to travel or love to cook; having a shower that has some connection to their personal interest is not only unique but special for that person. Below are a few theme ideas that would be great for any shower.
Have A Tea Party
Though this idea is not that unique there are so many things you can do with a tea party, and what girl doesn't like a tea party! Have beautiful teapots as centerpieces and antique teacups with a candle or candies tucked inside would be a lovely keepsake favor for the guests. You can serve finger sandwiches and pastries, lemonade and punch and of course tea. A tea party is a great idea and it works for a small group or a large gathering.
Cooking Themed Shower
A cooking themed shower is a great idea for a bride-to-be or a mom-to-be. There are many things you can do with this theme. Have a chef do a cooking demonstration or have it set up like a cooking class. You can get various utensils for favors or make your invitation a recipe card and ask your guest to bring their favorite recipe for the guest of honor. The gift ideas for guests are extensive with a cooking shower and can include kitchen appliances, cookware, gadgets, linens, stemware, flatware, cookbooks, bakeware and so much more! This is a wonderful way to help stock a kitchen and is the perfect theme for a person who loves to cook and entertain.
A Trip Around The World
This is a great idea for a shower and there are endless possibilities that you can do with this theme. You can pull different traditions from various cultures around the world and incorporate them into your shower. Use old suitcases for décor. Create your invitation as a passport. You could have food from different parts of the world. For the bride-to-be, the theme could be based on the honeymoon destination. For the mom-to-be, the theme can reflect the heritage, traditions, foods and culture that will be shared with the next generation. For the person who loves to travel or the one who dreams of it – this is a great theme.
No matter the theme, location, or décor when you include something unique about the guest of honor it will always make your shower memorable and special.
---
Request Event Packages | Contact Sales 410-287-0200 x11