Chef featured in Magazine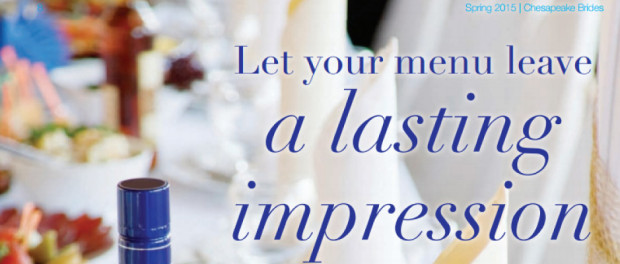 Chesapeake Bay Golf Club was recently featured in the Spring 2015 Issue of Chesapeake Brides Magazine in an article titled "Let your menu leave a lasting impression" by Jennifer Hayes. The article featured ways chefs today are creating memorable wedding receptions through food.
Exotic & Trendy Foods
Many couples try to incorporate their ethnic heritage, family recipes or "themes" into their menus.
On the Upper Shore, Chef Gary Jacobs, executive chef for the Chesapeake Bay Golf Club in North East, has noticed a similar trend as couples often ask to incorporate specific themes into their foods rather than asking for the basics. He recently prepared a menu for a couple looking for Mardi Gras-themed dishes, including bacon-wrapped alligator skewers, jambalaya and coffee-rubbed sirloin steaks. "That was received extremely well," Jacobs says. "I was on the fence about the coffee-rubbed sirloin, but the guests really loved it. Certain crowds are really receptive to trying new things. Couples who have an interest in the foodie world want do something different for their wedding and make it a bit more memorable." Both Potts and Jacobs also have had couples request sushi. Both chefs tied it into the hors d'oeuvres menu with great success."
Family Recipes
Family traditions and recipes are often weaved into the wedding reception menu as a way to honor the past.
Dietary restrictions and preferences of your guests as a whole should also be considered. "The biggest concern is food allergies," Jacobs says. "Someone might want a pesto, but some people may have nut allergies and they don't realize there's nuts in a pesto. Most of the time, the brides and grooms I've been meeting with have a good idea of their guests' preferences and restrictions though."
Out of the Box Menus
The takeaway for modern couples, Chef Gary notes, is that chefs today are happy to flex their culinary muscles and create out-of-the-box specialized menus.
The takeaway — don't be afraid to ask for something that might initially seem out of the box. Most likely, your chef will be happy to create a specialized menu that complements the wedding of your dreams. "You want to exceed people's expectations and make it memorable," Jacobs says. "Hopefully they'll remember the food years down the road."
---
To view the entire Spring 2015 Issue of Chesapeake Brides Magazine, please visit chesapeakebrides.com.