Masters Weekend 2017
Rising Sun Course Friday-Sunday April 7-9, 2017
Golf Season kicks off with "Masters Weekend" Fri-Sun April 7-9. Fun FREE Masters Jacket (optional) event and Green Jacket Pro Shop Sale!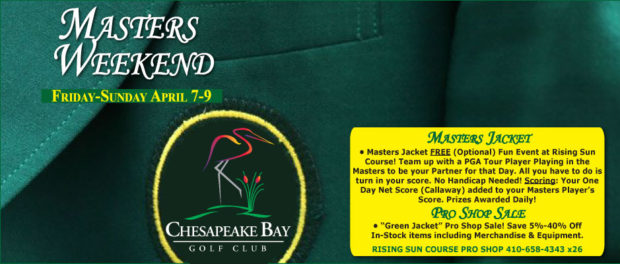 Masters Weekend Fun at Chesapeake Bay Golf Club!
Tee Time Rising Sun Course | Rising Sun Pro Shop 410-658-4343 x26
Nothing signals the start of the golf season like the Masters. With that in mind, Chesapeake Bay Golf Club kicks off the 2017 Golf Season with our "Masters Weekend". Come out and play the bay!
Golfers can choose to participate in our fun optional (free) Masters Jacket Event that is Open to the Public. Super easy – pick a PGA Tour Player playing in the Masters to be your "partner" for the day. See full details below.
Be sure to also check out our "Green Jacket" Pro Shop Sale – with savings of 5%-40% Off In Stock items.
Whether you play a casual round of golf, hang with friends and watch the Masters, kick it with a round of FootGolf, or get some practice in on our Driving Range, we invite you to join us Masters Weekend at Chesapeake Bay Golf Club. Call or Book your Tee Time online today!
Masters Jacket FREE (Optional) Event
Chesapeake Bay Golf Club – Rising Sun
Optional Fun Event
Entry is FREE
Play daily! Friday-Sunday, April 7-9, 2017
Choose a PGA Tour Player Playing in the Masters to be your Partner for that Day
No Handicap Needed! All you have to do is turn in your score.
Scoring: Your One Day Net Score (Callaway) added to your Masters Player's Score.
Prizes Awarded Daily at the Rising Sun Course.
"Green Jacket" Pro Shop Sale! Save 5%-40% Off
Select a "Green Jacket" from our Board to reveal your Savings
Save 5%-40% Off In-Stock items
Includes just-in 2017 Merchandise & Equipment
Questions? Call Rising Sun Pro Shop 410-658-4343 x26