2-Man Team Tournament
Saturday, October 10, 2015 at Rising Sun Course
New Date! 2 Man Team Tournament is now Saturday, October 10th – 36 Holes Better Ball of Partners at Rising Sun. Open to Public. Sign Up Today!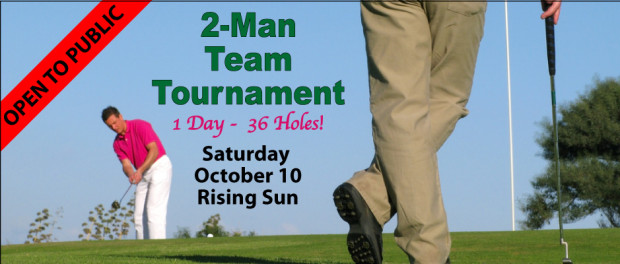 Sign Up Online | Call Pro Shop 410-658-4343 x26 or 410-287-0200 x3
Date / Time:
1 Day ~ 36 Hole Event
New Date! Saturday, October 10, 2015
Better Ball of Partners Golf Tournament
8:00 am Shotgun, and 1:30 pm Shotgun Start at Rising Sun Course
Please Note: All 36 Holes now at Rising Sun Course
Eligibility:
Format:
Stroke Play Event and is 36 Hole Better Ball of Partners Gross Score
Flighted after first round
General Rules:
Men will play from the White Tee Markers
Seniors (Age 64 and over) may play from the Green Tee Markers
Flights:
After first round of play, the field will be divided into 3 Flights based on Team Gross Score from 1st Round.
The Low 6 or 7 Scores will be in the A-Flight, the next 6 or 7 Low Scores will be in the B-Flight and the bottom 6 or 7 Scores will be placed in the C-Flight.
Prizes:
Prizes will be awarded to the Top 2 Teams in each of the 3 Gross Flights.
Any ties for 1st Place in all Flights will be determined by a sudden death playoff
Note: Flights based on 24 Teams. More teams – more flights & places will be added
Optional: $20 Team Skins
Food:
Lunch Buffet is Included and will be offered after the 1st Round
Following the 2nd Round, Cash Bar & Lite Hors d'oeuvres will be offered
Entry Fee:
$100 ~ per Public Player
$50 ~ Chesapeake Bay Golf Club Members