Member-Member 2021 Results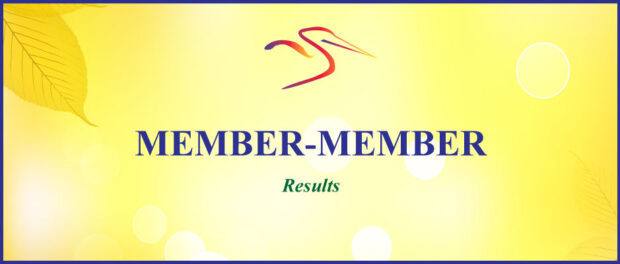 Congrats to our 2021 Fall Member-Member champions!
Format was "Pinehurst" – where both players hit a drive, then switch to hit second shots from each other's drives, and then play alternate shot from the best second shot.
This year's Gross champions were Earl Mitchell and Jim Weinzetl with a score of 76, and our Net winners were Bernie Weed and Keven Lawson with a Net 69!
Gross Results
| | | |
| --- | --- | --- |
| | Name | Gross Score |
| 1st | Earl Mitchell and Jim Weinzetl | 76* |
| 2nd | Arlene Zamora/Shelly Pinkerton | 76 |
| 3rd | Evan Barbin/Bobby Whiteoak | 77 |
| 4 | Steve Smith/Randy Burton | 80 |
| 5 | Jeff and Denise Medlar | 82 |
| 6 | Jerry and Tyler Hogue | 82 |
| 7 | Bernie Weed/Keven Lawson | 84 |
| 8 | Pete Petersen/Larry Steward | 84 |
| 9 | Tammie Vincenti/Mike Nelles | 87 |
| 10 | Jim and Linda French | 91 |
| 11 | Dennis Mertz/Tom Lee | 92 |
| 12 | Riley Gilbert/Rob Riel | 91 |
*Match of Cards
Net Results
| | | |
| --- | --- | --- |
| | Name | Net Score |
| 1st | Bernie Weed/Keven Lawson | 69 |
| 2nd | Jeff and Denise Medlar | 71* |
| 3rd | Steve Smith/Randy Burton | 71 |
| 4 | Evan Barbin/Bobby Whiteoak | 72 |
| 5 | Jerry and Tyler Hogue | 73 |
| 6 | Dennis Mertz/Tom Lee | 73 |
| 7 | Pete Petersen/Larry Steward | 74 |
| 8 | Jim and Linda French | 75 |
| 9 | Riley Gilbert/Rob Riel | 75 |
| 10 | Tammie Vincenti/Mike Nelles | 76 |
*Match of Cards