Memorial Day Scramble – 2022 Golf Results
Congrats to winning Low Net Team at -37 Felix, Saxton, Saxton and Snyder.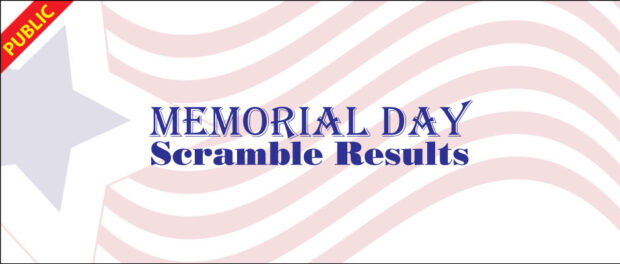 Memorial Day Scramble




Golf Results


Monday, May 30, 2022

Congratulations to our Memorial Day Mixer champs! Format was a 4 Person "Texas Shamble" – 2 Net Best Ball per Hole.

Winning low net at -37 was the team of Chris Felix, RJ Saxton, Ron Saxton and Phil Snyder. Finishing first gross at -10 was the team of Kenny Kerns, Ethan Hunt, Nick Foster and Daniel Gildea.
Golf Results (Net)
| | | | | | |
| --- | --- | --- | --- | --- | --- |
| Net Place | Net Score | Player 1 | Player 2 | Player 3 | Player 4 |
| 1st | 105 | Chris Felix | RJ Saxton | Ron Saxton | Phil Snyder |
| T-2nd | 107 | Kenny Kerns | Ethan Hunt | Nick Foster | Daniel Gildea |
| T-2nd | 107 | Andrew Barbin Jr | Tom Stasiunas | David Shoemaker | Ryan Kingshill |
| 4th | 108 | Connor Swalm | Jordan Fieger | Mike Kennedy | Frank Kennedy |
| 5th | 109 | Chuck Martin | Chuckie Martin | Ryan Jones | Tracie Martin |
| 6th | 112 | Steve Gemma | Jeff Gross | Joe Gemma | Frank Trionfo |
| 7th | 113 | Pete Petersen | Keven Lawson | Dona Wakeman | Drew Wakeman |
| 8th | 115 | Randy Burton | Alex Kleinman | Brandon Cohee | Jake Eckman |
| 9th | 116 | Rob Riel | Dwayne Smith | Matt Sharon | Jimmy Sample |
| T-10th | 117 | Lou Najera | Dave Psenicska | Conor Najera | JJ Psenicska |
| T-10th | 117 | Ken Brice | Steve Jordan | Caiden Jordan | Jeremy Marandola |
| 12th | 118 | Tommy Vincenti | Chad Parker | Tammie Vincenti | Kenny Home |
| 13th | 121 | Jeff Medlar | Mike Fox Sr | Donny Hodak | Denise Medlar |
| 14th | 122 | Paul Holden | Mark Holden | Chris Franjesh | Johnny Waldridge |
| 15th | 126 | Doug Phillips | Brian Kilgore | Lucas Kilgore | Isa Phillips |
Golf Results (Gross)
| | | | | | |
| --- | --- | --- | --- | --- | --- |
| Gross Place | Gross Score | Player 1 | Player 2 | Player 3 | Player 4 |
| 1st | 132 | Kenny Kerns | Ethan Hunt | Nick Foster | Daniel Gildea |
| 2nd | 134 | Tommy Vincenti | Chad Parker | Tammie Vincenti | Kenny Home |
| 3rd | 138 | Chris Felix | RJ Saxton | Ron Saxton | Phil Snyder |
| 4th | 142 | Steve Gemma | Jeff Gross | Joe Gemma | Frank Trionfo |
| T-5th | 143 | Andrew Barbin Jr | Tom Stasiunas | David Shoemaker | Ryan Kingshill |
| T-5th | 143 | Jeff Medlar | Mike Fox Sr | Donny Hodak | Denise Medlar |
| 7th | 144 | Chuck Martin | Chuckie Martin | Ryan Jones | Tracie Martin |
| 8th | 145 | Lou Najera | Dave Psenicska | Conor Najera | JJ Psenicska |
| 9th | 151 | Connor Swalm | Jordan Fieger | Mike Kennedy | Frank Kennedy |
| T-10th | 153 | Paul Holden | Mark Holden | Chris Franjesh | Johnny Waldridge |
| T-10th | 153 | Doug Phillips | Brian Kilgore | Lucas Kilgore | Isa Phillips |
| T-12th | 155 | Randy Burton | Alex Kleinman | Brandon Cohee | Jake Eckman |
| T-12th | 155 | Rob Riel | Dwayne Smith | Matt Sharon | Jimmy Sample |
| T-12th | 155 | Ken Brice | Steve Jordan | Caiden Jordan | Jeremy Marandola |
| 15th | 160 | Pete Petersen | Keven Lawson | Dona Wakeman | Drew Wakeman |