Congrats to Audrey Moon and Austin Barbin – our 2023 Club Champs!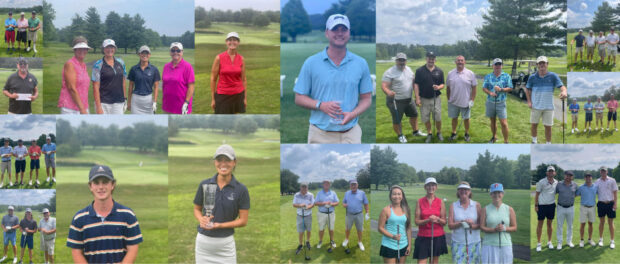 Huge congratulations to our 54th Annual Club Champions! Our best field and setup to date featured incredible action in all flights. Thank you again to Chris and the maintenance staff for the excellent course conditions, and thank you to Andrew for organizing the event.
On the Men's Championship Flight, 8 very talented golfers took to our new maxed out Platinum "Barbin" Tees, which just fell short of 7200 yards. Austin Barbin proved to be the cream of the crop once again, birdieing 3 of his final 4 holes to finish -5 for the tournament (68-71) and one shot clear of Zach Barbin (72-68) who shot 4-under 68 on the hardest setup in club history. Third place was North East standout Noah Wallace at 1-under with his awesome 71-72 finish. Not too far behind was Evan Barbin, Andrew Barbin Jr, and Nikita Romanov who all were in contention going into the final 9 holes. Justin Ragan came back and fired a 77 on the second round, one of the best scores on the day.
Austin Barbin's victory was his 8th Club Championship title in the past 10 years, tying Jim Debusks record of club titles. The Championship Flight had 51 birdies and an eagle spread out from the 8 golfers for the two rounds – thank you to all for putting on a great show!
On the Ladies Championship side (played from our new Scarlett tees at 4911 yards), Audrey Moon fired a final 9 holes at even par to notch her first career title with her 79-80 finish, besting defending champion and 10-time winner Arlene Zamora and round 1 leader Keven Lawson who had shot on of her best career scores of 78. Zamora had taken a 2-stroke lead going into the final 9 hole stretch, but Audrey would go onto take the lead and never look back with her par on hole 2. Keven Lawson would bounce back from her rough opening stretch, and would clinch the "B flight" title over Shelly Pinkerton.
Denise Medlar (94-94) won her fourth career flight title with her 1-shot victory over Dona Wakeman in the Ladies C Flight. Dona, Jenn Benner, and Lai Li all made their club championship debuts and did great!
On the Men's A Flight, 8 great golfers took to our Chesapeake Tees (6800 yards) and had another slugfest. After the first round, youth took the lead, with a 78 from 15-year old Lucas Kilgore and a 79 from 13-year old Evan Smith. Dave Psenicska would come in with an 81 to make it a tight race at the top. The tough setup made it a battle of attrition – and Evan Smith held on with his 84 to beat Dave Psenicska two strokes for his first (of what we think will be many) club titles.
In the Men's B flight, Dave Graybeal fired an opening round 78 to take a four shot lead over Mike Fox Sr and a seven shot lead over Randy Burton and Mike Bailey. All golfers were playing from our "Chantilly Combo" setup which was a blend of black and white tees which played at 6440 yards. Graybeal would go onto win the B flight by four shots over Randy Burton with his second round 89, his first ever club title! Johnny Waldridge would bounce back and have the low round of the flight on the second day with his 83.
In the Men's C flight, JJ Psenicska fired a career low 79 in the opening round, giving him an 11-shot cushion over Mike Nelles and a 12-shot advantage over Vince Brooks and Matt Benner. JJ, despite shooting 91 in the second round, would still go onto winning his first club title by 10 over Vince Brooks.
In the Men's D Flight, Doug Phillips Sr won his first ever club title in a close bout with Dennis Mertz. Doug shot a 96 in the opening round, giving him a stroke advantage over Drew Wakeman and three over Mertz. Mertz would turn in the low second day round of 102, but Phillips 104 was just enough to hold on!