Club Championship Results
2015 Club Champions: Zach Barbin is Men's Club Champ posting a 3 under par two day total 138, and Suki Kegley is this year's Ladies Club Champ with 80, 78.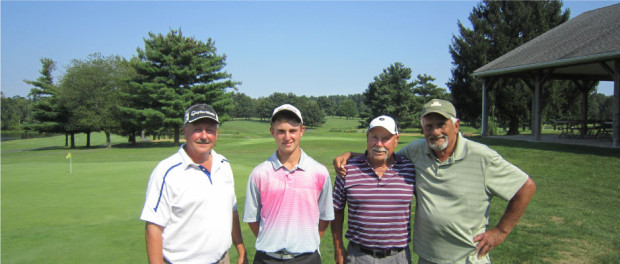 Chesapeake Bay Golf Club's
2015 Club Championship
View Photo Gallery on Facebook
Saturday, August 15th at North East Course · Sunday, August 16th at Rising Sun Course
Zachary Barbin shoots a Men's Club Championship record setting low score of 138 – 3 under par (68, 70) to be crowned this year's Men's Club Champion. In the B Flight, Jim French wins over runner up Steve Smith with a two day total 164. Homer Welch has an impressive tournament in the C Flight shooting 75 at North East, and 81 at Rising Sun to beat out Jim Weinzetl. Dave Whitlock is the D Flight Winner with a two day total of 167 winning by five shots over Carlos Coleman.
In the Ladies Division, Suki Kegley shoots a two day 158 to claim the Club Champion title over Shelly Pinkerton. And in the Ladies B Flight, Susan Eichler wins by two over Bernie Weed.
Golf Results
A Flight
Club Champion
Zach Barbin

68

+

70

=

138

Runner Up
Andrew Barbin, Jr.
74 + 78 = 152
B Flight
| | | |
| --- | --- | --- |
| Flight Winner | Jim French | 80 + 84 = 164 |
| Runner Up | Steve Smith | 80 + 88 = 168 |
| 3rd Place | Matt Russell | 95 + 93 = 178 |
| 4th Place | Sean Kluge | 89 + 93 = 182 |
| 5th Place | Earl Mitchell | 86 + 97 = 183 |
C Flight
| | | |
| --- | --- | --- |
| Flight Winner | Homer Welch | 75 + 81 = 156 |
| Runner Up | Jim Weinzetl | 79 + 85 = 164 |
| 3rd Place | Don Palmer | 85 + 90 = 175 |
| 4th Place | Frank Orbin | 87 + 89 = 176 |
| 5th Place | Jim Fox | 85 + 92 = 177 |
| 6th Place | Steve Westerfer | 87 + 91 = 178 |
D Flight
| | | |
| --- | --- | --- |
| Flight Winner | Dave Whitlock | 83 + 84 = 167 |
| Runner Up | Carlos Coleman | 85 + 87 = 172 |
| 3rd Place | Bob Kern | 87 + 89 = 176 |
| 4th Place | Al Mingle | 96 + 97 = 193 |
| 5th Place | Frank Cortazzo | 112 + 104 + 216 |
Ladies A Flight
| | | |
| --- | --- | --- |
| Club Champion | Suki Kegley | 80 + 78 = 158 |
| Runner Up | Shelly Pinkerton | 85 + 86 = 171 |
Ladies B Flight
| | | |
| --- | --- | --- |
| Flight Winner | Susan Eichler | 92 + 92 = 184 |
| Runner Up | Bernie Weed | 89 + 97 = 186 |
| 3rd Place | Joan Martin | 102 + 98 = 200 |