Labor Day 4 Person Scramble
OPEN TO PUBLIC! Annual Labor Day 4 Person Scramble + Cookout.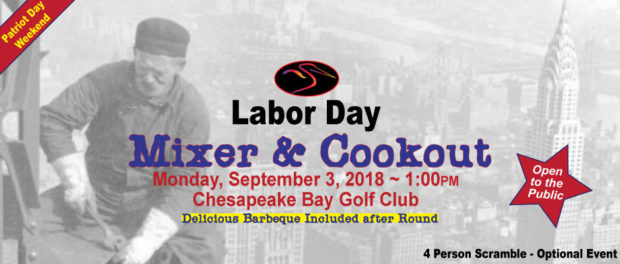 Annual Labor Day Scramble
Mixer & Cookout
Monday, September 3, 2018 at Chesapeake Bay Golf Club
Sign Up Online | Call Pro Shop 410-658-4343 x26
Play in Chesapeake Bay Golf Club's Annual Fun Labor Day Scramble this Labor Day, Monday, September 3, 2018. This is an optional event Open to the Public!
Fun 4 person team Scramble Format makes for a great day of golf . Pick your own team!
Enjoy a delicious barbecue cookout dinner that's included following the round.
Labor Day Scramble Event Details
Entry includes Delicious Barbecue after Round!
1:00 PM Start
4 Person Scramble
Pick own team
Must use each player's tee shot a minimum of two times
Gross & Net prizes awarded
Play from Tee Box normally play from
Beginners/Juniors:

New Golfers and Juniors Ages 6-9

Tee off from the PGA Family Gold Tees

Juniors Ages 10-12
Juniors Ages 13-15

Entry Fee:

Member ~ $25
Public ~ $55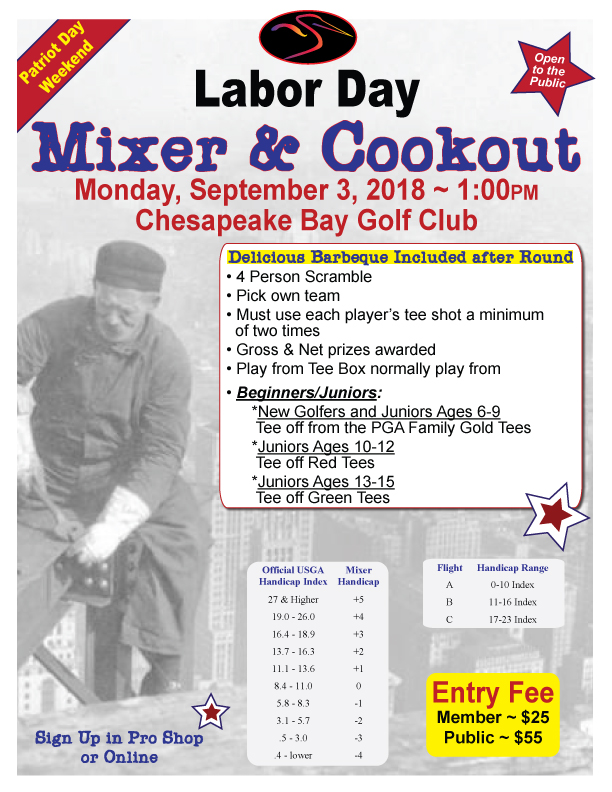 Sign Up for our Labor Day Scramble in the Pro Shop or Online Today!