Ladies Night a Delight
Ladies Night "On a Christmas Note," Dec 9th at Blue Heron Grille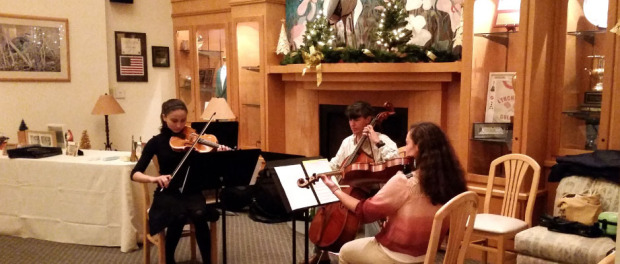 Chesapeake Bay Golf Club hosted their holiday Ladies Night "On a Christmas Note," on Tuesday, December 9th.  Guests came bearing gifts and toys which will be donated to the Wayfarer House in Elkton, Maryland to help local families in need this holiday season.  We thank you for your generosity and kindness.
During the evening, ladies enjoyed Chef Gary's savory and sweet culinary stations including a crudité table complete with selected cheeses, vegetables, humus, tapenade, sushi, and more.  Another station consisted of carved turkey, roasted pork, corn bread and rolls.  The pasta station served tri-colored tortellini and gnocchi.  For our sweet finale, the dessert station included homemade caramel and chocolate bread pudding and a variety of petit fours.
While the guests enjoyed their dinners, they were delighted by live musical performances.  A string trio, Karen Marsico (Cello), Heather Marsico (Viola), and Ryan MacEachern (Violin) performed various holiday tunes.  Heidi Maupin (Flute), Karen Marsico (Flute), and Heather Marsico (Cello) played their Christmas melodies as well.  Finally, Children, Ella and Sophie Cost along with their father, Fred, entertained the guest with delightful hand bell carols followed by young Jenna Peace playing a violin solo.
Thank you to all of those who made our Ladies Nights so enjoyable this season.  We look forward to many more pleasant evenings beginning next spring.  Until then, Happy Holidays!
Please visit our Blue Heron Grille Facebook Page to view the Full Gallery of Photos from this event.