Golf School with Adam Bazalgette
Just Added! Two 90-Minute Golf Schools with Adam Bazalgette on July 7th.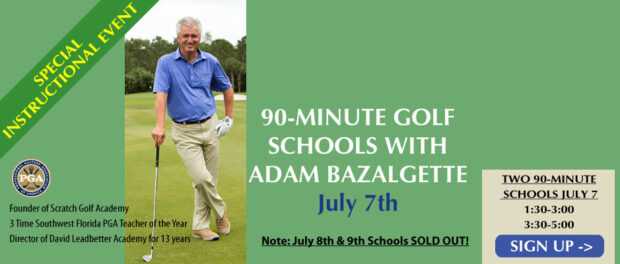 Special Instructional Event!
TWO 90-MINUTE SCHOOLS WITH ADAM BAZALGETTE
JULY 7 at Chesapeake Bay Golf Club
Chesapeake Bay Golf Club is pleased to announce a special instructional event – two 90-minute Golf Schools on July 7th with world renowned golf instructor – Adam Bazalgette.
We hope you'll come out and work on your game with us!
Note: July 8th & 9th Golf Schools at Chesapeake Bay Golf Club are SOLD OUT!
Two 90-Minute Golf Schools
Limit 3 per school assisted by Andy Barbin
Choose Your Session:

1:30 PM-3:00 PM
3:30 PM-5:00 PM

Cost: $195
Sign Up: email adamb@clubmediterra.com
Hurry! Very Popular Special Instructional Event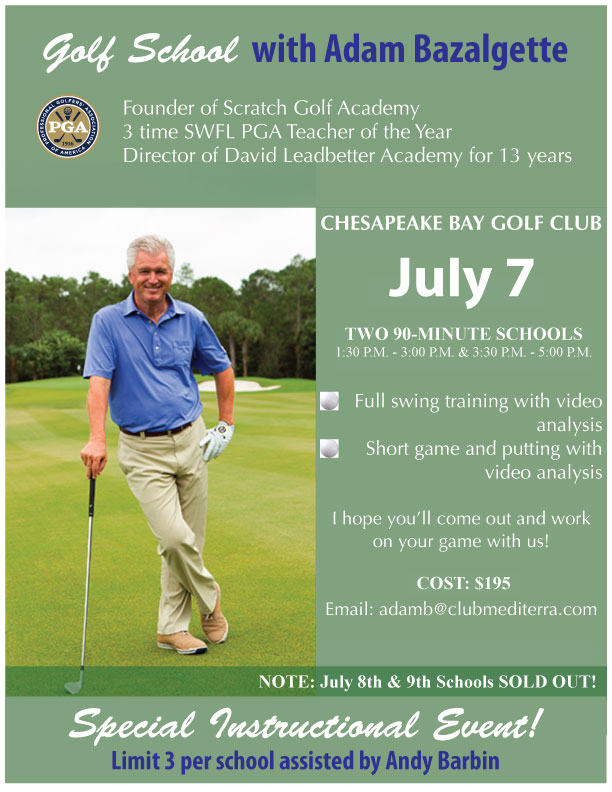 ABOUT ADAM BAZALGETTE
Founder of Scratch Golf Academy
3-time Southwest Florida PGA Teacher of the Year
Director of David Leadbetter Academy for 13 years
"Adam Bazalgette grew up in London, England where he took up golf. After moving to Orlando as a teenager he came under the wing of David Leadbetter, taking golf lessons from him for 4 years.
After competing on the mini-tours for several years Adam became a class A PGA member, and started teaching full time.
In 1992 Adam went to work for David Leadbetter in Orlando. In 1994 he was promoted to Academy Director at Leadbetter's Naples facility. During the next 13 years, in addition to teaching and running the academy, he traveled a great deal giving golf lessons, schools, and doing corporate events throughout the USA and abroad.
During his 6 year tenure as Mediterra's director of instruction Adam has taught schools with some of the games most noted short game, full swing, and mental coaches."
Source: adambgolf.com