Junior Club Champions 2023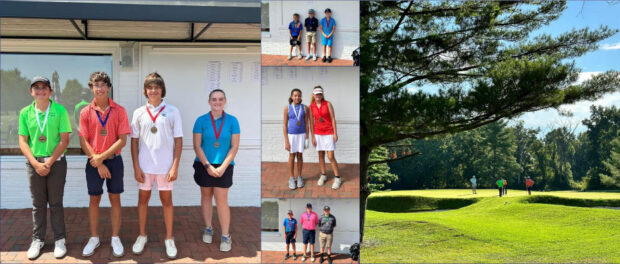 Congratulations to our 32nd Annual Junior Club Champions!
On the boys side, North East superstar and junior member Noah Wallace carded a 3-under par 69 to claim his first career club championship title, powered by a solid round with 5 birdies to add another accolade to his growing trophy case. In second place was fellow teammate and junior member Wyatt Cudmore, who turned in a solid round of 80. In third place with an 82 was Rising Sun standout and junior member Lucas Kilgore, and in fourth place was our reigning Men's A Flight champ and junior league ace Evan Smith and North East's Brandon Kristovich. We had 11 talented local golfers tee it up this year in the boys championship flight and they put on a great show!
PGA Junior League All Star Luke Cheuvront won the Boys' 12-14 division for his first ever junior title with his solid performance of 49 on the back 9 besting fellow PGA Junior League teammate and All Star reserve Joel Vogt and a duo of Rising Sun freshmen Jerry Joyce and Jeff Walls who finished T-3rd.
Camden Colangelo won the Boy's 8-11 division with his stellar round of 34 from the green tees on holes 10-16. Following behind Cam was Davis Lehr and member of our PGA Junior League Sawyer Taylor who would finish 2nd and 3rd respectively.
On the girls side Carly Waldridge would go on to win her first overall title with her solid round today, and PGA Junior League member Isa Phillips would repeat her 7-12 title with her 54, beating out Charli Sullivan's 57. Junior Leaguer Carli Russel would finish third and Dylan Sullivan would finish fourth.
Thank you to all the juniors and parents for making this a great event and congrats to all our junior champions!