Men's Big 4
July 23 at North East, July 24 at Rising Sun
Men's Association 36-hole, 2 day, partner event. Sign Up Today!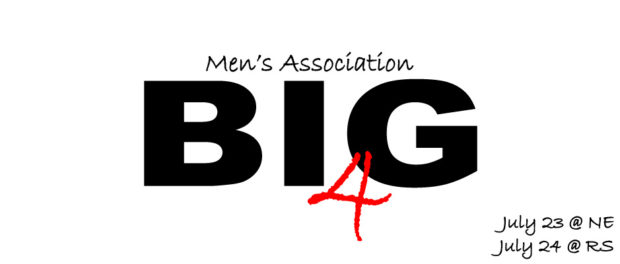 CBGC Men's Golf Association
Big 4 Tournament
Sign Up Online | Contact Pro Shop 410-658-4343 x26
A note from Gary Rohrbaugh, CBMA President:
Heads Up Guys! The Big 4 Tournament is approaching us. This is a 2 day event, Saturday 7/23 at North East and Sunday 7/24 at Rising Sun. Both days are tee times starting at 9:30 AM. I'll do the parings day before the event. This is a 2 man event so please try and sign up early. I'll be posting a sign up sheet in the men's room at Rising Sun. Below are the rules for this event.
Men's Big 4 – Rules
This is a 36-hole, 2 day, partner event.
Day 1, at North East, holes 1-9 are played in better ball format (full individual handicap); holes 10-18 are played in aggregate score format (team handicap).
On Day 2, at Rising Sun, holes 1-9 are played in sling shot format (team handicap); holes 10-18 are played in alternating shot format (team handicap).
The team handicap is calculated by adding both handicaps together and dividing in half.  When the divided handicap is a fractional number, (i.e., 12 ½) round down to the whole number (12).
In case of a tie, a match of cards will determine the overall winners (Net and Gross).  All other prizes will be split — no match of cards.
It is preferred that members sign up as partners, but those who do not will be paired (if possible) by the Men's Association.
After the deadline, members must sign the "Alternate Sheet".  Replacements will be taken from the Alternate Sheet (ONLY) on a first come basis, i.e. first name will be the first replacement, second name the second replacement, and so on…
Any questions email me or call.
This is a fun tournament and I urge all to sign up!
---
Join the Men's Association
Men…Looking for a new fun group to play with? Become a member of Chesapeake Bay Golf Clubs Men's Association TODAY! For $75.00, enjoy all the benefits of being part of the group! Anyone can join at all levels of play with a valid handicap under 35 and you can start playing today! If you need a handicap Chesapeake Bay can help with that too!
Benefits of joining the Men's Association include:
9:30AM Tee Times Saturday & Sunday each week to play with the Gaggle at one of our great courses with the possibility to win cash each week!
Eligible to play in all club tournaments
Have fun playing with a great group of guys
Play with different players each week
To become a member of the Men's Association sign up at either Pro Shop today, and start playing! Not sure if you want to join? Pay to play in the gaggle up to 3 times before you commit.
North East Pro Shop 410-287-0200 x3 | Rising Sun Pro Shop 410-658-4343 x26