Labor Day Scramble – Results
Congrats to the Low Gross Team: Steve Mikulcik, Jim French, Tom Vincenti, Tammie Vincenti.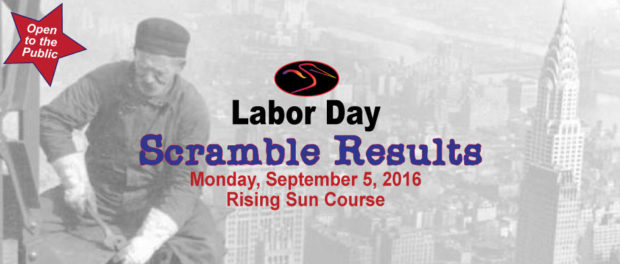 Labor Day Scramble Golf Results
Golf Results posted below for our Annual Fun Labor Day Scramble held Monday, September 5, 2016 at Chesapeake Bay Golf Club's Rising Sun Course. Event was open to the public.
Format: 4 person team modified scramble with handicap. Gross and Net winners posted below. The round concluded with a delicious Labor Day barbecue. Missed it? Be sure to join us next year for a fun way to conclude and celebrate your Labor Day holiday weekend!
| | | |
| --- | --- | --- |
| Low Gross: | Steve Mikulcik | 58 |
| | Jim French | |
| | Tom Vincenti | |
| | Tammie Vincenti | |
| | | |
| Low Net: | Gary Rohrbaugh | 56* |
| | Mike Hedrick | |
| | Jim Weinzetl | |
| | Bernie Weed | |
| | | |
| 2nd Net: | Pepper Martin | 56 |
| | Chuck Martin | |
| | Joan Martin | |
| | Tracie Martin | |
* Tie broken by match of cards